Croc shoes are back in the public eye on the hot summer days. Almost everyone on the street has a pair of croc shoes; especially children love these soft and breathable crocs.
Crocs, also known as garden shoes, are a kind of slippers. Crocs are characterized by a wide body and a lot of breathable holes on the vamp. Crocs are popular around the world, and so are their floral decoration uppers.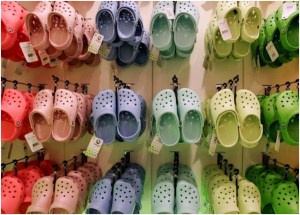 Crocs are popular because of their comfort and air permeability. The style of the croc is very simple, with the only color difference. Nevertheless, if you desire to make your own unique pair of Crocs, it can be tough because Crocs are not suitable for printing and painting.
By chance, crocs shoes and the ornaments croc pins appeared in the public's sight. These croc pins can not only decorate simple crocs but also help you distinguish your crocs. These crocs shoes and croc pins are becoming more and more popular among children.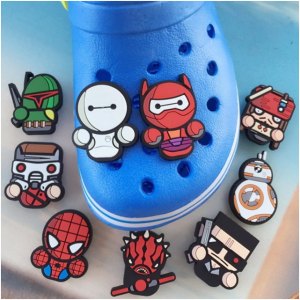 Crocs pins, unlike other vamp accessories, don't need to be glued to the shoes. You just need to fix the Crocs pins into the holes of the Croc shoes themselves, and they are very firm on the croc shoes.
These Crocs pins are made of the same soft PVC materials as crocs, which are waterproof, colorfast and soft. PVC crocs pins can be made into different styles through the epoxy process. Different styles of crocs pins can DIY crocs of different styles, which are creative and interesting.

What Else can Croc Pins do?
You may think these Crocs pins are just for Crocs shoes. Unlike badges and lapel pins, Crocs pins don't have pins on the back, but they do have a round button on the back that helps them button into shoes and bags. Look at the following picture, this crocs backpack is similar to Crocs shoe, which also has many round holes in the body, so we can use crocs pins to decorate it.
Crocs pins can also be worn on wristbands and you can use them to decorate your items in any way you can imagine, adding a little fun to your life.

Are Croc Pins Safe?
Crocs pins are mostly used by children, so they are strictly regulated. Crocs pins in the production process can not add any harmful substances, must ensure the quality of finished products. And the size of these Crocs pins are mostly 1-2 inches, children can also use the accessories to DIY shoes and bags under the guidance of parents. These button-like crocs pins are so firmly attached to the holes in the shoes that parents don't have to worry about them falling off.

The Tips of DIY Croc Shoes
It is not suitable to use too many crocs puns to decorate crocs, so as to avoid affecting the air permeability of crocs.
Should choose cabinet and light crocs pins, avoid increasing the weight of the crocs shoe.
Children's DIY crocs should be conducted under the guidance of parents, who can help children install crocs pins.

The appearance of crocs PVC pins has helped sales of crocs shoes reach a new height. Crocs pin is also one of the most popular decorations, which has an inestimable development value. If you need to customize such interesting and good-looking crocs accessories as your products, you can choose high-quality manufacturers to cooperate with you.
GS-JJ Company is an experienced PVC patch maker capable of producing a wide range of PVC soft rubber products. Under the premise of ensuring the production of high-quality PVC products, we can also provide our customers with discounts and free shipping activities. Welcome to GS-JJ.com consult and order.
Pictures resource from:
Croc shoes: https://slate.com/gdpr?redirect_uri=%2Fhuman-interest%2F2017%2F01%2Fcrocs-are-the-weirdest-fashion-footwear-trend-of-2017.html
Iron Man Croc Pins: https://world.taobao.com/product/crocs
Crocs Pins: https://www.tibs.com/FQN6FS470BUMA/efivs-arts-50pcs-different-shape-shoes-charms-fits-compatible-with-croc-shoes-wristband-bracelet-party-gifts-unknown
Croc bag: https://www.lazada.com.ph/products/crocs-zip-top-backpack-for-kids-i239610664-s326896507.html
Disney Crocs Pins: https://www.pinterest.com/pin/523402787941178618/?lp=true
DIY Crocs: https://www.aliexpress.com/i/32963705190.html