Like many people, I knew Snow White when I was still a little child. I enjoyed the story before, and now I appreciate the gifts of Snow White very much. God is very fair, he took something important away from Snow White but also brought some good gifts which benefited her all his life.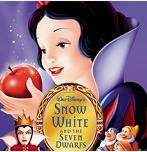 The First Gift: Beauty
It is well-known that Snow White is very, very beautiful. The God had given best looking to Snow White– her skin was white as snow, and her lip was red as blood. At the same time, Snow Whited had perfect long hair and fine figure. Everyone who met Snow White would be attracted. That is why the evil new queen was so jealous of her. Also, it is the best explanation for why the prince was deeply in love with Snow White, at first sight, even she was "dead" at that time.
The Second Gift: kindness
God had given Snow White the gift of Kindness. And she is always very kind to all people besides her, as well as all animals. When the evil queen sent a hunter to kill Snow White, she was not killed. Since the hunter was kindly treated by Snow White before, he did not have the heart to kill the kind-hearted girl. Later on, she was well accepted by the seven dwarfs and settled down in the forest where Snow White lived a happy life.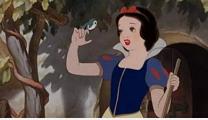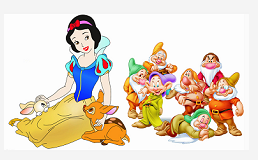 The Third Gift: Friendship
Precious friendship for Snow White is the third gift given by God. When the evil queen came to knew that Snow White was still alive through her magic mirror, she decided to kill her by herself. In the beginning, she pretended to be an old woman selling wooden comb which in fact was poisonous. Snow White fell to the ground after using a poisonous comb, and the queen left with satisfaction. When the seven dwarfs came back and saw what happened, they saving Snow White by removing the comb. Dwarfs told Snow White not to use anything from strangers after she recovered. That is the first time that dwarfs saved Snow White's life. Then soon came the second time. But for the third time, things were not so easy. Seven dwarfs tried many ways to wake up Snow White, but all failed. They were going to send Snow White's body away, and a miracle happened —the poisonous apple came out from Snow White's stomach because of the bumps on the way and she came to life again.
If not true friends, how can they save you time after time? If not true friends, how can they spend time with you forever?
The Fourth Gift: True Love
Even Snow White was lying there–not living, the prince still fell in love with her, and can't help kissing her. In addition to this, the prince wanted to accompany Snow White for the last trip. Of course, we all know the happy end: Snow White woke up and married the prince. From then on they lived a happy life forever, together with seven dwarfs.
If without true love, could the prince keep company with Snow White for the last trip? Could he meet the moment that Snow White was alive? Without true love, could the prince marry a strange girl who even didn't have a family? That is what we call " love at first sight", and true love indeed.

Gifts About Snow White
It is so wonderful to have good gifts. Snow White could not live in our life, but she also brought many fine gifts to our life. In memory of Snow White, people make kinds of gifts regarding Snow White which satisfied the Snow White dream for kids.
And there is one magical gift: Snow White Custom Patches. These magical Patches can be put on anything you like—hat, handbag, backpack, dress, coat, pants, shoes, and so on.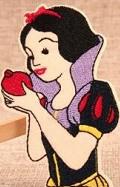 Anyhow, I do hope you will like all the gifts above, as much as you love the Snow White.