A cop's badge is really amazing and cool. Do you know the meaning of badge for the police? And ready to collect some Police challenge coins?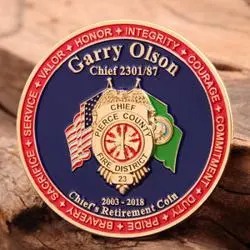 When we mention the word "badge", we mostly may think of the raised shield, star shape, or similar emblem worn by police officers and firefighters.
Actually, the badge is an icon. Each badge indicates a symbol of authority and identification, a sense of mission, such as name brand, pin for specified official members.
To Protect and to Serve. This is the official motto and mission for all policemen and policewomen around the world. As a recognizable symbol of sacrifice, duty and service, the police badge represents their honor, aim and authority.
Sheriffs and deputy sheriffs, police patrol, and police officers are common officers. All of them are licensed by the state and put more effort into the local public safety service and community throughout the state.
There are several differences between these badges for them. Take a look at the below Police challenge coins design, you can know it.
Sheriff challenge coins
In the United States, a sheriff is official peace police in a county or some special city. And their responsibility is to keep the public order and peace within the law.

Most of the sheriff badges are star-shape, five stars or six stars, or others. And sheriff challenge coins are often created with that star shape, 2D or 3D badge design on the front, fabulous appearance for display and collect. These honor coins are really delicate gifts for those excellent members with high-performance.
Police Patrolman challenge coins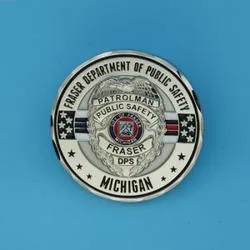 The Police patrolman is sure the first responder to any incidents in our community. They made great efforts to preserve law and order for the public, keeping communities safe is their duty.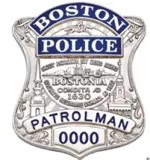 The badge for Police patrolman seems like shield shape, letters as "Patrolman" will be printed and challenge coins maker would choose the 3D design on custom coins. It helps to make the badge as real as the entity, and look great on challenge coin rack or carry it for showing off.
Police Officers challenge coins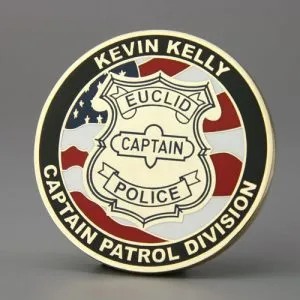 A police captain is often the officer in charge of a division or department. And even you can know it from challenge coins for Police officers and captains.
These police challenge coins feature with shield shape badge, or with eagle shield emblem, and bear with Police captain names or other police symbols. From these details, Police challenge coins are great items to recognize the leadership and execution of all officers.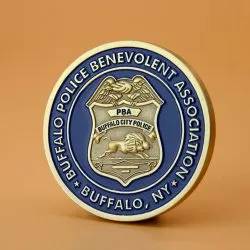 To the police officers, the badge challenge coins represent the public trust with authority to act and the duty to remain peaceful.
You can know the policeman rank from their badge challenge coins, which indicate their authority, identification and service. And most Police challenge coins and other law enforcement challenge coins usually bear the department badge and emblem.