A Childhood Dream Originate From A Pair of Skating Shoes
Until now I remember one thing, one night in my childhood my mother asked me why I am not happy today. I said I saw the skaters dance on ice like butterfly wearing skating shoes. I also want to have a pair of different and stylish skates. She said in the future I will find it; the time will give me the answer. I searched the whole city and all the streets, but I did not find this pair of special skates. I still did not find it again on Sunday. A month later I went to another city, where people call it the charm of the capital. Time flies so fast, the night is coming, I think I have to leave, when I was about to leave when I saw a store, it is that skates I've always wanted. Those are the wonderful moments in my life.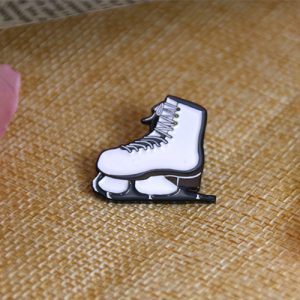 This lapel pin is cast from fine quality metal and is white enamel color filled, with black dye finished. It makes a great addition to a special gift wrap or makes a great gift for someone who loves skates. Each skating shoe pin includes a butterfly clutch back that keeps this enamel pin securely in place on your garment, lapel, lanyard, and ID badge. It also comes to you individually poly bagged for a nice presentation.