The first thing we often know is the fact that 2D shapes are flat plane and 3D shapes are not. But this opinion is not exactly correct about the difference between 2D and 3D challenge coins.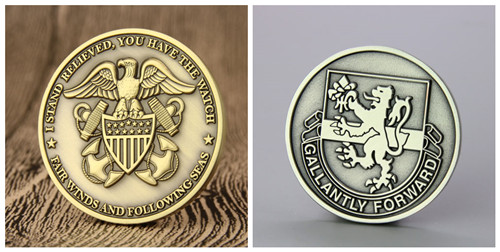 Look at the above picture; can you know the difference clearly?
Two-dimensional (2D) typically presents a nearly flat surface and three-dimensional (3D) art occupies space volumetrically, you can know.
In the photo above, all text and image on the right coin is on the same plane, and the eagle and anchor on left coin has raised metal obviously, which is based on a 3D mold.
The below opinions are the mainly difference between challenge coins of 2D and 3D design.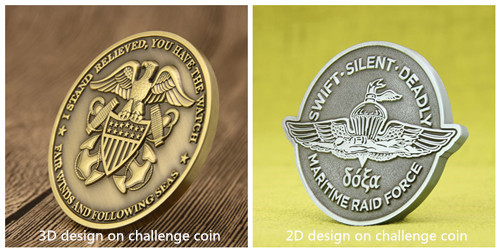 On 2D coin's surface, the images are flat and there is no obvious raised and recessed part on metal. And the 3D image of challenge coin will be raised on the border and image in details looks vividly.
Normally, die struck custom coins of both types have raised and recessed areas. The difference is that 2D custom coins essentially have two levels of metal, a flat background and a raised surface. The 3D coins have a flat plains together with another levels, these gradation levels are level 1(1D), level 2(2D), level 3(3D).
The 2D/3D variations or graduation in levels makes the logo or image of custom coin cheap looks more realistic, and textures and details can be seen on 3D surface.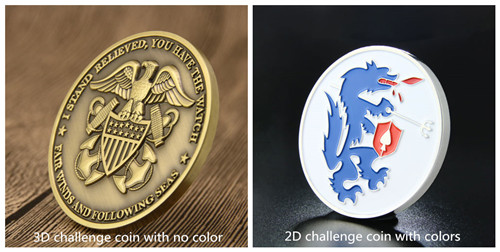 For color fill, you can choose enamel colors or not on your 2D coins if you like, and there is no color for most 3D challenge coins.
On 2D coins, the features are added to only two levels – the uppermost level and a recessed level. This is great for holding colors by adding outlines to contain the colored enamels, which make 2D design more colorful.
Due to special 3D mould, and there is no area to contain the liquid enamel on the 3D image, so we don't apply colors to fill any part of the 3D image, but we can have color fill around other parts of on surface.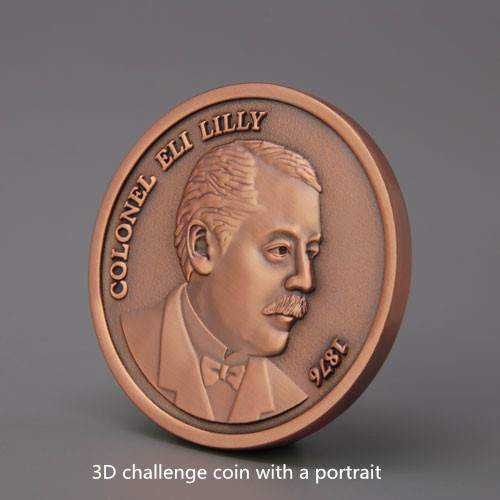 However, a 3D design is not necessarily more beautiful and better than a 2D design. Coins for sale with both 2D and 3D design can help you make an outstanding impression if you chose proper design for your custom coins. It is important to decide the best technique for your chosen subject. Here are some advices for you.
The 3D style works great for mountains, statues, images of people, animals and other objects that are 3D in real life. 3D gives more granularity in the design and looks better when all details are preferable on levels, such as a portrait.
With 3D design, there are more levels at which we can add detail, and 3D images on challenge coins will make a realistic look.
Objects, such as castles and monuments, are beautiful as 2D minted challenge coin. Because of with so many symmetrical lines, image in 3D design gives more negative affect than we desired. And 2D design simplifies the image to make a perfect appearance sometimes.
If you are look for excellent 2D and 3D design of custom coins cheap, then you would come to GS-JJ, a professional challenge coin maker. Our cheap challenge coins can be minted with your 2D or 3D design on one or both sides. We provide great design, free artwork for discount challenge coins at competitive price, and custom challenge coins no minimum are available. Shop challenge coin products here!