Get Quote / Ordering

Create Designs Instantly
Simply add you text and explore dozens of customized layouts.
Get Started >
>
Firefighter Challenge Coins
LOAD PRICE LIST
SIZE
10
20
50
100
300
500
1000
2000
Mold Charge
Coin Size: 1.5"

Pre-discount

Pre-discount

Pre-discount

Pre-discount

Pre-discount

Pre-discount

Pre-discount

Pre-discount

Coin Size: 1.75"

Pre-discount

Pre-discount

Pre-discount

Pre-discount

Pre-discount

Pre-discount

Pre-discount

Pre-discount

Coin Size 2"

Pre-discount

Pre-discount

Pre-discount

Pre-discount

Pre-discount

Pre-discount

Pre-discount

Pre-discount

Coin Size: 2.25"

Pre-discount

Pre-discount

Pre-discount

Pre-discount

Pre-discount

Pre-discount

Pre-discount

Pre-discount

Coin Size: 2.5"

Pre-discount

Pre-discount

Pre-discount

Pre-discount

Pre-discount

Pre-discount

Pre-discount

Pre-discount

Coin Size: 2.75"

Pre-discount

Pre-discount

Pre-discount

Pre-discount

Pre-discount

Pre-discount

Pre-discount

Pre-discount

Coin Size: 3"

Pre-discount

Pre-discount

Pre-discount

Pre-discount

Pre-discount

Pre-discount

Pre-discount

Pre-discount

Coin Size: Let GS-JJ decide for me

Pre-discount
What are Firefighter Challenge Coins?
A firefighter is a rescuer extensively trained in firefighting, whose main purpose is to extinguish hazardous fires that threaten property and civilians or natural populations and to rescue people in other disasters. It is a career that deserves the greatest recognition to who put their lives in danger to save others' lives.
The only better way to acknowledge the contribution of fighters is to give them honor with Firefighter Challenge Coins. These challenge coins for sale are easy to carry, shiny and engraved with honorable words. Firefighter Challenge Coins are carrying as a symbol of honor and pride, and a sense of brotherhood that is recognized by the fire departments around the world.
Firefighter Challenge Coins are remembered as a token of love, honor and something that depicts the highest degree of appreciation. These challenge coins serve as timeless memory and a lasting reminder of fireman service and dedication.
Nowadays, custom firefighter challenge coins are created also for specific causes. Customized firefighter challenge coins are not only simply asking for donations, but it can be designed to reflect both the fire department and its cause, and then be sold to promote fundraising activities and awareness of the cause or organization.
You can create an amazing selection of personalized honor coins to express your gratitude or award them that greatly aid in encouraging the firefighters for their great work. Whichever great coin you design, GS-JJ can engrave it with any special message. You can see our challenge coin gallery.
How to Make Your Firefighter Challenge Coins Stand Out?
Here are some ways that you can make your commemorative firefighter challenge coins stand out:
Opt to a 3D image
A firefighter's hat or ax is three-dimensional on a challenge coin that looks more realistic.When you understand the distinction between 2D and 3D coins, you will make the most appropriate judgment for your firefighter challenge coins.
Make sequential numbers
Because limited edition coins are considered the highest of honors. Firefighter challenge coins can be numbered, which makes them more highly collectible.
Ordering Firefighter Challenge Coins is Easy Here
To keep our order & design process clear and simple, TWO OPTIONS are offered below to ensure your coin design is exactly the same as you envisioned!
Firefighter Challenge Coins Designs –
You Can't Miss Them!
There are different designs for the firefighter coins. Most of the custom fire department coins are based on the following designs:
The Saint Florian
The Saint Florian Firefighter Coin derives its origin from the European tale of Saint Florian, who once saved a whole village of people by dousing a fire with just a single container of water. He was later made the General of the Roman Fire Brigade. Firefighters and the fire service, consider Saint Florian as their patron saint.
The Saint Florian Firefighter Coin is beautiful. On one side of the coin is Saint Florian watching over the firemen in gold. The Saint bestows the firemen with the strength to protect those who need their help. On the other side of the coin is the Fireman's prayer. These words give comfort and hope to the brave men, who put their lives in line to save those of the others, during the most testing of times.
The Saint Florian Firefighter Coin holds a special place among the firefighter challenge coins. It comes with a rich history and heritage that celebrates the invaluable work of firefighters.
Star of Life
This coin is shared by the Emergency Response Services including firefighter departments. Both emergency medical services and the fire service use them as challenge coins. The Star of Life coin provides hope to its recipients. The coin reminds them of the reason they do what they do – to rescue those in difficult situations.
The prayer on the coin keeps the emergency services providers going, even when they come across so much misery and suffering. The Star of Life custom challenge coins has the symbol of medical services on one side and a prayer on the other. With a base of a gold-plated coin, the Star of Life custom made coins can have many different colors, with blue being the most common.
Custom firefighter challenge coins for your brave firefighters or Fire Department celebrates the accomplishments of men and women who put their lives on the line to keep us safe
The Maltese Cross
Maltese Cross is another popular design choice for custom firefighter challenge coins. The Maltese cross is a bright red design that points towards the center. The Maltese cross has a very distinct appearance that makes it stand out among the other designs for the custom firefighter coins. The vibrant red color of the coin and the narrow arms make it a favorite among the services.
The Maltese cross originally belonged to the Knights of Malta. Today it has evolved into a symbol of valor and strength for emergency responders the world over. The eight points of the Maltese cross speak of the eight aspirations of a Knight – upholding truth, having faith, commitment to justice, repenting the sins, being merciful, being sincere, giving proof of humility, and persistence.
Maltese cross fire department challenge coins are for those who have had their mettle tested. They are for those who know the meaning of the eight virtues and are committed to practicing them every day. Why not create your own Maltese cross firefighter coins now?
Fire Chief Engrave Coin
Among the fire challenge coins, Fire Chief Engravable Coin holds a special place. It is awarded to the Fire Chief under whose able guidance so many brave men and women fight the flames to protect those in distress.
The coin has an artistic array of bugles on one side and a message on the other. The bugles were the tools used by the Fire Chief to announce to the firefighters that there is an emergency. These were at a time when fire alarms were not in place. Engravable Firefighter Challenge Coins are earned over a lifetime of service to the people and only a few deserve this highly regarded coin.
These coins can be kept as a proud reminder of the noble service the firefighters are a part of or it can be passed down as a challenge to those who deserve it. All of the custom firefighter coins have some historic value attached to them, which gives them a universal appeal.
The Firefighter Helmet
They can either get a regular coin with a firefighter helmet engraved on it or they can make it extra special by getting custom coins shaped like a firefighter helmet. Either way, these coins come out pretty well. They make for a true firefighter challenge coin.
Given the universal nature of the firefighter's helmet, no matter where you are, you will be recognizable as a firefighter. That is the reason these coins work best as challenge coins. Custom firefighter challenge coins for your brave firefighters or Fire Department celebrates the accomplishments of men and women who put their lives on the line to keep us safe.
Fire Chief Nickel Coin
The sophisticated Fire Chief Nickel Coin is another one of the exclusively Fire Chief's custom challenge coins. Made in noticeable nickel, this coin too flaunts the revered bugles on one of the sides. These bugles are a part of every Fire Chief coin because they hold such a historically significant place in a Fire Chief's life. The other side of the coin comes with a Maltese cross engraved on it. The cross is the universal symbol of life-saving services across the globe.
These designs are among the most popular and traditional ones used while forging the fire department challenge coins. However, each fire department and each fireman is different. So, challenge coins need not be the same.
But, it will serve any fire department well to use these traditional coin designs as a starting point for their coins. They can then go on to add their own touches to make their custom made coins unique. A traditional and personalized design is the best combination.
Why Choose GS-JJ?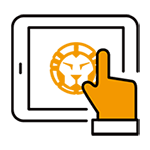 Convenient Systems
GS-JJ.com offers you superior quality firefighter challenge coins at cost-affordable prices. Ordering from our online Automated Quotation System is easy, smooth and hassle-free.
Besides, we suggest you use our newly developed Coin Design System.
Close Contact
We keep in touch with you throughout the process to let you know how things are going, from the approval of artwork and proof approval, through to production and delivery.
Please feel free to contact us for any issues about our firefighter challenge coins.
Various Options
Although most coin designs for firefighter challenge coins are round in shape, we are willing to create any shape, size or color you wish, including metal colors gold, silver, copper, black nickel and brass.
You can select to have colors on one side or both sides, and add wave-cut, rope-cut and cross-cut edge.
Free Artwork
Artwork and revisions are free for you to get the firefighter challenge coins you want. GS-JJ offers 100% Satisfaction Guaranteed. If any product has a flaw in either materials or workmanship, we will replace it for you without any charge until you are satisfied.
Let us show you how great your firefighter department coins can be!
Do You Know the History of Firefighter Challenge Coins?
[ 1 ] Honoring "August"
for officials
Just like law enforcement coins, firefighter challenge coins are also a way of honoring them and other public officials in "August". This includes brave firefighters who are continually risking their lives to keep other's property and lives in safety.
But you might be pleasantly surprised by this distinguished and interesting firefighter challenge coin history. From the beginning we mentioned "August", and that is actually where firefighting started!
[ 2 ] The origin
of the fire brigade
Namely, the first-ever organized Roman fire brigade of which we have any substantial history began in ancient Rome while under the rule of Augustus.
In 6 A.D. after a catastrophic fire in Rome, the first organized fire fighting force was established by Augustus Caesar, known as the Vigiles. With 7,190 members, the Corp of Vigiles has gradually become one of the most powerful and respected elite organizations in the Roman Empire.
[ 3 ] The development
of the fire brigade
As known, the fire service is a direct result of the Vigiles. It wasn't until 1673 that Dutch inventor Jan Van der Heyden developed the first fire hose. And in the United States at the time, the first fire company came into service in Boston.
Benjamin Franklin established the Union Fire Company in Philadelphia next year. There was a kind and heroic volunteer firefighter called George Washington in Alexandria, he even bought a new fire engine and gave it free to the town.
[ 4 ] The popularity
of fire brigades
However, it wouldn't be until the Civil War when fire departments became universal nationwide and fully received money and mentoring support from the local, state, and federal governments. That's all the stately history of firefighting.
But certainly enough to consider when realizing the importance of firefighters, especially when honored them with the fire dept. challenge coins for sale.


Online Design System
Design+Quote+Ordering
Use our unique design system to take full charge of your artwork. Be your own designer!
Our cutting-edge system allows layering, rotation, scaling, and adding and recoloring elements! Add, recolor, and stylize text. We have many text effects to choose from!
Take pride in giving out coins you created yourself!
Design It Yourself Online
Professional Design Team
Quick Quotation
PROFESSIONAL DESIGNERS!
Our award-winning team can help with your design or create
honor coins
for you!
FREE PROOF! You can send photos, drawings, or just list your ideas and our designers will get you a proof right away!
Get Quote / Ordering
Customize
X
GS-JJ.com ™ specialize in custom challenge coins for U.S. Army, Police, Navy, Air Force, Marines and Coast Guard. Free Automated Quotation System online.
Challenge Coins

FREE artwork and design
FREE Shipping
FAST Production

Please fill-out the Automated Quotation System as follows......