A Beautiful World in The Bottle
This is a micro view bottle. There is a very beautiful world in the bottle. It is divided into two parts: day and night. In the daytime, butterflies dance around the flowers, and In the night the moon hangs high surrounded by stars.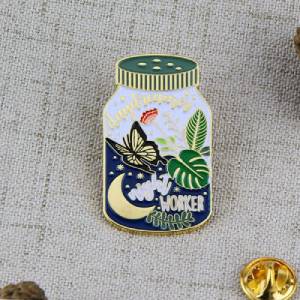 The design is very creative.  The Die Struck Pins for World in Bottle, made by GS-JJ, the enamel pin maker. It is crafted by soft enamel, die struck with gold finish. The craft is very delicate. Each of us is individually poly bagged and fixed by a butterfly clutch back. GS-JJ can provide many different dies struck pins at the lowest price.