Now you have the custom patches which you have spent much time to get in your hands. Here comes the problem: how to iron on the new patch onto your garment? Relax, it's easy. Here are some detailed instructions to help you apply the patch on your clothes.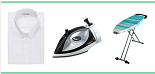 Before we go, let's get the following essentials ready: aT-Shirt (or other garments you want to apply the patches on), iron, the ironing board or other flat surface, a piece of thin towel. Then you need nothing more than a little bit patience.
STEP 1- Determine the iron surfact.

First of all you have to decide the best place to iron on you patches,our suggestion is: place the patches on different positions to check the overall appearance. If there is more than one kind of patch you need to put, please double check the place to see if it is big enough for another patch. Then find your favorite position and move on.
Place your T-Shirt on the ironing board, and then iron the place where the patch will go. Make sure that there is no wrinkle in your T-Shirt. It takes around 10-20 seconds. Thick material garments or bags needs longer.
STEP 2- Place the Towel.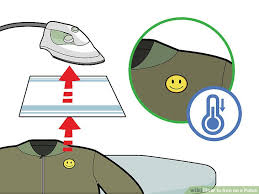 picture from:Wikihow.com
It requires clean, white towel which should not be too thick nor too thin.It plays a huge role in protecting the clothes getting burned by the iron. In addition, the towel can greatly lower the risk of discoloration effect. That is why placing suitable towel on the right position is so important.
STEP 3- Iron the Patch.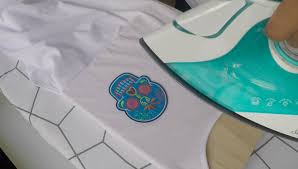 Figure 1from youtube.com
Placing the patch above the towel and covering the place which you have chosen, andchecking the garment to see if there are any places wrinkled or unfolding. Next you need to move the iron slowly, forward and backward. Generally speaking, it requires 10 seconds to iron on the patch.Then turn over your garment and iron the back sidewith more time. NO water is allowed during the ironing.
STEP 4- Cool It.
Once you have finished the ironing, you can take away your iron and leave the patches alone. The garment with patches will be cool down in several minutes and you can have a try of your new T-Shirt.
Though we have paid enough attention in ironing on the patches which would not be removed easily, we highly suggest garments with patches washed by hands rather than washing machine.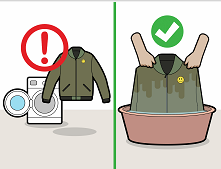 Figure 2from wikihow.com
Now do you have a idea to iron on your new patch after reading the blog?