Coin collecting is a much easier and more fun hobby for many people worldwide. For them, the coin collection of custom challenge coins is more than a way to get profit, also a reminder to let us remember the special moments and occasions in history. Just as the meaning of below commemorative coins of Canada to us.
1. Canada 2004 Commemorative Coin
Value    25-cent
Type     Circulating commemorative coin
Years   2004-2005
Metal     Nickel-plated Steel
In 2004, the Royal Canadian Mint issued the 25-cent Poppy coin, and it's the first colored circulation coin in the world. Definitely it's a great choice for every collector.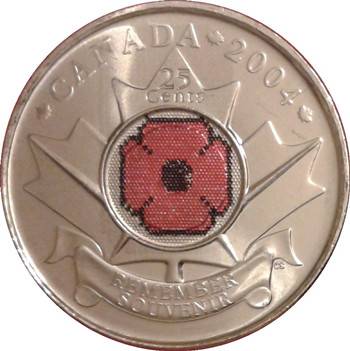 In the middle of a maple leaf on this circulation coin, the red poppy is stamped on it and surrounded with the legend "Remember Souvenir", and printed with the coin's facial value and the inscription "CANADA 2004". Poppy is the known symbol of remembrance of the sacrifice during the Wartime; so many commemorative coins are designed with it.
2. 2010 Circulation Coin – 65th-anniversary end of World War II
Value   25 Cents
Type     Circulating commemorative coin
Years   2010
Metal   Nickel-plated Steel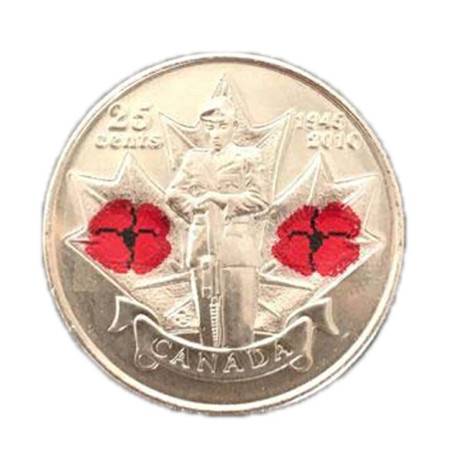 The 2010 25-Cent Circulation Coin was marked 65th anniversary of the end of the Second World War, which was an unforgettable history for us.
The circulation coin is a not only valuable collection but also as an honor to those who sacrificed their lives for our freedom and the Nation, a perfect way to express our "Thank you".
The 25-Cent circulation coin features a Canadian soldier standing to remembrance guard surrounded by two striking red poppies on a maple leaf background, which is Canada's flower of remembrance. As the third colored coin, this 25-cent coin follows the introduction of the 2004 and 2008 red poppy coins and has more color parts and durable than the last two editions.
3. 2011 Parks Canada Centennial Commemorative Circulation Coin
Value  25 cents
Type     Circulating commemorative coin
Years   2011
Metal   Silver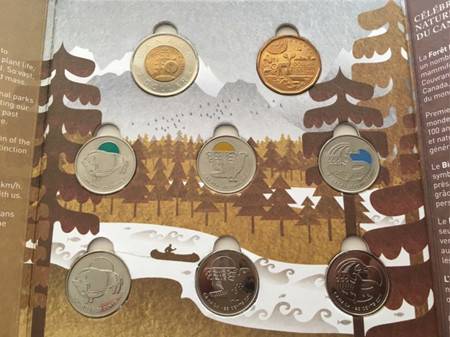 Parks Canada is the world's first system of national parks. The series of commemorative circulation coins are issued to celebrate the 100th anniversary of the establishment of Canada's National Parks. All of them capture the essence of Canada's natural, historical, and cultural treasures, and their themes will include boreal forest, orca, wood bison, and peregrine falcon which can present the Parks properly.


Here I would mainly talk about the three new 25-cent circulation coins, which feature the Orca, Peregrine Falcon, and Wood Bison separately; half of them will be colored.
Do you notice their colors? These 25-cent circulation coins are filled with blue, yellow, and green colors, not the only red. It's the first time to do this because of the development of the manufacturing level. As a professional coin collector, you should have them to remember this landmark.
4. Commemorative Coin for the 200th Anniversary of the War of 1812
Value   25 cents
Type     Circulating commemorative coin
Years    2011
Metal     Silver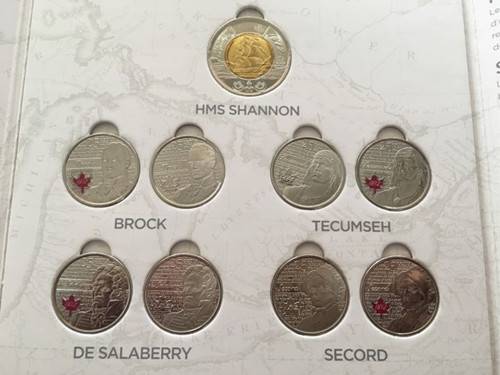 This Series of Five commemorative circulation coins are announced to honor and celebrate the 200th Anniversary of the War of 1812, by The Royal Canadian Mint.
For Canadians, the War of 1812 presented a rich historical moment steeped in both fact and myth, full of heroes, villains, disastrous defeats, and glorious victories.
War of 1812 commemorative circulation coins set are combined with 4 colored and 4 non-colored quarters Brock, Tecumseh, De Salaberry, and Secord along with the Shannon $2 Set coins, which means important victory in that battle time.
This coin helps us to remember these important events and moments in early Canadian history and can learn more about history by collecting these circulation coins.
5. 2017 Canada's 150th Anniversary Commemorative Coin
Value   two Canadian dollars
Type     Circulating commemorative coin
Years     2017
Metal    Silver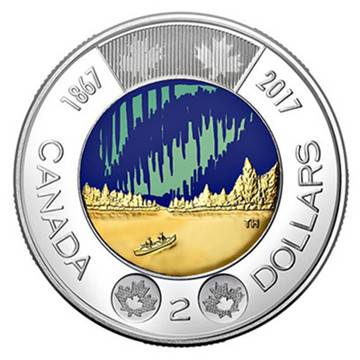 An amazing coin glows in the dark!
The two Canadian dollars coin, called a "toonie", is the world's first glow-in-the-dark circulation coin, as part of a collection created to mark the 150th anniversary. This coin features a view of the blue-green aurora borealis above two canoeists paddling along a tree-lined lake; the core colored part contains luminescent material to make their design so special.
According to the report, there are about 3 million toonies feature glow-in-the-dark technology and have been made for circulation, so be quick if you're interested in them. Show your Canadian pride with each of the unique coins.
For challenge coins, the process and craft is a higher level than before, you can add up to 7 or more colors to your custom challenge coins, from different sizes, shapes to finishes or colors. And GS-JJ is known as a leading challenge coin maker, responsible for manufacturing and creating high-quality custom challenge coins and related services well, our custom coins are at affordable price.