Take a look at any firefighter challenge coins carefully, and then you will find the iconic cross-shaped fire department logo. More often we will see the icon like this: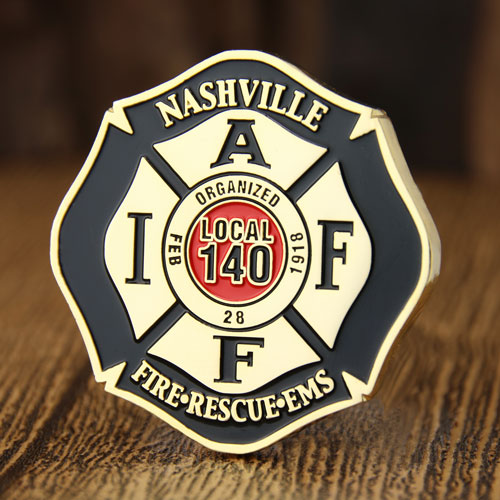 This is the most common Saint Florian's cross when our customer designs their Firefighter challenge coins. It is used as a symbol or badge for firefighters in many countries nowadays, especially in the USA and Canada. This cross icon represents the honor and brave, commitment of all firefighters, what they have done for us will last forever like these Firefighter challenge coins.

We make most of Firefighter challenge coins for customers with Saint Florian's cross symbol on the obverse or reverse side.
Who's the Saint Florian?
Saint Florian was a Christian man, high-ranking Roman officer and responsible for organizing and trained firefighting group in his duties.
As we know, Saint Florian's group wasn't the first firefighters group in Rome, but they were the most-known and popular one that time. All men were dedicated to protecting Roman citizens, and St. Florian trained it as united and excellent group of soldiers who were first responders to fight fires.
Later he was sentenced to death because that he refused to renounce his faith. And he was declared a saint with his great achievement and performance involved in firefighting. Since then, many firefighters and military units in other place have introduced the cross icon that as a reminder for the fireman.
How the St. Florian cross looks like?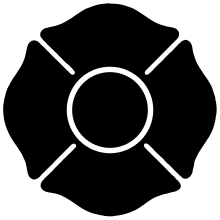 The origin of the St. Florian cross was dated back to the 4th century, and named after Saint Florian, who was the patron saint of firefighters.
The St. Florian cross, looks like a flower with four petals. The cross has eight points in different meanings —which represent the traits of a good firefighter, and the cross has rounded edges.
The cross of St. Florian is widely used by fire services to form their emblem or badge and as the majority of Fire department logo now.
Besides, the St. Florian's cross is often times mistakenly called the Maltese cross. The two symbols are very similar, but the Maltese cross has eight-pointed cross with V-shaped, and St. Florian's cross is softer without sharp, has rounded arcs between the points.
Besides the two cross icons symbol for fire department, there are also many other crosses evolved from them, they also can express the virtues and spirits for the Fire Service.
For the firemen, the eight points on St. Florian's Cross represent the eight different virtues of Knighthood:
Tact
Loyalty and commitment
Dexterity and mental adroitness
Observation, attentiveness and perceptiveness
Sympathy, compassion and sharing
Explicitness and thoroughness
Bravery
Perseverance
No matter which cross icon Fire department uses on firefighter challenge coins, it's not really a big matter. Different cultures are the origin of various opinions.
The general consensus we should have is that Firefighters put their lives in risk and protect the public from whatever misfortune comes their way, and rescue them from fires, and tend their wounded, and keep them and their properties as safe as they can. They are the heroes in the fire. And the Fire service logo on the Firefighter challenge coins proves that.
We're committed to giving you the highest quality custom coins available and creating the best cross icon in details on your firefighter challenge coins. The important thing is, saving money for your order definitely. All our firefighter challenge coins are with our 100% Satisfaction Guarantee, FREE design and shipping.