Let's Know a Legendary Creature–Merfolks
Merfolks are a race of humanoids that live underwater, and 95% of the ocean is undiscovered, so can you tell Merfolks don't exist yet?
The great seas are full of Merfolk, tritons, and many thousands of dolphins, while the beaches are lined with soft white sand and dotted with a great many brightly-colored shells. We are already familiar with the beauty of mermaids, their desperate love, and as if they can never get rid of sorrow. The legendary Merfolk is the curse of the sea. The upper body is suffocating, the lower body is full of scales of the cold fishtail (sometimes a, sometimes split two), plus the charm of the song, countless sailors were so led to not return road. Although they are very longevity, still face death, and it is said that Merfolk no soul.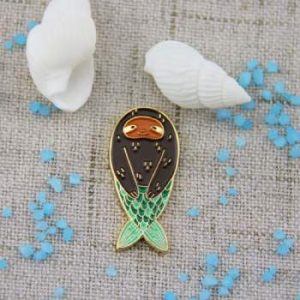 Our custom lapel pins for Merfolk made by GS-JJ, enamel pin maker; It is hand filled with soft enamel colors and sparkling iridescent glitter in the fishtail as an extra added bonus! Each of custom lapel pins for Merfolk comes individually poly bagged and with a rubber clutch back to secure in place on your backpack, gym shoe, lanyard, ID badge, or jacket. If you are a pin collector and looking for the excellent custom lapel pins, you should visit the website www.gs-jj.com. At the same time, we have many excellent designers, you can order different style custom lapel pins.