Do You Know The Wizard Lapel Pin
Last night, I made a dream, I lost in the forest, very anxious. Suddenly, a lovely white wizard appeared, it took me in the night sky to fly, and then fly out of the forest. Finally, I safely came back as in the Miyazaki Grandpa's animation world. I wake up in the morning and find my chest wearing a delicate wizard pin, which is the company's new products, very cute. The pin is crafted by soft enamel, dye black with glitter.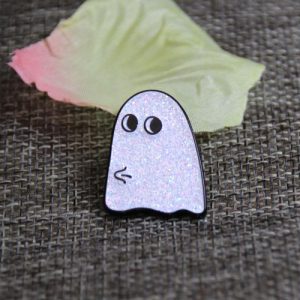 Although it is a simple white soft enamel pin, in the sun's irradiation it is colorful, sparkling. The soft enamel pin for the wizard is full of glitter, which is a sort of craft. Its big eyes look at you and its finger show you direction. It is suitable for the present to friends as a gift. Each one comes in an individual polybag and is secured with a rubber cap back. GS-JJ can give you the best design for your pins. We look forward to your arrival.