Silkscreen printing and Dye-sublimated printing is the most common printing technology for producing awesome lanyards. The former is a traditional printing technology while the other is advanced printing technology. Besides this, they also have many other differences including advantages and disadvantages. To let all customers know more about the lanyard's craftsmanship, we write this article to introduce them individually. The understanding of these two printing technologies can help us choose the good lanyards that suit us.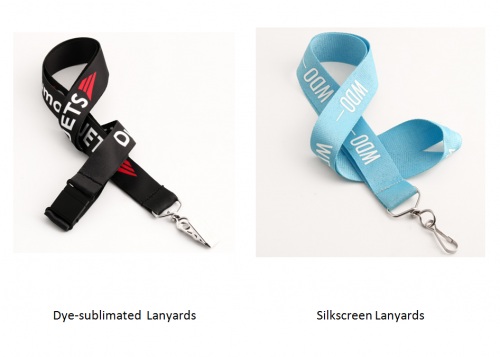 Silkscreen Printing Technology
1. Technical principle:
The silkscreen technology is originated in China more than two thousand years ago. It is a stenciling method that mainly about pressing ink through stencils that are on top of the screen.
Firstly, we use the screen printing forme with mesh as the supporting screen. Then we make a stencil for each color according to the lanyard design and add printing ink. Next, we press it with strong pressure. In this way, you will see that the mesh part of the forme has ink penetration. According to the process, the infiltrating ink will form the text and graphics of the design
2. Advantages:
A). Versatility: silkscreen printing has no limitations for the substrate. It can print on plain or on a curved, spherical and concave substrate. Additionally, it also allows printing on the hard or soft object. Multiple color printing is also achievable, which is what we called multicolor lanyards. The feature of strong adaptability enables silkscreen was widely used in different industries, such as the clothing and textile industry.
B). Long-Lasting Effect: silkscreen printing lanyards have thick ink layer and strong coverage: The ink layer of silk printing reaches 30 microns thick, with rich texture and strong three-dimensional sense. Designs printed with this method can endure greater stress than other printing methods due to its thickness.
The silkscreen printing lanyards were often used in factories and companies because of their durable quality.
C). Strong light resistance: A variety of ink can be used in silkscreen printing, such as oil-based ink, water-based ink, synthetic resin ink, and powder ink. You also can mix the good light-resistant pigment with ink, which can make the printed logo and picture remain shiny without the effects of temperature and sunlight. It even can glow at night.
D). Simple equipment and large printing area: The printing equipment is easy to use. Nowadays, silkscreen printing products can be as large as three meters by four meters, or even larger. Your design for the surface of lanyards can be achieved by using silk screen printing technology.
E) High volume order: Silkscreen printing process is suitable for high volume production. Compared with dye-sublimated printing, silkscreen printing is practical and cheaper. The larger order you have, the lower you will cost. Smaller order is impractical for the product used by silkscreen printing.
3. Disadvantages:
A). Not eco-friendly: From environmental aspects, silkscreen printing wastes a lot of water. Its plate-making process can produce developing liquid, and then the Ink barrels we used will send out the smell of ink. There are some cleaning wastewater and waste cloth produced when cleaning. These pollutants should be cleaned up by professionals.
B). Long production period: applying one color to the lanyards at a time is the obvious and biggest limitation for silkscreen printing. Hence, designing multicolor lanyards is a complicated and difficult thing.
Besides, in the printing of the complex graphic, it requires a lot of manpower and multiple overprinting. A higher rejection rate also exists in silkscreen printing. Therefore, making high-quality lanyards is not an easy process.

Dye-sublimated Printing Technology
1. Technical principle:
Dye-sublimated Printing Technology is a new and advanced printing process introduced from abroad more than 10 years ago.
Firstly, the digital images transferred to the transfer paper through the printer by using the transfer printing ink. Secondly, the pattern is accurately transferred to the surface of the customize lanyards by using the transfer printer with higher temperature and pressure. The lanyards finished at the end.
2. Advantages:
A) High-quality image: dye-sublimated printing heats the ink and turns it into vapors that make their way into the surface. In this way, the design image is much more lifelike and visually appealing.
B). Green printing: In recent years, green environment and green printing is the main theme in printing fields. The dye-sublimated printing technology doesn't produce the poison and pollution, and it conforms to the International Non-toxic Standards. It is a very good form to protect the environment.
C). Simple printing process and accurate printing location: The dye-sublimated printing technology doesn't have the process of placemaking, printing down, and repeated chromatic printing. Besides, there is no need for various types of tools and materials. The printing pattern takes shape once and it avoids the defects of chromatic printing. The production time has been reduced.
D). Diversified colors and UV resistance: Dye-sublimated printing technology can print colorful pictures. The problem of the monochrome silkscreen printing was avoided efficiently. The lanyards are not easy to lose color. UV resistance is strong. No need for air drying.
3. Disadvantages:
A). Hard feel and poor air permeability: The dye-sublimated printing technology can make the lanyards harder. But it can become softer after washing. The air permeability is not good.
B). Cracks appeared when pulling: There have cracks appeared on the dye-sublimated lanyards when the lanyards were pulled horizontally. It is unavoidable because it depends on dye-sublimated printing technology.
C) Don't use it on the dark substrates
One biggest limitation for dye-sublimated printing is that only the substrates need to be white or light backgrounds because the printings are not visible on dark substrates.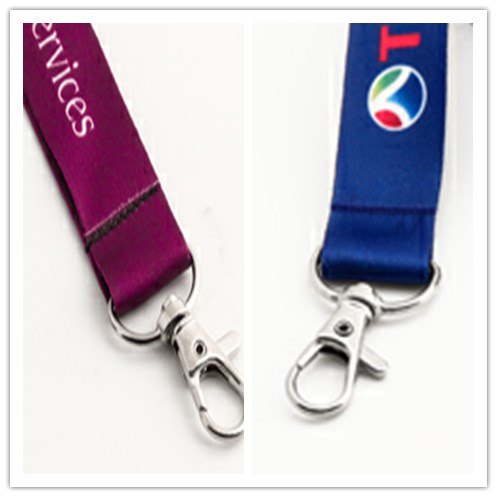 Both of these two technologies have common features like good adaptability. The graphic can be printed on the plain, or curved, spherical and concave surface. Complicated graphics on the lanyards can use the dye-sublimated printing; simple graphics on the low price lanyards can use the silkscreen printing process.
After the introduction, you must have to know more about the process of making high-quality lanyards and you will know which lanyards you need most.
GS-JJ is a lanyard company that mainly produces high-quality lanyards. We have a professional team included designer, maker, and other staff. We also have some lanyards with advanced dye-sublimation technology. We can meet all of your needs.
However, if you have more questions about the printing process, please search at the GS-JJ blog or chat with us directly.
Our website URL: https://www.gs-jj.com/lanyards/Custom-Lanyards/breakaway-lanyards
Email:  info@gs-jj.com
Tel: 1-888-864-4755