Today we're going to talk about Hard Rock and the HR Lapel Pins.
With regard to Hard Rock, we go back to 1971, when two cool young American rock and roll stars, Isaac Tigrett and Peter Morton, opened the first Hard Rock Café in London, England. The unique diamond record menu continues to this day. After nearly 50 years of development, he has more than 200 stores in the world and has entered more than 70 countries. It has more than 8 million followers on Facebook!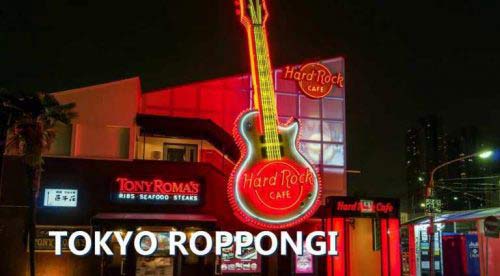 The point is that it also owns Elvis Presley's 24-carat Golden Leaf Piano, The Beatles' Fantastic Tour Bus, Hendrix's guitar -Flying V, and John Lennon's handwritten notes, etc. More than 80,000 music collections! And those collections will Global Rotary Exhibition, held 31,000 live music performances every year, to the global store pilgrimage to play more than 92 million people.
Next, let's talk about some distinctive HR Lapel Pins I collected in Japan this year.
As an HR custom pins' enthusiast, I always want to buy and collect the HR pins as soon as I see it. This time I'll show you the Japanese HR pins. Every time I see it, I get excited.
In Japan, six HR stores, all decades old, are still flourishing. Last year, Tokyo's Narita International Airport opened its seventh HR in Japan.
The first City Icon Lapel Pins, still a favorite of many HR fans and me is still based on the guitar speaker. Against the background of cherry blossoms at the bottom, Mount Fuji stands far away in the distance, with an airplane roaring across the sky. From the bottom up, the three main elements accurate to tell you, this is Japan, Tokyo, Narita International Airport.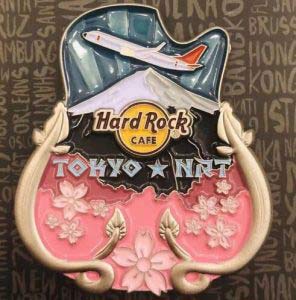 The second one is similar to the original design of the last one but obviously lags behind in terms of artistry. The whole pins should be a painting. Cherry blossoms, airplanes, and Mount Fuji.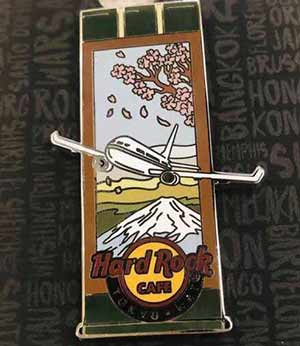 By the way, I've put my guitar down for a long time, but the pins are still holding it.
NARITA AIRPORT is the name of the AIRPORT. In the center of the picture, a Japanese artist looks at Mount Fuji with her back to us. Directly in front is a set of red drum kits, left a red traditional Japanese umbrella with the top red lanterns and sporadic cherry blossoms constitute the red tone. A Japanese ancient pagoda on the right. Guess what it is? The correct answers are posted by the smartest friends in the comments below, and I won't show off my knowledge here.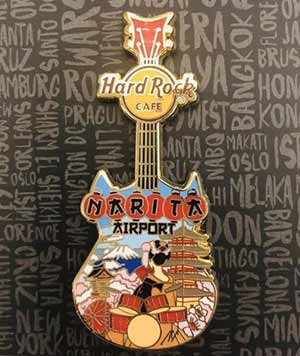 Let's call it a day. See you next time.