Attentive friends will discover that custom medals can be combined with other products to get different effects. Now follow me to know more great matches.
Medals and lanyards are a common match. But when combined with custom medals, lanyards are called as "ribbon". If they separate, the ribbon is what we called lanyard. With lanyards, you can wear the medals on the neck. But do you know how many kinds of lanyards are there?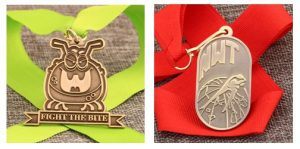 Ribbon can be classified into five types. They have different features. How to choose the best type of lanyard to suit you will give you more details.
No.1 Polyester lanyards
No.2 Nylon lanyards
No.3 Tubular lanyards
No.4 Dye-sublimated lanyards
No.5 Woven lanyards
How to link medals and lanyards? There must be hooks involved, which can be counted as lanyards attachments. I find some types from <<Something about lanyards accessories you should know>>.
No.1 Keyring
No.2 J-Hook
No.3 Metal Lobster Claw
No.4 Metal Oval Hook
No. 5 Metal Swivel Hook
No.6 Metal Slide Hook
No.7 Snap Swivel Hook
Medals and pins are special matches because it is usually used on military medals or fiesta medals. People like wearing them on their chest or pinning them on their hats. Therefore, these types of medals are small in size. Usually, the safety pins are placed on the ribbon or metal.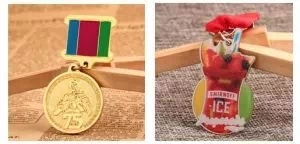 Tips: More knowledge about different pins in other products like custom pins:
How to Choosing the Right Attachment for Your Custom Lapel Pins?
Medals and keychains together must be a showy way to express your fashion attitude because you can take your honor to everywhere. Don't you feel cool when wearing a metal keychain? Nowadays, more buyers choose this way to customize their medals. You can try it as well!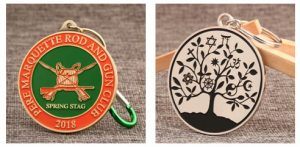 Medals and buckles are rare matches. However, it doesn't mean that these two can't be a good match. It means when you design custom belt buckles, you can use medals design. Of course, some buyers will choose that belt buckles where you can place your medals. In this way, the medals are not the original medals, and it looks more like challenge coins. Nevertheless, it is indeed a good way to show your medals on the waist belt.


No matter which combinations you choose, they are nice choices to show the meaning of medals. According to your needs to choose the best selection!
Sources:
1.https://buckleshack.ecrater.com/p/31278108/hampshire-state-seal-award-design
2.https://www.bucklesofestes.com/coins.htm