Mensa is the meaning of the "round table" in Latin.  The meaning of Mensa from the round table is that people are expected to sit together on equal terms, but only if they have a similar IQ. Mensa is the name of the world's top IQ club. Founded in 1946 in Oxford, England, the founder is lawyer Roland Berrill and scientist and lawyer Lancelot Ware. At that time, these two smart people had whimsy and compiled some difficult questions to test IQ, which was widely sought after. Roland Berrill and Lancelot Ware set up a club to call on high IQ people to join. They are interested in building a community for smart people, and the high IQ of the participants is recognized, affirmed, and continuously improved through the challenging community activities, and they share their success. For many years, Mensa has adhered to the principles of neutrality and non-politics and non-profits. Mensa international headquarters and clubs also organize some paid activities and some publishing activities, but all the income is used for club expansion and improvement. All participants personally do not benefit.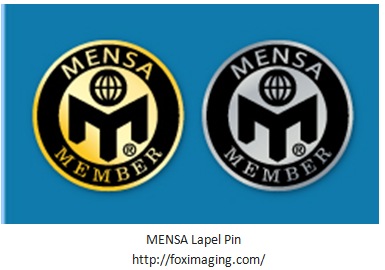 The Mensa Club has more than 100,000 members in more than 100 countries and regions around the world. The Mensa test papers generally have 30 questions, and the correct answer is 23 questions. The conversion to IQ is 148, which is the standard that can be added to the Mensa club. The Mensa test generally comes from the aspects of attention, observation, logical thinking, imagination, and memory. The distribution ratio of these 30 questions is roughly the same. You will find that you are better at these topics, and which aspect is more prominent.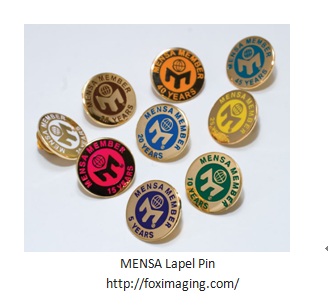 Mission
MENSA's three public purposes are: to identify, nurture and consolidate human IQ in the interests of humanity; to encourage the development of intellectual instinct, characteristics, and uses; to provide members with valuable opportunities for intellectual stimulation, communication, and development.
Principle
MENSA is an equal round table society where there is no difference in status. In this society, all races, colors, dogmas, nationality, age, political education, and social background are irrelevant.
If you have a high IQ, try joining the Mensa club. It's an honor to be able to join Mensa. In fact, there are many other meaningful clubs in the world besides Mensa. Joining a charity club, a car club, etc., can help people in need and enrich your life. Of course, club members also have custom enamel pins.
If you want to own unique mensa pins, choose GS-JJ. We've made a lot of club Custom enamel pins, for example, Lion Club International Pins. Each of the custom enamel pins is individually poly bagged and fixed by a butterfly clutch back. GS-JJ can provide all kinds of lapel pins at the lowest price. Enamel pins wholesale will be cheaper.