More Designs for Our Challenge Coin Bottle Opener Here…
As usual, people can't leave the beer alone this hot summer. Especially the International Beer Day on August 3, 2018. It is a global celebration of beer, to gather with family, friends and enjoy the taste of your favorite beer in pub and bar, brewery tour, and every corner around the world.
This event is a great time for businesses to celebrate the alcoholic beverage event and to promote their products, brands, etc. If so, you can't miss custom challenge coin bottle opener, which are perfect items that are special, attractive and functional, and fitting for your International Beer Day.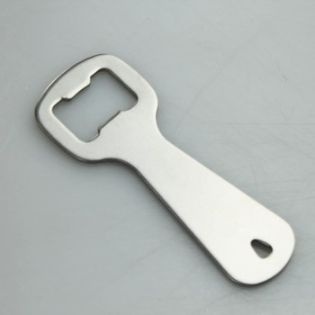 A typical bottle opener is a piece of metal with a rectangular or rounded opening at one end. You can know it well from the above picture.
When challenge coin combined with bottle opener to be a functional item, they are more than a special token. Then challenge coin looks more delicate and useful. Try to design personalized challenge coins with bottle opener, it will make a perfect addition for everyone who attends the beer-related occasions and let them feel your gratitude and be proud.
As a leading challenge coin maker, we recommend the following popular bottle opener designs for your reference.
They are mainly three distinct designs, feature with a rectangle (dog tag) and round shape. We use the finest craftsmanship to create challenge coins with a cut-out part for a bottle opening feature, make them more attractive with a purpose.
Round Challenge Coin Bottle Opener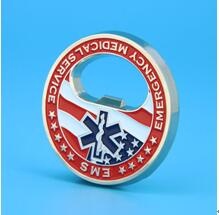 This is the most common design for challenge coin bottle opener, cut out the opening on the top or bottom of challenge coins. The tool makes it easy to open most bottles and keep challenge coins design fully.
Dog Tag Challenge Coin Bottle Opener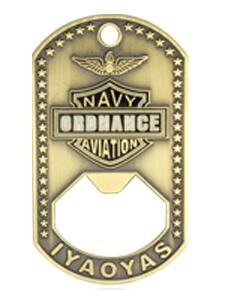 Everyone loves a functional gift, especially the Military members. The second design is a rectangle shape, like a dog tag with a jump ring to hang.  The opening part can be designed on the top or bottom. You can design your Military challenge coins and other personalized challenge coins more multiple-functional as a bottle opener.
Edge Cutting Challenge Coin Bottle Opener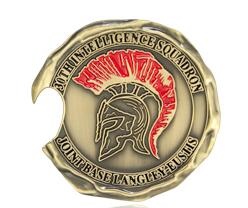 The third design feature with special cutting on the edge, make challenge coin bottle opener unique and outstanding. And this edge cutting design needs enough thickness of challenge coins. Up to 3.5mm or more.
Besides, if you like, custom medals and key-chains are also great metal crafts that can be created with bottle opener, with your personalized message to meet a special requirement. And all receivers will treasure them as keepsakes.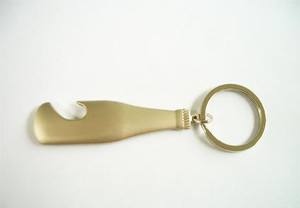 When you design challenge coins with a bottle opener from GS-JJ, you're doing more than expressing your gratitude for service members and supporters. It is a fashion and practical way to improve membership and to enhance unity in a team.
Challenge coin bottle opener is a wonderful giveaway item that has its function, and high valued items for collectors. You can make them any shape, style, or color that you want. And our skilled artists can help you design ideal artwork representing your business, military unit, or group.