Every customer comes to GS-JJ, hope we help them create unique and attractive custom coins with their own design, logo, and text.
If you want your custom challenge coins are amazing, your own design is the first step to make it. Then, our talented artists and sales will give you great challenge coins options and guides for your choice. The result is one masterpiece comes into being.
1. Plating Options
Plating options are just like the skin color of your challenge coin, such as gold, silver and copper color, or other antique additional plating colors, even two-tone finishes if you want.
You can choose from a range of metal finishes for custom challenge coins to fit your design, symbol, and events, etc. especially produced your outstanding custom coins with dual-plating options.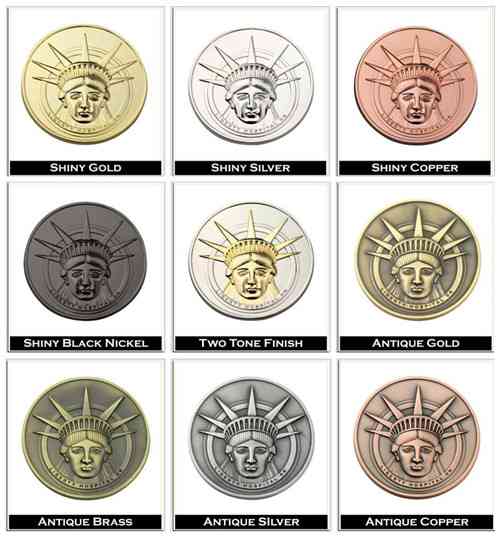 2. Edges Options
We all know the special edge is an important detail for custom coins and should harmonize with its design, graphic, and even meaning, and you can select the right type for your challenge coin here.

The delicate edge gives attractive looking for your challenge coin, choosing proper edge options makes it more fabulous and impressive.
There are mainly 6 different popular edge options for custom coins, choose your favorite edge from bezel edge, cross-cut edge, rope edge, spur edge and oblique line edge, standard edge.
For more details about edge options, click here.
3. 3D Images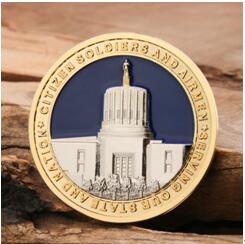 Putting 3D mold on custom coins is an attractive option; your custom coins will highly feature the 3D relief image, raised metal in details, and look more real and vivid.
And you should know that building, statues, profiles of people, and other objects are suitable for 3D style, which looks as beautiful as they like in real life. Do the right options for your challenge coin.
Know more when using 3D image properly on your custom coins, check here.
4. Cut-outs Process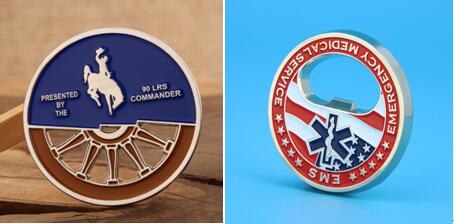 The cut-out process is another popular and innovative option, a great way to personalize custom coins with cuts.
In some design cases, our designers try their best to use cut-out technology, make sure the precision of your logo or symbol can be presented well as its original.
The cut-out process can be used in the outer and interior areas. What's more, the cut-out effect brings you a functional challenge coins bottle opener if you need it.
5. Epoxy Dome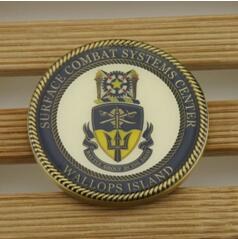 Epoxy coating is an uncommon option, mainly a clear layer of resin, which can protect your custom challenge coins from scratches, and color fading-away, etc. It's suitable for soft enamel custom coins mostly, with a glossy surface. It has strengthened and weakness, custom coins are covered by epoxy dome will look not so bright.
6. Transfer Printing Image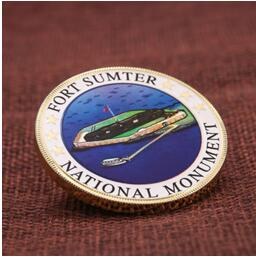 It's not so common to choose a transfer printing image on challenge coin. When your custom challenge coins are with complex and detailed photos, we will suggest customers apply transfer printing, offset printing or paper sticker image, etc.
This option helps your challenge coin feature image as a photo pattern, more realistic and vivid.
Besides the above six options, we still have other extra options for custom coins: such as sequential numbering (which helps you mark your precious challenge coin), presentation options for challenge coins display, and others. As a professional challenge coin maker, all options from GS-JJ are with reasonable fees, and some options are FREE.
We manufacture custom challenge coins at the lowest prices available and create your own challenge coin using your logo, insignia, or other design. Contact Us Today at: +1-888-864-4755, or Email us info@gs-jj.com