In fairy tale, it is always said that prince and princess live together happily and all the end of stories seems same. I have heard a different story for princess and witch some time ago. The witch is not wicked.
"I am not wicked"
Once upon a time, there was a mysterious witch who lived in a castle.  No one has dared to go into castle. One day, the king issued an ordinance: He would entrust the beautiful princess to the person who can enter into the castle of witch bravely.
The news was spread all over the world. Many of princes and soldiers took many weapons to attack the castle, but all of weapons have dissolved in the witch's fingertips quickly, then weapons was fell on soldier's head, finally, they were killed or burned, princes lose all and leave alone.
There was a young man sitting on a tall tree and watching the scene. After all the princes failed, the man jumped out of the tree and said, "I'll try." He threw away the only dagger, and walked to the castle unhurriedly, knocked softly and firmly, and asked, "May I come in?" The strong gate was opened gently.
In the dark castle, masked witch greeted the young boy and she said, "I am not wicked, welcome you!". Witch took the young man around castle that is a mysterious and beautiful place. She was a shy girl with short hair after taking off mask. At the end of story they lived together happily.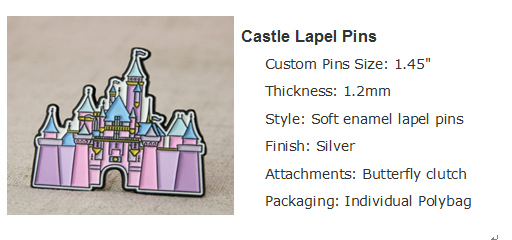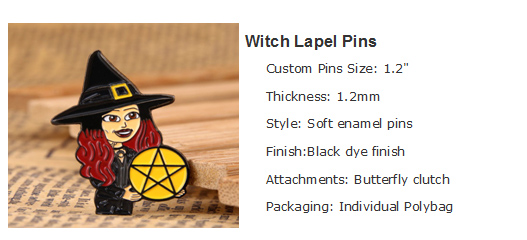 Welcome you
Do you love this story? As you know, the witch is not wicked. Do you want to have a castle or a magic witch? Actually, both of them we can't offer you, but we can offer you lapel pins with castle or witch. "Welcome you!" as the witch said, if you have no idea for GS-JJ, features of GS-JJ will amaze you as follows.
*GS-JJ has been in the manufacturing of promotional gifts merchandise for over 20 years, we are one of the largest manufacturers in china, can sale products directly to you without middle merchant.
*GS-JJ offers Varies of lapel pins including Enamel Pins, Hard Enamel Pins, SandblastPins,3D or Cutout Pins,Antique Pins and Offset Printed Pins with no minimum order.
* You can easy to select Lapel Pins you need online by Automated Quotation System. Our specialized designers do the first proof within 24 hours, and modify proof within 12 hours.
* Discount price according to different way, such as quantities of your order, delivery time, we promise to give you the cheapest price.
* We have received excellent 5-star ratings from ASI and SAGE, as rated by our distributors. Whether you are VIP or new customers, your comments would make us progress continually.
* You can watch blogs according to month or contents. By viewing blogs, you will know all the details of our products or some events. If you are interested, put comment on it, and we will send a reply as soon as possible.
Whether you need fine workmanship, high responding speed or fast logistics, don't hesitate to contact with us. Making your satisfactions is our goal. Many of ways you can keep touch with us:
Call 1-888-864-4755 toll-free
Email to info@gs-jj.com,
Click website https://www.gs-jj.com/lapel-pins/Custom-Lapel-Pins .