When you have a limited budget in ordering Custom Medals, how to deal with it? There are smart ways of saving costs. Reading or not, it's up to you!
1.One Side Mold VS. Two Side Mold   Recommend: 4 Stars
Usually, many people will choose one side mold at GS-JJ, because it is free. Two side mold is only suggested when you need to post lots of information. Unless you want to convey lots of information or pursuit a 3D vision effect or some image must be expressed in 3D technology, 2D is enough. Of course, the price varies. 2D mold needs an extra 70$, while 3D needs an extra 165$.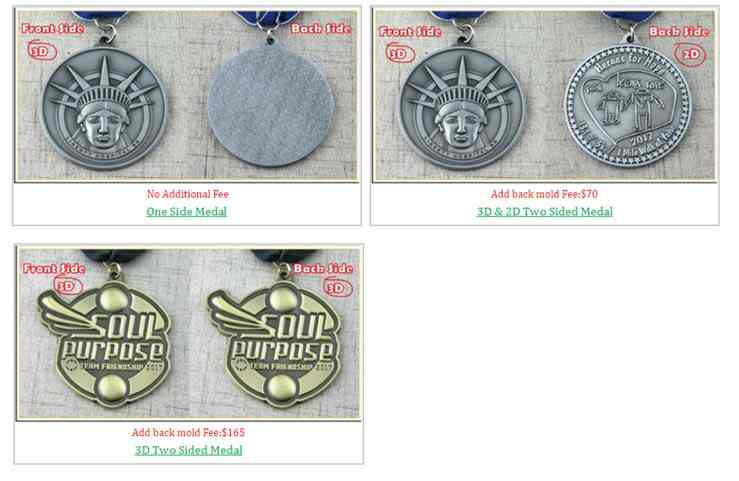 2.Less Color VS. More Color   Recommend: 4.5 Stars
GS-JJ can design color for your products. But the amount of color has a different price. Don't go for color. Sometimes, Simplicity is also a beauty. When your budget is limited, you can consider it.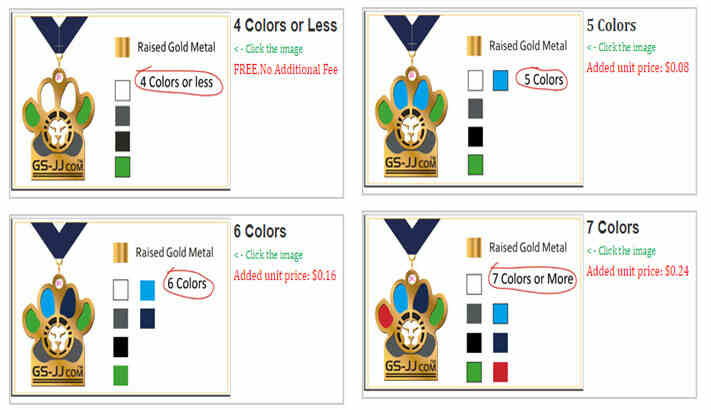 3.Laser Engraving VS. Deep Engraving with Color Filled  Recommend: 4.8 Stars
On the back of products, when you add some information like your company name. Laser engraving is enough. On the one hand, price is reasonable; on the other hand, there is no "knife marks", and do not affect the surface of the product. In addition, the speed is quick. Deep engraving takes much time by using a machine. When meeting different texts, it needs to design procedure, and it will waste much time.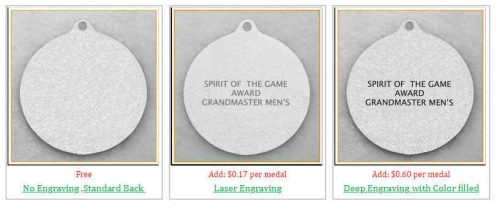 4.Polybags VS. Other Packagings Recommend: 5 Stars
If you order custom medals not for a special occasion or as a gift, you can select polybags for free. Each Velour pouch is 0.6$, the plastic box is 1$ and the velour box is 2.5$. Don't worry about the damage, our packaging will be strict.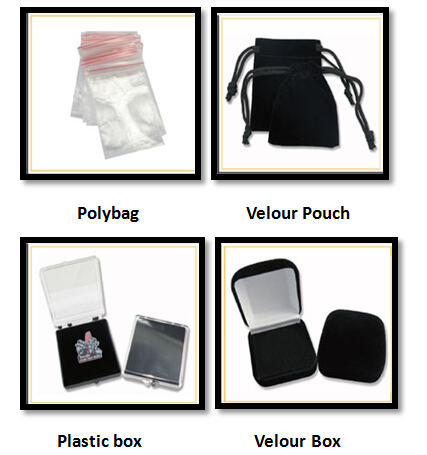 Seeing here, if you must choose one paid item. Let's calculate it between the cheapest item and the most expensive item. When you buy a medal, the cheapest item should be paid an extra 70.85$, while the most expensive item needs to be paid an extra 168.34$, which saves 97.49$. Therefore, don't ignore the small choice.
5.Medals with Sticker    Recommend: 5 Stars
Taking running medals, for example, you will find that there are 5K,10k,1 Mile, and so on. If you design custom medals repeatedly just because of the event, why not design custom medals with a sticker. Stickers can be designed in any shape and size. That means, you can design a unified medal on the front, and use sticker on the back. You will save a sum of money. If you want to know more information about Custom Sticker: https://www.gs-jj.com/stickers/Custom-stickers.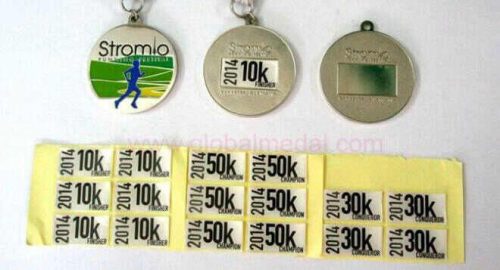 6. Medals with Ribbons    Recommend: 4.5 Stars
Taking Race Medals as an example, you will see that there is a regular competition each year while the competition event is different. At the time, you can design custom medals with different ribbons, which will help you reduce costs. The ribbon is a flexible way to design. Of course, different times or locations can also be designed in the ribbon.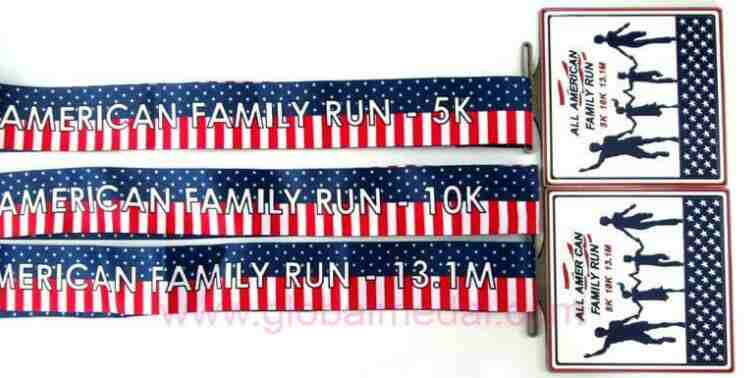 ( Sources: http://www.globalmedal.com/save-cost/ )
If you want to know more information about Custom Medals, you can click: https://www.gs-jj.com/medals/Custom-Medals and enjoy your visit!