Christmas is coming; the streets and alleys gradually had a strong Christmas atmosphere. Every December 25th is the day when Christians commemorate the birth of Jesus, called Christmas. Due to the special attention of people, Christmas has become a national holiday. The grandest festival in the country is also the New Year in many countries. Around Christmas, people mainly use red, green and white as Christmas colors. Every Christmas, every household must decorate with Christmas colors. Red has Christmas flowers and Christmas candles. Green is the Christmas tree. It is the main ornament of Christmas, decorated with felled evergreen trees such as cedar trees and cypress trees. Colorful lanterns, gifts and paper flowers hang from above, and Christmas candles are lit.
Christmas Decoration
Christmas is also a family reunion and festive festival, it usually decorated with Christmas trees to increase the festive atmosphere of the festival. The Christmas tree is usually made of evergreen trees like cedar, which symbolizes the longevity of life. The tree is decorated with various lights, colored flowers, toys, stars, and various Christmas gifts. In North and South America and a few European regions, lighting is used to decorate the outdoors traditionally, including sleds decorated with lights, snowmen and other Christmas images. There are many decorations for Christmas, including Christmas tree decoration, home decoration, and clothing decoration. Due to the diversity of PVC products, the richness of color and the low cost, we can also use PVC Christmas decorations to the festival. The more common PVC products are PVC patches, PVC keychain, PVC coaster, PVC luggage tag, PVC labels and more.
PVC Patches
PVC patches are the relatively common modern alternative to the embroidery patches. Made of durable plastic, PVC comes in a myriad of colors, and its look and feel are beyond the reach of embroidery. It is not only the accessory of clothing but also the handicraft with modern flavor. After being developed and stabilized, PVC patches have evolved into a wide range of decoration. The PVC patch has an obvious groove around its border, which is the sew seam of the PVC patch. It can be sewed on clothing, bags, hats, shoes as decoration. Christmas malls have launched Christmas-related products. The PVC patches made of PVC soft rubber, and the Cookie and Santa Claus PVC Patches have a strong Christmas atmosphere. You can sew them on your clothes to show the celebration of Christmas celebrations and customs.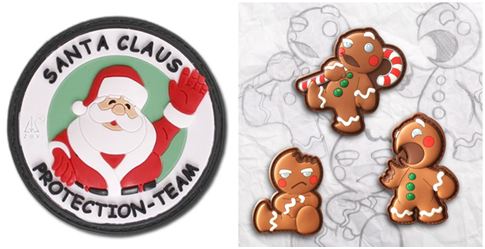 Source from: https://www.specshop.pl/product-eng-11272-JTG-3D-Patch-Santa-Claus-Protection-Team-Full-Color.html
https://www.grumpypencil.com/products/leftover-gingerbread-men-morale-patch-set
PVC Coaster
Coasters are generally used in public dining places such as restaurants, cafes, and hotels. The PVC coaster has a simple production process, low cost, rich colors and various styles, so it can be used as an advertising accessory to enhance the corporate image. The colorful PVC coaster printing company and the corporate logo are more prominent and closer to people's lives. The PVC coaster has strong friction, which can prevent the glass and porcelain cup from slipping off and protect the table from burns. On the occasion of Christmas, not only the mall posted Christmas decals on the glass, cafes, restaurants, and hotels also placed Christmas coasters on the table. Of course, the Christmas style of the PVC coaster is also the first choice for the family dining room.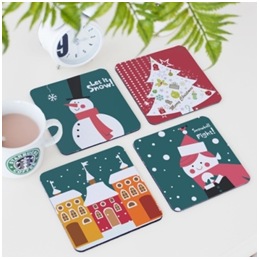 https://item.taobao.com/item.htm?spm=a230r.1.14.147.42892416NBmLNW&id=560630319406&ns=1&abbucket=2#detail
PVC Magnet
The PVC magnet is mainly used to decorate the refrigerator. The PVC magnet also called refrigerator magnet, is divided into two types: a magnetic PVC magnet; another is a self-adhesive PVC sticker. The magnet sticker is reusable and the sticker is disposable. PVC soft plastic PVC magnets are mostly produced as magnet refrigerator stickers, and a magnet is attached behind it to be adsorbed on any iron object. Stick the Christmas tree and the Christmas stocking PVC magnets on the refrigerator, on the iron door, on the window frame, decorate the bedroom and the living room to create a Christmas atmosphere. You can also give other family-friendly PVC magnets as gifts to friends and family.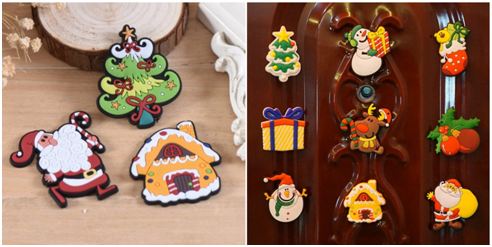 Source from: https://www.doylabel.com/custom-christmas-decoration-iron-on-patches-best-selling-cheap-pvc-patches_p148.html  https://img.alicdn.com/imgextra/i4/312542175/TB2Na1vXaZPyuJjy1zcXXXp1FXa_!!312542175.jpg
Christmas Gifts
On that Christmas Eve night, the whole family will be reunited in the living room, singing Christmas songs around the Christmas tree, exchanging gifts, sharing the joys and sorrows of life in the past year, expressing their inner blessings and love. The children will put long socks on the eve of Christmas. They believe that Santa Claus will climb down the big chimney on the elk at night and give them a gift full of socks. In some places, parents will directly prepare Christmas gifts for children, so Christmas gifts are also a way of tradition and blessing. ,
PVC soft rubber gifts are mostly bright and colorful, they are beautifully crafted and durable. They are not only very practical but also have a certain collection significance.
PVC Keychain
PVC keychain has various effects, the surface can be flat, 2D stereo, 3D stereo, etc.. The transparent oil can be added into PVC material to make it transparent or translucent; PVC keychain can be added the fluorescent powder to make luminous; added flavor into PVC to make it scent. You also can put small accessories such as compass and thermometer into the PVC keychain to make it more functional. The Christmas PVC keychain has a variety of designs, including gifts, Christmas stockings, Christmas trees, elk, Mistletoe, snowman and Christmas designs. The Christmas PVC keychain is beautiful and elegant and is a fashionable accessory that is loved by boys and girls. The PVC keychain has the characteristics of softness, long service life and no irritating skin, making it the preferred fashion gift for Christmas.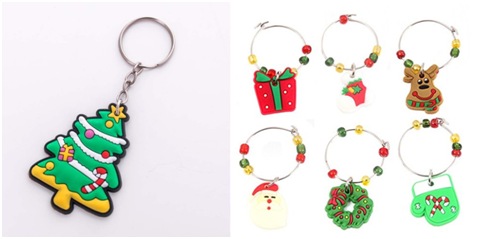 Source from: https://www.amazon.ca/dp/B07H7FQG8K/ref=sr_1_59?ie=UTF8&qid=1536637146&sr=8-59&keywords=christmas+tree+keychain  https://www.amazon.ca/Buildent-Pendants-Christmas-Wedding-Decoration/dp/B077XVLLG8/ref=sr_1_24?ie=UTF8&qid=1536637090&sr=8-24&keywords=christmas+PVC+keychain
PVC Luggage Tag
More and more people are traveling now, and a stylish and beautiful luggage tag has become an essential accessory for travel. So it is a good choice to give your friends a good-looking Christmas PVC soft luggage tag. The Christmas PVC luggage tag not only can be decorated with the suitcase but also can carry the Christmas atmosphere with you. Christmas PVC soft luggage tag is usually made by the glue-spraying process. The Christmas image is made into an embossed effect, they are beautiful, the colors are real and will not fade. In addition, the PVC luggage tag has the characteristics of low production cost, durability and dirt resistance. These advantages make the PVC soft luggage tag become a popular gift for Christmas.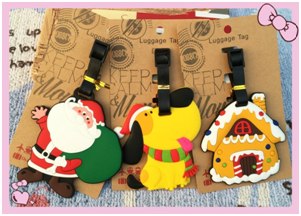 Source from: https://item.taobao.com/item.htm?spm=a230r.1.14.28.7ec51069zrpNQm&id=543353761963&ns=1&abbucket=2#detail
PVC Lapel Pin
PVC lapel pin made into 3D three-dimensional type, the overall highlight, the image is more real, through the safety pin and magnet buckle to wear them on the clothing, bag as decorations or accessories. The Christmas PVC lapel pin is loved by children. Send a set of Christmas ornaments PVC lapel pins to children, they will be very happy. The shape of the Christmas Cookie PVC Lapel Pins is very realistic and cute. They are very suitable for children to use, because of PVC lapel pin is safe and environmentally friendly.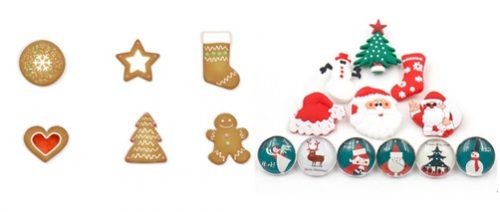 Source from: http://www.58pic.com/psd/15756487.html
https://gd1.alicdn.com/imgextra/i2/127951728/TB2lHhbD21TBuNjy0FjXXajyXXa_!!127951728.jpg
On the occasion of Christmas, come and customize your Christmas PVC Patches. All PVC soft rubber products can be made into 2D, 3D embossed patterns, and printed company logo and information. In this happy shopping time of Christmas, seize the opportunity, print your custom PVC patches, with your logo on these small gifts, you can send them to your customers to promote your brand. Or order a batch of custom PVC keychains to reward employees. GS-JJ Company will launch more promotions before Christmas, thanks to the support of new and old customers. For more details, please visit our website: www.gs-jj.com.