Lanyards, as new promotional tools or media, have become industry essentials in all industries. Even, you can see the custom made lanyards everywhere all time. If you are the head of a company or the organizer of activity, preparing and designing the best lanyards for your group is something you need to think about. If you are lucky enough to browse GS-JJ.com and read this article, you will find a new area for designing lanyards. It can help you know the basic knowledge of lanyards. More importantly than all of that, this article can give you information about the way to extend your company and increase the visibility of the company.
We all know that the content of printing on the custom made lanyards should be regarded as a focal point. Several elements you can consider as following:
1.Printing product picture of the company
There is an old saying that "Every profession produces its own topmost master in 360 kinds". What does it tell us? Yes, it tells us there are more than 360 industries and trades. Different products can add to the lanyards. Such as, if you are a toymaker or seller, you can draw a toy like Bear or Peppa Pig. Please don't worry about our printing process. Both the silkscreen printing and thermal transfer printing can draw pictures vividly with any color. For the design of your product picture, you can communicate with our designer. We can meet all your needs. Seeing the following picture we designed for some companies. Do you like it?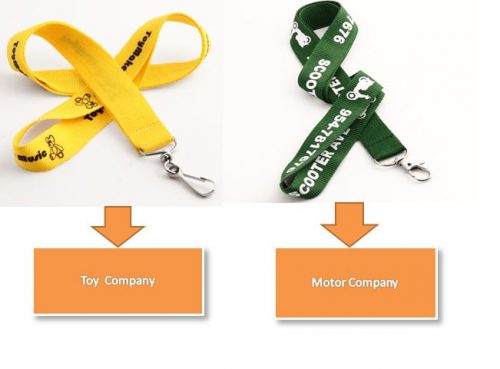 2.Printing company' s name
In general, the company's name can show the company's development direction and its brand strategy. The printing company's name on lanyards is chosen by most customers. Furthermore, we should consider the fonts, size and color used for your company's name. The fonts included Helvetica, Garamond, Frutiger, Bodoni and so on. The size included small, middle and large. The color has no limit, and we can print all colors you have imagined ever. You also can use all capital style on text printing. In order to let everyone know more about it, we have made a picture to give you a direct sense.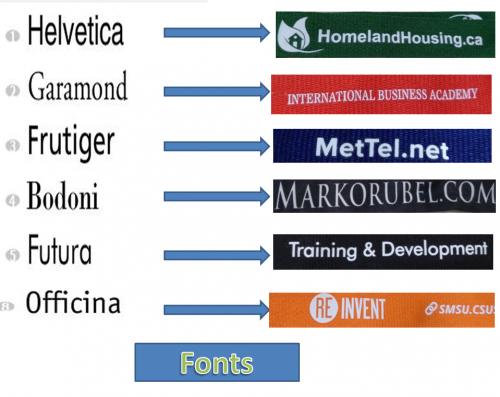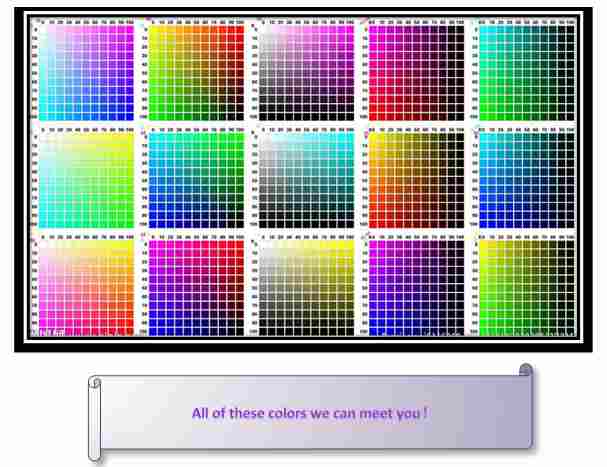 3.Printing company' s logo
LOGO is the abbreviation of a trademark in a foreign language. The full name is LOGOtype. It plays an important role in the recognition and promotion of the company. Through the logo, consumers can be easier to remember the company's subject and brand culture. Some company's logo is composed of a plane figure and name's abbreviation. Some logo consists of cute or cool elements. If your company's logo is complex and need to use lots of colors, we suggest that you can choose dye-sublimated lanyards. If your logo is simple, you can choose cheap lanyards with a silkscreen printing process.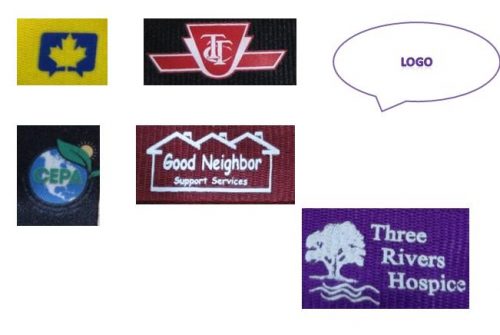 4. Printing company' s vision, slogan or website
Generally speaking, a company's vision or slogan is a long but meaningful sentence. Last week, we designed high-quality lanyards for Wal-Mart. The slogan of the supermarket is "Make it Right", and we printed it on the lanyards. Printing your company's slogan on the lanyards can publicize the company and set up a good corporate image. If you are wondering what kind of slogan or vision you can choose, you can think about your company's target in the future and the company's conception position. Believe us. You will find a new idea. About the website printing, this is a good method to let people remember your company. And they can check your company's homepage as soon as possible. If your company seeks trade, the printing website can increase the company's sales.
5.Printing telephone number of your company
According to several years' experience in selling custom made lanyards, we find most customers tend to add the logo and name of the company. Printing the telephone is rare. Why does this happen? Actually, internet development causes the result. Most company has its own website and selling something, and they can have a chat online with the customer. Cellphone seems to lose their central role. But we have to see that in the field of takeaway delivery and automobile sales, the telephone selling way is still necessary. The design of the telephone number can be different. The numbers of printing can use different colors or different thicknesses. The following picture can provide you more information.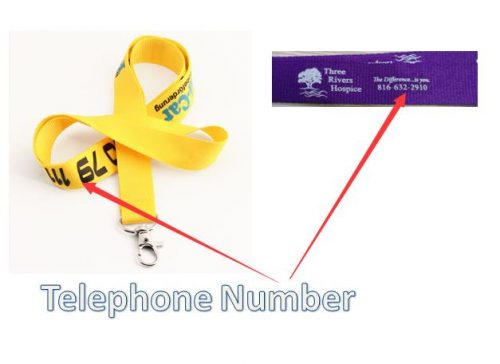 After talking about these elements, you will better understand the customize lanyards. If you have visited our website, you can notice that almost lanyards have printed more than two or three elements, which can make the awesome lanyards looks richer. It also can give people more information. Please remember that the whole lanyard design was decided by your own idea. How to combine and manage several elements on one lanyard? Let's discuss further on GS-JJ.com.
Our website URL: https://www.gs-jj.com/lanyards/Custom-Lanyards
Email:  info@gs-jj.com
Tel: 1-888-864-4755