With the arrival of the hot summer is another year of graduation season. In this season, graduates can be seen laughing and frolicking to take graduation photos everywhere on campus. They are celebrating their graduation and saying goodbye to their teachers, classmates, and their Alma mater. Along with their graduation, there are some graduation medals.
1)School Medals
In the four years of college life, to enrich the students' extracurricular life and increase the students' skills, every school held a variety of competitions, students also won a variety of school medals.

The sports tournament is an annual event at the university, and there are many competitions at the sports meeting. For example, 100-meter race, 400-meter race, 800-meter race, relay race, and even 3000-meter long race. In each match, students compete fiercely and finally win their own medals. The school awarding medals to students is also a kind of encouragement and affirmation for students.
In addition to the running competition, there are many other competitions in sports, such as high jump, long jump, and throwing shot put. Every sport has its own medals.
Besides the sports meeting, the school also organizes many other sports tournaments, such as basketball, football, volleyball, table tennis, and so on. Students will participate in different competitions according to their own interests and hobbies and win their own medals by fighting together with their teammates.
2)
Graduation Medals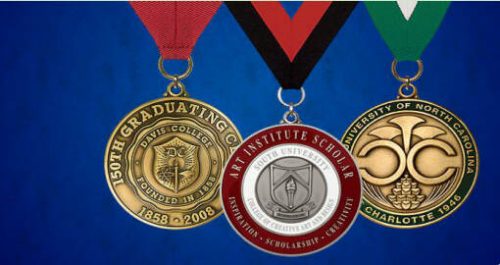 Every school awards graduation medals to its graduates at the graduation ceremony. You never know what kind of medal will you get at the graduation ceremony.
For example, in the movie of The Miracle boy, The headmaster award the Henry Ward Beecher medal which is a "good works" a service award to August Pullman for the reason of that good works come in many ways and "Greatness lies not in being strong but in the right using of strength, he or she is the greatest whose strength carries up the most hearts by the attraction of his own" which were written in Henry Ward Beecher's book.
At that time, everyone in the audience clapped for the little boy, especially his parents, his sister, and his good friends. At that exciting moment the boy remembered his teacher's words that "Being kind, for everyone, is fighting a hard battle and if you really want to see what people are, all you have to do is look. Everyone has his own merits; we all deserve a standing ovation at least once in our lives.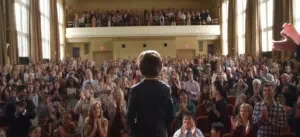 3)Commemorative Medals
Graduation also means parting, you will say goodbye to your dear classmates, teachers, friends, and your school. As a memorial, the school and class will customize some commemorative medals to students.
GS-JJ can design all kinds of custom medals. Each is of high quality and has its own characteristics, welcome to contact for any questions.