Medals can be customized by different materials. If you read on, you will get new ideas about how to choose custom medals. It is an ultimate guide? Maybe!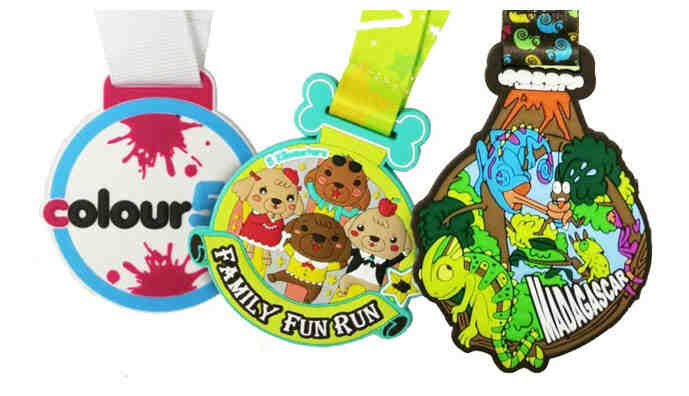 If you look for a kind of medal for children's race, PVC medals are suitable.
Feature:
a) Safe: because it is made of rubber. It hasn't a sharp area for children. Meanwhile, it is not too heavy. For children, their necks won't be wounded.
b) Colorful: it is not limited in the color. It is not easy to rub off. PVC medals can present your design precisely, making your products vividly. PVC medals can attract more children to take part in the race. 2D PVC medals and 3D PVC medals are good choices for you!
c) No deformation: Due to being rubber, it doesn't get rusty. It doesn't distort. Like tumbler, it goes back to where it was when you hit it. In addition, It is also difficult to scratch unless you use sharp goods like a knife.
d) Cheap Price: the production process of PVC medals is almost short compared with metal medals, and the cost of material is inexpensive, which makes PVC medals cheap.
e) Easy Clean: Although it is stained with dust easily, it is also easy to clean. Just wipe it down!
Weakness:
a) Not Enough Beautiful: due to the special material, it is not delicate compared with metal medals. It's easy to turn yellow over time!
b) Environment Or Not: PVC environmental grade is classified into ROHS, 6P, 15P, of which 15P is the most environmentally friendly, and ROHS are low toxic. Generally speaking, regular shops with a high reputation use environmental PVC materials. Therefore, if you order, you must shine your eyes to select!
c) Low collection: Because it is not made by metal, it has a low collection just like toys. And it is popular in the children's race and is not easy to attract adults, whose target audience is small.
2) METAL MEDALS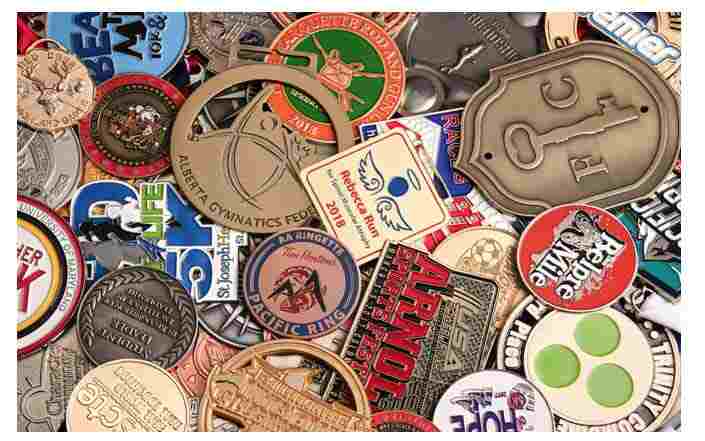 If you would like to design delicate medals, which look like weight, metal medals may be appropriate.
Feature:
a) Delicate Look: each area is designed delicately. You can choose antique medals, shiny & sandblast medals, soft enamel medals, hard enamel medals. It can be designed in different shapes, sizes, and colors. Rich texts can also be added. Multichoice for you at GS-JJ!
b) Wide Applicability: almost every race can use it. In many formal or informal occasions, you can see it.
c) High collection: due to being metal material, especially for military medals and award medals, many people choose to collect. Some regard it as a family heirloom.
d) No deformation: Transform it? Unless you're Popeye! Metal medals have high stability. Ordinary fire cannot hurt it.
Weakness:
a) Long Production: good work is a long wait. The production of metal medals is complex like plating, coloring, and so on. Generally speaking, it needs 3 or 4 weeks.
b) High Price: because it includes tooling charge, each color or attachment needs to be paid. So metal medals have high costs, and the sales price is high.
c) Easy Damage: of course, metal medals won't be crumbed. But, it is easy to be scratched, especially in the shiny medals. If it meets water, it will be rusted. It just doesn't corrode as quickly as the original metal because of special crafts.
If you want to choose a special medal, wooden medals are your first choice.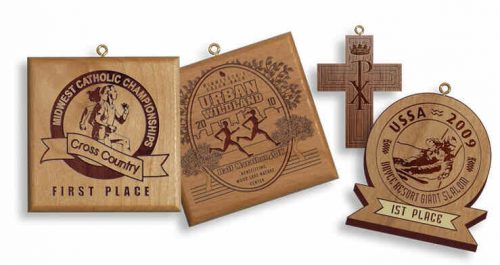 Feature:
a) Environmental: No metal, and no much color. All design is originated from carving.
b) Classic Look: The wooden medals are not static but soft, and fully return to the natural world. The message it conveys is dignity and solemnity. These give products a classic look.
c) High Decoration Value: because of good looks, it can be decorated in your room.
Weakness:
a) Putrescibility: When it is exposed in the air and contact wetting, it is easy to be putrescible. Meanwhile, it is easy to be musty.
b) Easy bite: If you store it too long in the dark area, it will be bitten by insects.
If you want your products to be more shiny and eye-catching, you can select crystal medals.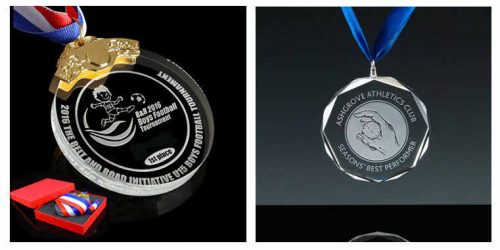 Feature:
a) Delicate Look: It is glittering and shiny, and the feel is exquisite, which still can engrave a word on it. Crystal Medals are a symbol of high purity. It is often used for prizes awarded by governments and businesses. The crystal medal can save the image and text you want in the lens by laser, and the stereo effect is remarkable. If you only need small quantities for awarding some excellent people, crystal medals are special.
b) Easy Clean: Simply add water to the ordinary cleaning solution and place the product to be cleaned. After cleaning with a soft brush or hand, rinse with clean water and take out to dry. When half dry, you should wipe it clean with a soft towel, leaving no water lines and fingerprints.
Weakness:
a) Fragile: because it is made by crystal, you should store it carefully or it will be broken. In addition, it is packaged carefully on delivery. So, it will add your cost on the packaging.
b) Simple design: Usually, it is no color. The texts and logos are added monotonously.
Different metals have different features and weaknesses. A different object, race, occasion, budget, and so on can influence your choice. It's up to you when you magnify the advantages and ignore the disadvantages.
Resource:
https://www.steelberry.com/pvcmedals.html
https://www.maxmedals.com/wood-medals
https://picclick.co.uk/Set-Of-3-Medals-1St-2Nd-323037191492.html
https://www.crystal-engravers.com/products/whitefire-crystal-medal