I believe, when you want to hold a race, choosing medals or challenge coins is quite a poser! Reading on, weighing the pros and cons and you will make a wise decision. I will show you some tables.
1) Design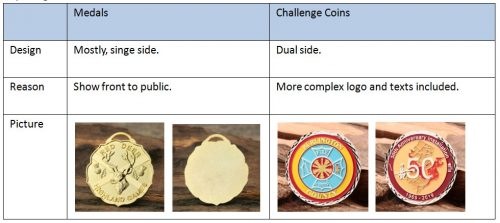 Notes: Medals can be designed with a dual side at GS-JJ. However, this option is chosen by fewer buyers. Sometimes, engraving in the backside is a way for buyers who want to add extra information.
2) Side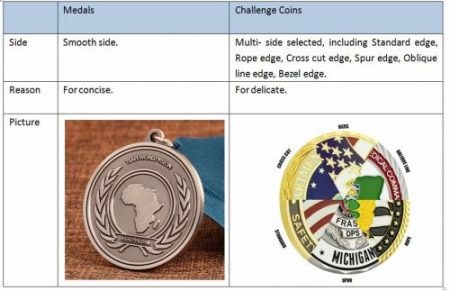 3) Shape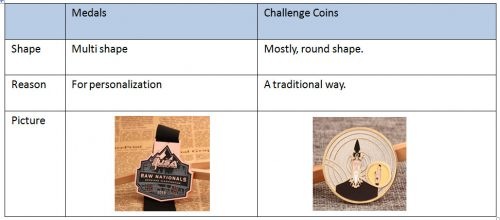 Notes: Although side is different, you can still choose the different sizes in custom medals. The shape of custom medals has many styles like streamline, shield type, and so on. However, custom challenge coins are chosen to design with the round shape on most occasions. With personalization era, the different shape of challenge coins is tried gradually.
4) Price


Notes: If you choose dual side medals, dual side tooling charge is necessary. Because of crafts complexity, challenge coins are a little expensive than medals.
In addition, due to the cheaper labor and stronger cooperation, many buyers will choose Korea manufacturers. So, the costs of challenge coins and medals are cheaper than those made in the US.
5) Usage


6) Size


Notes: That's not to say, you can't make custom medals or custom challenge coins in a smaller size or bigger size. Those sizes mentioned in the chart are favored by most buyers. After all, customization is up to you!
7) Accessory


Notes: In most cases, the ribbon is free at GS-JJ. But if you need the more complex ribbon, you need to pay extra fees.
All in all, choosing medals or challenge coins is up to you. You need to consider purpose, time, design, and budget with your activity. I wish you choose one for your activity.