At first, we see some pictures. You will find something.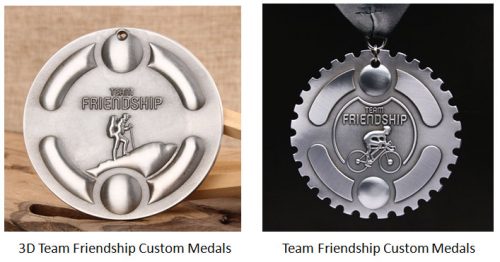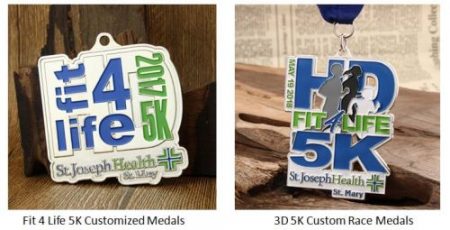 As picture shows, we can find that these are similar pictures in each group, either in shapes or texts. This is because customers trust our company and begin to order again in the coming year. GS-JJ doesn't lie, and it only talks by using products. GS-JJ is popular due to not only itself but also the market in customization.
1) Why is customization popular?
You can design your own products at your will. Different shapes like oval, rectangle, round, etc! Different colors like red, blue, and so on! Different crafts, hard enamel, or soft enamel or else! Different texts. In all, you will see what you design.
Because your products are designed by yourself. You can't find any custom medals similar to you perfectly. This ensures your products to be attractive. No matter what its use is, it is memorable.
Customization is a good way to promote your company. As commemorative custom medals, it carries some information like a logo or slogan or name in it. When people take it, it will be left a little impression. Virtually, it creates many potential consumers. Moreover, it is a motivation to inside staff and develops their loyalty to the company.
2) Why GS-JJ is favored by customers?
Rich Experience & New Force
Although our customization products in custom lapel pins have more than 20 years old, while our new products begin soon like custom patches, custom medals, custom challenge coins, and so on. A store can operate for a long time, and this proved that it experienced the baptism of the market and tested by consumers. Moreover, a store can keep pace with the times and keep learning and explore new products. That's to say, it is trusted.
Cheap price doesn't mean using inferior materials and turning out sub-standard products. Due to being factory not agents, our products must give the lowest price by reducing the middle-profit segment.
Our materials are used after strict selection. Son you don't need to worry about the quality. If one of the processes is made by mistake, we will produce it again. And your products must be perfect.
No matter what your number is, we can accept it. Because we think that there are still clubs or else which only need small quantities. Each order is deserved to be treated carefully.
If your ordered products have some flaws, you can tell us our customer service. They will try their best to solve your problem. Producing again is possible.
So, now you must know why there are lots of similar custom medals here. Because of their trust and support, it makes our stores bigger and bigger. If you want to design custom products, why not try at GS-JJ? Give us a chance and give you reassurance!