Have You Ever Participated in This Funny Race Before?
Have you ever attended some interesting running? Do you notice the following custom medals are just a pineapple shape? It's designed for a special and slightly crazy race.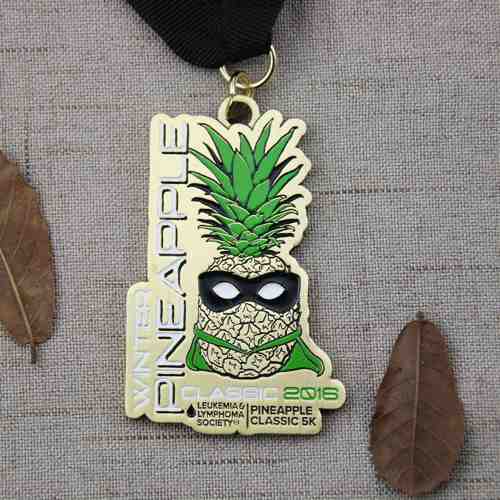 Let me give some brief details about this running, it's the Winter Pineapple Classic 5K. The Pineapple Classic is actually a three-mile obstacle course, which needs all the participants to complete it while carrying a pineapple. That's the reason why call it Winter Pineapple. The course includes running and climbing. If you just want to run 5K, maybe you have to choose and attend another race.
Carrying with pineapple while running and climbing, sounds like the military training. All soldiers should bear their quilts, food, water during the wild training.
The event is an actually public charity race, which benefits the Leukemia and Lymphoma Society and many people signed up and raised money for a great cause– blood cancer research. It's fabulous and nice running!
The funny is not only in the process, in the end, but all the finisher will also receive this soft enamel custom medals as a memorial gift. The designer made this pineapple medal with an unknown hero image, black glass, and green cloak. It really a cool pineapple medal!