An accessory for custom medals is also important. The size, color, and design should be considered when selecting ribbons. Generally speaking, common medals are different from military medals.
A) Size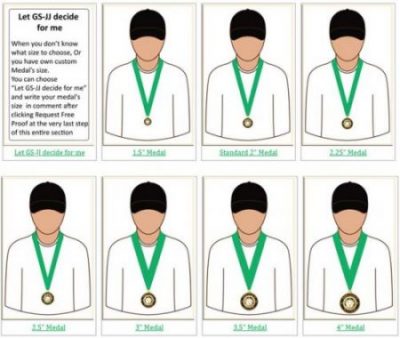 The automated quotation system at GS-JJ is humanized. The inches area is from 1.5 inches to 4 inches. Along with the medal size, your ribbon size is different. As we can see, the bigger medal is, the bigger the size is! This is for your comfort level and safety. Too small ribbon and big medal will make your neck heavy. If you are not satisfied with the market size, you can contact the salesman to select your favorable size. By and large, the medal is under the chest muscles.
B) The Color
There are three designs for you to choose from.
1) Pure Color Ribbons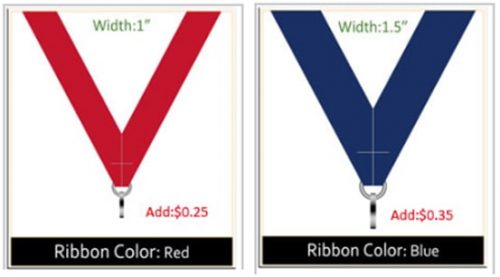 Usually, pure color ribbons are suitable for antique medals and shiny medals because they are designed without color. Pure color can fuse them. Black, white, red, and blue is both popular colors.
Samples: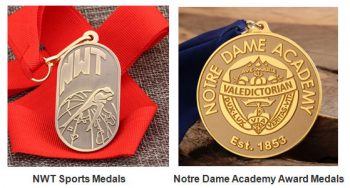 2) Mix Color Ribbons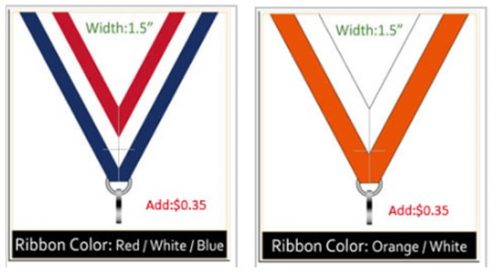 Mix color ribbons are appropriate for soft enamel medals and hard enamel medals. Especially for colored medals, it will make your medals shinier. There are two kinds of mixed ribbons. One is three colors alternated like red-white-blue ribbon, others are two colors alternated like white and orange ribbon.
Samples: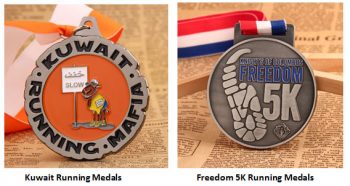 3) Gradient Color Ribbons / Rainbow Ribbons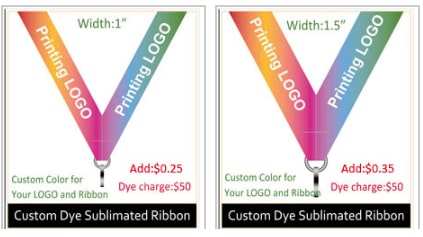 This kind of ribbon is nice for medals with many colors. Rainbow ribbons are popular among running medals. Multi-color will attract people's eyes. Medals without color are not suitable, which will be a little strange. If your custom medals are colorful, why not try this ribbon?
Samples: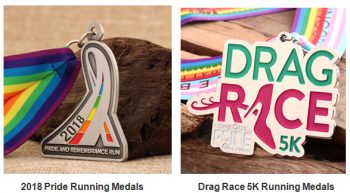 C) The Design
Four common design of ribbons is simply introduced. You can know more information in this blog <<How to choose the best type of lanyard to suit you >>. You can consider it according to your needs.
1) Polyester Ribbon
Polyester Ribbon is a simple design. The price is cheap.
2) Woven Ribbon
Woven ribbon can be printed logo and text because these are knitted and durable. But it is a little expensive. If you have a limited budget, you can give up it.
3) Nylon Ribbon
The nylon ribbon is a little smoother. Simple texts and logos can be printed. However, it is a little formal.
4) Dye Sublimated Ribbon
Dye Sublimated Ribbon is very suitable and smooth. When you wear it, your neck will feel cool. The logo and text dyed are vivid. However, It has poor air permeability.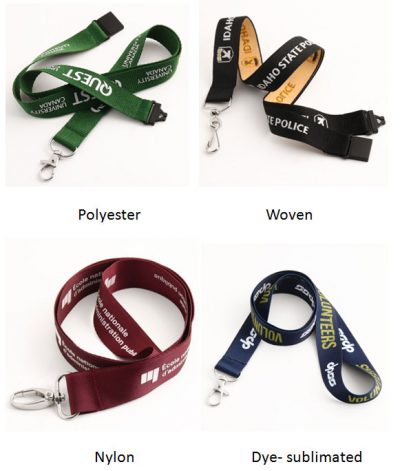 As for attachments, you can know from blog << How to Make Your Custom Medals More Exquisite? >>,
Selecting the ribbon is also very important. If you have any problems, you can contact our salesman. They will help you in selecting the ribbon.  After all, Details determine success or failure!