Enterprises usually want to improve their popularity, or want to increase their product sales, which methods will be used? Some may use television and Internet marketing, such as advertising on TV, or name a TV series. Some will put billboards on the streets, or advertise on mobile buses and taxis. We don't have to say much about its expensive advertising and publicity fees. Now, let me introduce a new, fashionable and interesting method for you. That is our custom patches.
First of all, let me introduce to you the advantages of the custom patch itself. One of the great advantages of a custom patch is its diversity and flexibility. There can be different sizes to fit your different clothes, from small T-shit to coat, custom patches always can meet your diverse needs. Of course, a good patch vendor is an important factor. for example, as a leading custom patches maker, GS-JJ can provide help for you to choose the right size according to your needs.

According to the type of the company, we can design different style of the custom patches, whether you are company, organization, or the club, the custom patches can design any logo, pattern and text to represent your company's image. This is a very intuitive way to let customers understand the culture and image of your company, and the intangible will make people feel that you are professional, which will make customers more trust you. At the same time, this can also increase employees' recognition of their company and enhance their self-confidence.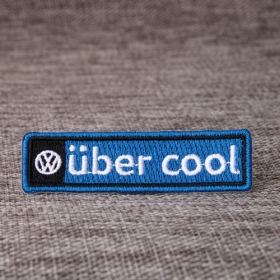 On the other hand, we have different style backing, it's very easy to attach to the clothes, Whether it's a shirt, a coat or a backpack. As long as it's what the customer wants. the customer will help you bring your logo into the world. Let more people in the world know your company and enhance your brand awareness.

Custom patches even can make good gifts. Showing them at the trade exhibition, Free of charge to your customers. believe me, this small cost investment will definitely bring unexpected results to your company. Not only in the trade exhibitions, but also in sports events, schools, and even political campaigns. Its interesting design and bright colors even can be a good collection.

As we are a leading custom patches maker.  GS-JJ.com is committed to supplying the best quality patches with the best services. whether you send us your design or you allow our highly creative and experienced design team to assist you FREE of charge with your custom design, you can always depend on us. Want to know more? call us toll-free at 18888644755 or email us info@gs-jj.com.