When you are prepared to customize your unique medals, you must be confused about different crafts and how to choose them. What should you focus on when ordering Custom Medals? Reading on and you will be clear about it.
Basing on GS-JJ, There are some points that you need to know.
1.Choosing One, Plating or Dyeing
Plating is the process of plating a thin layer of other metals or alloys on the surface of some metals by electrolysis. plating has some options. In general, it can be classified into two parts. One is a shiny color like gold, nickel, brass, copper, and black nickel. Another is the antique color like anti-gold, anti-silver, anti-copper. This color looks like the metal itself.
Dyeing is the act of dying a substance by chemically or otherwise affecting the substance itself. You can choose any color that you want to dye like black, red and so on. Usually, soft enamel and hard enamel will use dyeing.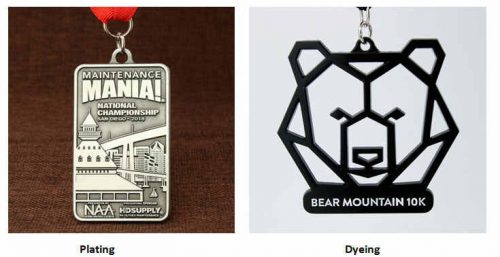 2.Distinguishing Soft Enamel or Hard Enamel
Brass is used as raw material for hard enamel, while copper, iron, and aluminum can be used as raw materials for soft enamel. The coloring materials used are also different. Hard enamel is a kind of color paste, while soft enamel is a kind of color paint. The concentration ratio between the two is different.
Hard enamel is first plating, coloring, polishing, and then plating again. The process of soft enamel is plating, polishing, and coloring, which decides on their differences. The two kinds of enamels are baked at different temperatures.
The surface of hard enamel is smooth, and the soft enamel is concave and convex. The pattern or text and color of the hard enamel badge are basically on the same plane, with the finger feeling there will be a little bump, but this is different from the feeling of the soft enamel. It is important to note here that the soft enamel will also be smooth when added with epoxy. Discrimination skills: epoxy added can have the light refraction and the feeling of reflecting light.
Generally speaking, hard enamel is expensive than soft enamel because of their different process. Hard enamel usually is more delicate than soft enamel. The price of soft enamel varies according to the material used. For example, the price of iron soft enamel is very affordable and is chosen by many people.
Notes: Hard enamel usually doesn't dye black but can plat black nickel. When the metal layer, it can't use hard enamel or sandblast.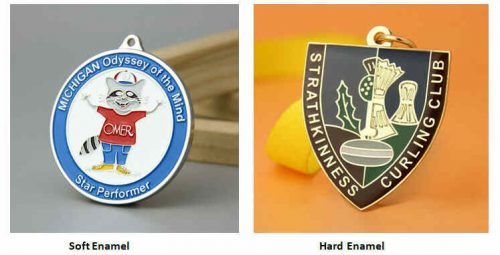 3.Selecting Texture
There are three main texture used. Iron die struck is matched with soft enamel; Brass die struck is with hard enamel. Zinc die casting is a metal casting process that is characterized by forcing molten metal under high pressure into a mold cavity. Zinc die casting is expensive, but when the shape is complex or cut out or size is bid, it only uses Zinc die casting.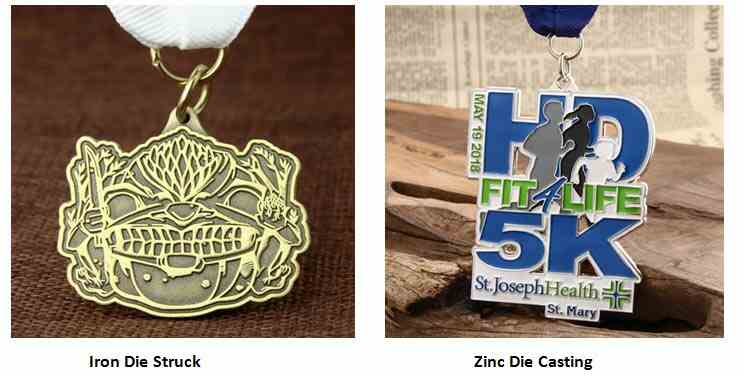 4.Distinguishing Prints
The four prints as follows are widely used in custom lapel pins, and the last one is used in the custom medals. Both of them should be paid additionally.
Silkscreen print is to use the screen as the substrate, and through the photosensitive plate making method, making silkscreen print with pictures and text.
If your texts of products are small or the design is complex, the manufacturer cannot make it by using a model. GS-JJ usually uses silkscreen print to show its effects. It needs to be emphasized that the text and pattern of silkscreen are self-colored. For example, red texts and blue logo. But there isn't a gradient pattern. In addition, because offset print can be used in the plane, silkscreen print will be combined with hard enamel to finish the needed design and achieve the desired effect in general.
If your product needs to dyeing many colors, you can choose offset print. Offset print just makes whole products use offset print. Nevertheless, you can't combine with other crafts. At GS-JJ, there are extra fees needed to be paid.
The condition of transfer print is almost the same as the silkscreen. Transfer print usually is used in products with a gradient ramp. In addition, when your products have a more complex color, you can also use it. The kind of print is used less in custom medals, but are widely used in custom lapel pins.
When your products can not adopt coloring and printing, GS-JJ will suggest you use an epoxy sticker. In this way, your products can better present your complex LOGO details and color. Of course, if it is a part of complex designs, we can also use epoxy stickers and stick it again, making epoxy stickers in combination with any other process. Epoxy stickers are an excellent inexpensive choice to resin and glass domes when wanting to create a clear domed effect over an image. Epoxy stickers sometimes are used in customizing medals.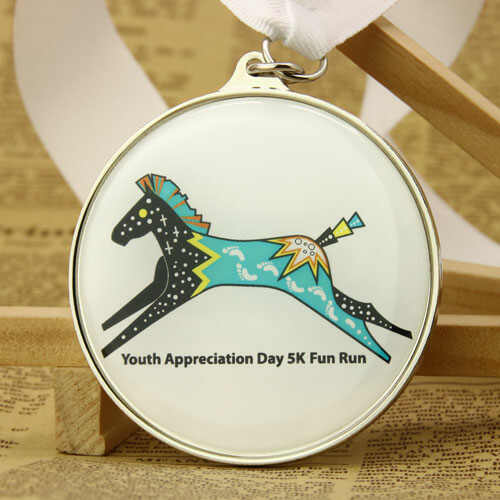 Therefore, you must pay more attention to it. If you have any questions about customizing Custom Medals, you can email at Info@gs-jj.com or contact our customer service. Knowing more Information? Click: https://www.gs-jj.com/medals/Custom-Medals