If you have a pet, if you are a pet lover and want to have a pet, you can read the following article to know about the dog tag. The dog tag is also a pet tag, which is an ID card that the pet needs to wear. A dog tag is an accessory on a pet collar or harness. Humanitarian societies and relief organizations recommend that dogs and cats wear these dog tags, which contain information that allows people who encounter stray animals to contact their owners.
There are many countries that do not require chips for pets, and they don't have related scanning equipment, so it is most common to contact the owner with a dog tag on a lost dog.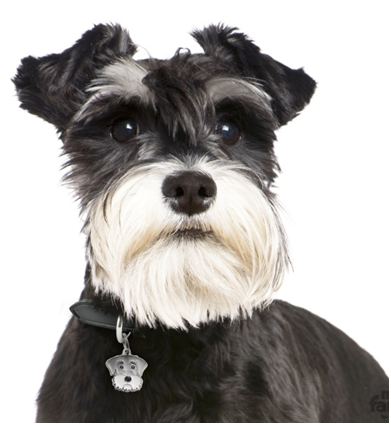 Source from: https://www.myfamily.it/en/dog-tag-pepper-and-salt-schnauzer
We recommend that the owner create a pet card for his pet with the name of the pet, the name and contact details of the owner. When the dog is lost, the person who picks it up can contact the dog's owner as soon as possible.
Pet cards can be made from a variety of materials. The most common materials in life are metal, plastic, and PVC. We will give a brief introduction to the dog tags of these materials.
PVC Dog Tag
PVC dog tags are mainly soft PVC dog tags made of PVC soft rubber. PVC dog tags are very soft and not easily deformed. Phosphors can also be added in PVC material, and the LED lights can be added on PVC dog tags, making it a luminescent PVC dog tag and LED PVC dog tag. Even at night, the light can make the owner see the dog's activity in the dark. (Even at night, the dog's activity can clearly be seen with the light emitted by luminescent and LED PVC dog tag).  The PVC dog tag can be made into 3D stereoscopic form, it is light and compact, and is rich in color and varied in style. The PVC dog tag is also the lightest dog tag compared to other materials. It is a silent dog tag that does not make a sound when the pet is exercising.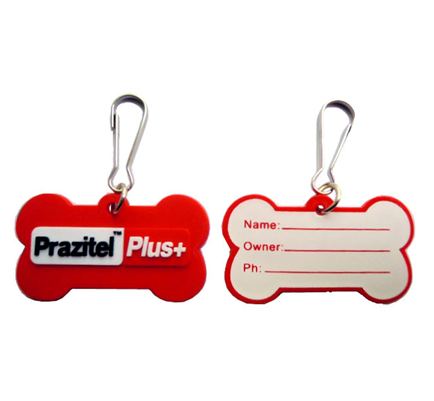 Source from: http://gopromoinc.com/web/products.asp?bigclassname=Fashion%20Accessory&smallclassname=Dog%20tag
ABS Plastic Dog Tag
The plastic tag can be etched or printed, available in a variety of colors, and can be highly reflective to enhance nighttime visibility. Some plastics are sensitive to UV light, and the color and even composition fade over time. ABS plastic material dog tag is more brittle and will be broken under the action of external force. It is the more fragile material of these three materials.

Source from: https://item.taobao.com/item.htm?spm=a230r.1.14.267.23e63d3facFenn&id=537414713963&ns=1&abbucket=9#detail
Metal Dog Tag
When we consider the safety of dogs, we will choose to discard the materials that add harmful substances. Stainless steel metal pet tags are the safest, but due to the weight of metal dog tags, it is not suitable for small dogs with small size. When choosing an ID card for a small dog, we usually consider ABS plastic and PVC soft dog tags. Both of them are good choices.

Source from: https://frenchiebulldog.com/products/the-frenchie-id-tag
These three types of dog tags are widely used in the market, and we will provide different advice for pet agencies and pet owners depending on the situation.
If it is a pet shop or a pet agency and a pet adoption center, we recommend that you buy or customize PVC soft rubber and ABS plastic dog tags because they are cheap, durable and not easily damaged.
If it is a family pet dog, we recommend wearing a metal dog tag for large dogs, because the metal dog tag is very beautiful, simple, and high-end. The metal dog tag is a little heavy, it is suitable for big pets and dogs.(it can fit big pets better).  We recommend that small dogs wear a lighter and softer PVC dog tag that can be customized to the dog's favorite shape.

Source from: https://www.pvcemblems.com/go-pvc-to-promote-your-business/
If you are a pet hospital or a pet store that needs custom dog tags as a gift, we recommend that you purchase a soft PVC dog tag. The promotional PVC dog tag has low cost, various styles, and rich colors. It is very suitable as a promotional gift. Even if the PVC dog tag is damaged by the dog, its soft texture will not harm pets. It is a very safe product.
Considering the variety of cost and style, a custom PVC dog tag has strong plasticity, long service life, and bright color. Custom soft PVC dog tags have become the most popular dog tags for small dogs.
If you need to order or buy a dog tag, we recommend that you choose the right merchant. GS-JJ is an experienced gift manufacturer with our own factories and strict production systems. There are many PVC products, such as custom PVC keychains, custom PVC patches, you can purchase the PVC  products no minimum. You can browse our website www.gs-jj.com and choose the products you like. You can also contact our online customer service to provide your design and order the products you need.