The bag appeared at the end of the eighteenth century and began to be used in life. At first, the bag was just a bag that was used to carry personal belongings, and practicality was its only function. For hundreds of years, fashion accessories are changing like fashion. And the status of bags has gradually risen, becoming an indispensable part of women's dress, at this time the bags not only have practical functions but also evolve into fashion culture. Based on different fashion cultures, different times, different occasions, women's wrapping has evolved into an endless variety of forms.
There are many kinds of bags. There are briefcases, cosmetic bags, wallets, travel bags, and so on. Their uses are different and their styles are totally different. A briefcase is a must for work. It stores paper, calculator, card, ball pen, document, etc. Because they are used for work, the style of briefcases is more regular. Customize our embroidered patches and add some personal style to your briefcase. It shows your personal style and charm, and it also makes your bag look unique and charming.
The most popular bag in our daily life is the fashion pack. As you can see in the street, almost everyone travels with bags. The bags at this time are not only practical functions of small objects but also fashion functions. Fashion bag, you can add some of your favorite embroidery elements, it will appear very unique and fashionable. If you like the national style, you can add some ethnic element to it, you can also add your favorite patterns to it so that the bag becomes different. And all of them are unique and fashionable.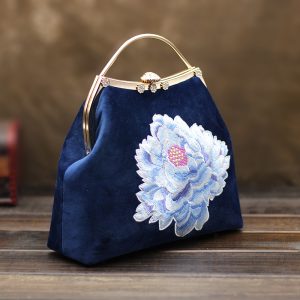 On the other hand, bags can also very well echo your clothes. For example, if you wear a T-shirt with an animal design, you can choose our animal embroidery patch to sew on your bag to match your clothes. This arrangement not only looks more harmonious but also has a sense of fashion.
Bags can be used not only to store personal effects but also to reflect a person's identity, status, financial situation, and even personality. A well-chosen purse can be the finishing touch that will decorate you into the personal style you want. Customize our embroidered patches, add your personal style to it. This is your serious attitude towards life and your own fashion taste. Want to know more about embroidered patches? Call us toll-free at 18888644755 or email us info@gs-jj.com.