Although 2018 FIFA in Russia has far away from us, as a biased fan, I have its own way to remind and commemorate this big sports feast!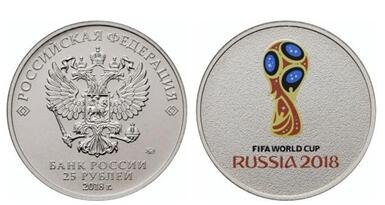 The best fashion way to remember the 2018 FIFA world cup is to collect coins issued by the government. With 25 rubles face value, these commemorative coins are highly depicted with the FIFA World Cup trophy with Russian style, to mark our favorite football competition.
The World Cup event is always attracted our attention around the world every four years. Same as those collectible coins to every professional collector. Here I would like to introduce some great challenge coins collection about previous FIFA competitions.
1978 FIFA World Cup Argentina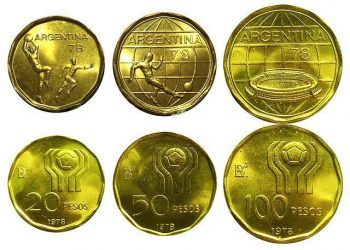 1978 Argentina FIFA coins are valuable coins to collect and hold, engraved with vivid football sport views, and specially designed with irregular edges. There are a total of six pieces commemorative coins, three coins are minted by bronze and three by silver. All coins are very good condition complete and intact, you can purchase at an online collection shop, as masterpieces for us to collect!
1990 FIFA World Cup Italy

Many football teams in Italy were strong and popular teams, and always gained great achievements in many famous games and dominated the world football world for a long time.
In 1990, custom coins for FIFA World Cup Italy are creative coins with bold design, amazing anaglyph technology makes images and logos on coins' surface more outstanding.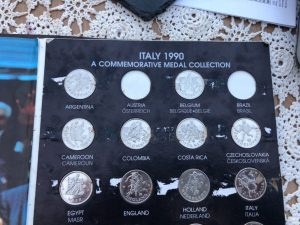 Besides the official FIFA coins, you can choose favorite teams or players challenge coins collection, such as England & Scotland World Cup Coin. These challenge coins feature with 15 players from the England Squad and 15 players from Scotland's Squad, to mark a unique piece of history for football fans.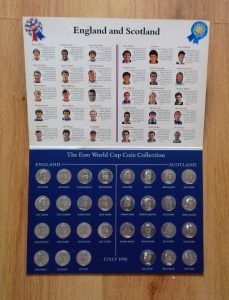 1994 FIFA World Cup United States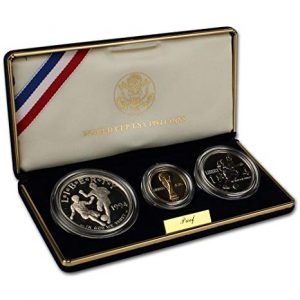 This competition was unique among World Cup FIFA. The winner was the team to beat the rival team with great performance at penalty kicks finally. It's incredible.
And the United States Mint issued the below delicate commemorative coins, to mark the first World Cup Soccer Championship played in the United States.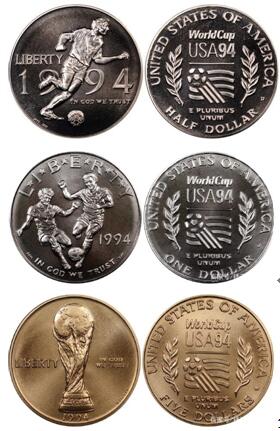 There are three type coins, five-dollar one is gold, one dollar coin is silver and 50 cents is minted by nickel. With limited issues numbers, those commemorative FIFA coins are really great for biased fans to hold and show off.
1998 FIFA World Cup France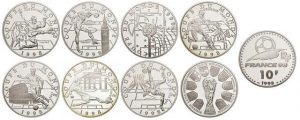 Commemorative coins for the 1998 FIFA world Cup France are diversified design with eight coins. So many handsome portraits for players are vividly printed on coins.
While I have to say, this series FIFA coins have less attraction and collect intention for fans. Each coin is issued with 100,000 pieces, and there are too many different series coins to collect. Maybe less value for the coin collector.
The joy of owning this commemorative coin may last longer than knowing your favorite team is the winner, right?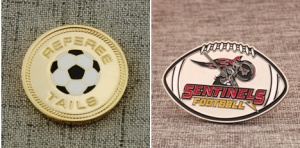 Well, if you don't find satisfying coins to support your affection for the FIFA World Cup, you can design custom challenge coins as you like by the leading challenge coin maker. It's the second and fashionable way to be greatly biased fans.