The first impression really matters, so be sure to choose the proper presentation for your challenge coin display on the occasion. As a professional challenge coin maker, we offer a wide selection of presentation options for challenge coin as the following.
PVC Pouch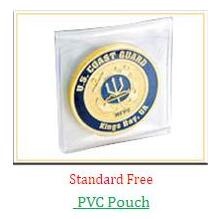 Standard Free
PVC pouch is a clear presentation option, plastic envelopes as seen to the right, scratch-resistant and challenge coin display perfectly. All of our challenge coin orders come with this free PVC pouch to display after finish the production.
Unlike other cases with a larger volume, custom coins do not move around and make noise inside the PVC pouch, protecting your coins during shipment.
Coin Capsule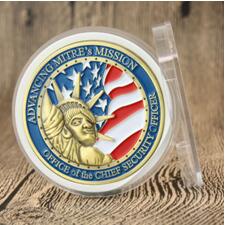 Addition fee: $ 0.4 each
This presentation is excellent to preserve the quality of your custom coins and an ideal way to protect your collection from being scratched or damaged.
Great value even they can cost more, due to the composition of plastic designed for the preservation of your custom coins. Old customer is highly recommended this challenge coin display.
The fit-to-shape design of the coin capsule makes the challenge coins look better and protect them from scratches, dirt, and dust makes it easy to take your challenge coins anywhere within your pocket.
We offer these coin capsules to hold various sized challenge coins for customers, with the best quality and price.
Velour Pouch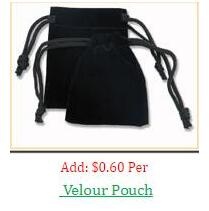 Addition fee: $ 0.6 each
Velour pouch is an ideal jewelry holder,  great for Wedding favor gifts, special events, and ceremonies, etc.
Soft and classic, velvet pouches enhance the appearance of challenge coins when handed out on many important occasions. Because they are lightweight and compact, they are easy to store and pull out to giveaway at any time.
Velour Box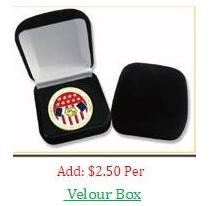 Addition fee: $ 2.5 each
The velvet box is an expensive and attractive way to present, deliver, or store your custom coins. A touch of elegance, the beauty of each velvet box is that you can still carry your challenge coins in your pocket with protection from scratching or damaging.
It's the very luxury box that brings out the features of custom coins well, and similar to the velvet boxes you see at the jewelry store. You can custom this luxury option for the significant award presentation ceremony to display challenge coins as a special token.
Other Individual Display Options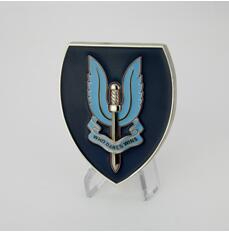 challenge-coin-display-rack
More professional senior challenge coin collectors around the world would love to display their collections with the challenge coin display holder or display dome etc. at home or office, to show their precious challenge coin.
How to display and protect your treasured challenge coin in the best way? We are always trying our best to offer a variety of presentation options, to help customers preserve the quality and workmanship of custom coins.
At GS-JJ, each order of custom coins includes:
FREE artwork and design w/ unlimited revisions
FREE full-color proof delivered via email
FREE Shipping – delivered via FedEx air service
FAST Production-ready to ship in 10 days or less
For any other information or detail, feel free to email us at info@gs-jj.com or you can call us at 1-888-864-4755.