The silicone wristbands are accessories in the history of human development, in different periods and occasions, it has different meanings for different characters. Various materials of wristbands have become a fashionable element on the market. Silicone is widely used in various markets because of its soft and environment-friendly characteristics, and silicone wristband is the earliest silicone accessory, the silicone wristbands first appeared in the United States in 2005 and quickly became popular.
History and Story
The first silicone wristbands of the world were yellow "LIVESTRONG" wristbands.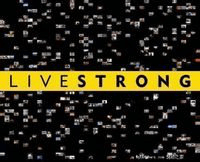 People wear yellow silicone wristbands because they want to be healthy and fight cancer. LIVESTRONG stands for a spirit, a spirit to fight against fate, a spirit to march forward relentlessly.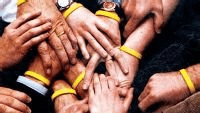 These yellow silicone wristbands were launched by tour DE France champion Armstrong, which means to make people strong and brave enough to live and beat the pain caused by cancer worldwide. And Armstrong teamed up with NIKE to fund the global cancer fund.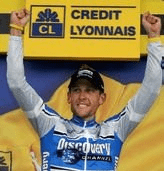 Above three Pictures are source from:
http://tupian.baike.com/doc/%E7%A1%85%E8%83%B6%E6%89%8B%E7%8E%AF/a4_13_69_01100000000000143972695014935_jpg.html?prd=citiao_tuce_zhengwen
 Character
The silicone wristbands are made of 100 % natural solid silicone rubber and mold out under the high temperature by a hydraulic press. For the special character of silicone material itself, silicone wristbands have a certain tension and softness, thus they are usually easy to deform and also can recover immediately. Silicone wristbands have these features of wear resistance, high-temperature resistance, no deformation, non-toxic, tasteless, no side effects on the human body, etc., and also have the advantages of soft, non-cracking, long service life and non- irritating skin. Silicone wristbands are real green and environment-friendly decorations.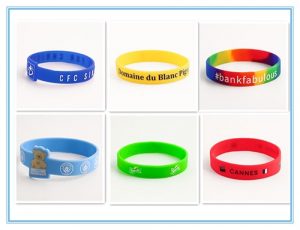 Uses
Silicone wristbands are commonly used in various entertainment venues, sports fields, also as the gifts, souvenirs, promotional items, etc., are a kind of hot fashion decorations; they are also a kind of low cost and high efficiency advertising promotional gifts. Most sports wristbands have no practical uses, just fashion accessories, but we can match various kinds of patterns and fonts on those simple wristbands that fit the scene to express some special meaning, just like the " LIVE STRONG" wristbands. On the other side, the message of the English words or phrases on those wristbands also can reflect the beliefs and values of people.
On Behalf of The Meaning
As we have said, the silicone wristband itself has no special meaning or use, completely depend on how people use them. people can use them to express some of the meaning according to the scene with the appropriate color. Since the release of silicone wristbands, they have been adopted in various parts of the world as a publicity medium. Different colors of the wristbands are used to express various meanings to the world, and the most well-known are the following colors.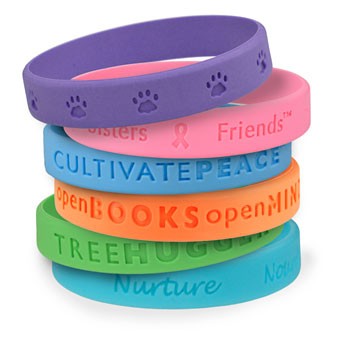 White:Against poverty
Yellow(LAF):live strong, Support cancer patients
Black+white(Nike):stand up speak, antiracism
Blue(BBC radio):Beat bullying
Pink(BCC):Support breast cancer patients
Red(BHF):Support heart patient
Picture Source from:
https://www.google.com/url?sa=i&rct=j&q=&esrc=s&source=images&cd=&cad=rja&uact=8&ved=2ahUKEwjE4b3fgYDeAhUQq1kKHZlLBGkQjRx6BAgBEAU&url=http%3A%2F%2Fwww.browse25.com%2Fpd%2FWTGNC-HDDRL%2FF2071%2F12quot-wide-solid-color-silicone-wristband-debossed&psig=AOvVaw0ZQqM34BdUNtjG1IOST-Zw&ust=1539403124103831
Sizes
Silicone wristbands can be made in various sizes according to people's needs. The following are the most commonly used sizes, which are widely applicable.


GS-JJ specializes in making all kinds of silicone wristbands in all colors and varieties. If you want to understand more about our silicone wristbands, please feel free to call 1-8888-644755 or visit our website www.gs-jj.com at any time.