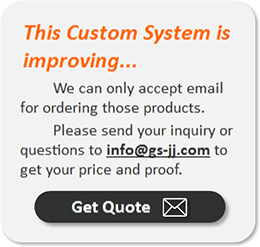 What are the Silicone Wristbands?
Silicone wristbands are made of silicone material which appeared in the mid-2000s. Since 2007, silicone bracelets increasingly become popular that everyone wants to have and get positive feedback from customers all the time.
To a certain degree, silicone wristbands lead some kind of trending fashion on the history of bracelets.
What's more, cheap custom wristbands gradually became one of the best-selling across the globe.The traditional wristbands were made of various materials, such as Tyvek wristbands, vinyl wristbands, plastic wristbands, metal wristbands and so on. And custom silicone wristbands are new in bands field. They are soft with good elasticity that makes them easy to wear, and they are also eco-friendly and durable with long-time service, people from every age and class can wear them freely.
Other names used to refer to silicone wristbands are gel wristbands, jelly wristbands, rubber wristbands, and fundraising wristbands. And they are many different styles and categories for your choices.

What are Silicone Wristbands
Used For?
Silicone wristbands almost can be used for any event. A custom made wristband producer can do anything with the personalized wristbands as the possibilities are endless.There are still many usages of the silicone wristbands waiting for you to discover. Here are some of the most common USES:

Good Marketing Tool
Marketing companies have realized the importance of wristbands which can be used as a marketing tool and promotional item. You will see they hand them out for free to the public during events or trade shows. Mostly, these good cause wristbands will carry the company name and logo to represent their company.

Perfect Fund -Rasing
Cheap custom wristbands are so often used for fund-raising by charities and any related organization for raising awareness of the specific cause. And many people and organizations have used these wristbands to raise a lot of money for their causes. They can either be sold or written something to encourage people to donate.

Tickets
People also can use these wristbands as tickets and entry tags for certain organizations. For example, they can be used as the member sign of a certain club, such as a fitness club, training center and so on. Compared with plain paper tickets, silicone wristbands are easy to keep and you will never worry about your tickets will lose or damage.

Decorative Accessory
The wristband can also be used as a decorative accessory. They can carry special messages crafted by the various process, the messages can include funny and meaningful proverb, something positive and inspiring, or something related. They will make your whole look outstanding.

Prevent Getting Lost
Small children can easily get lost in the crowds, which gives parents a never-ending headache. However, silicone wristbands can be used as emergency IDs for them. If anyone finds them, they can simply look at the bands possibly find out their information. It is not only children that can get lost, but even elderly people with Alzheimer's dementia are also at risk of getting lost.

Souvenirs
Concerts and other similar events use them not only as the fashionable item or something promotional, but they also can be used as the souvenirs for the event. Personalized wristbands always leading the trend of fashion, so you are not afraid they will be out of date as a souvenir. You can wear them to dress up or just lay them in your memory box.
Fashionable Styles of Silicone Wristbands
Do You Know?

4

Kinds of Crafted Custom Wristbands
3

Kinds of Colorful Silicone Wristbands

Swirled wristbands usually come with a unique colors match, there are at least two or more color mixed together, makes the color like a swirl, that's why we call them "Swirled Wristbands".This kind of wristband looks amazing and different from the other plain rubber personalized wristbands. Their fantastic color will make the person who wears them stand out in the crowd.

• Two or more colors swirled together, the color match can be personalized and customized by yourselves.
• Show more fun and enjoyment to people.
• Brilliant imagination in color match
• Most suitable used in big events to exaggerate atmosphere
Swirled Wristbands

Segmented wristbands , which are a little bit different from the swirled wristbands, even they both are composed of two or more colors, but the color in these custom made wristbands are segmented, not swirled. Such color matching layers are more distinct then swirled wristbands, but both of them are popular among the juvenile and the people who follow the fashionable trend.

• The colors which you place on the personalized silicone bracelets should match each other to make a harmonious visual sense.
• The colors on wrist bands are in section appeared, not blend.
• They also go well with big activities for funny feels, such as parties, concerts, sports meetings and so on.
• Segmented color can be placed on any type of wristband if you want.
Segmated Wristbands

The color-filled process is actually a process of ink injected, especially for the debossed and embossed wristbands. As mentioned by the two types of wristbands, the debossed and embossed contents can be filled with color. So, color fill wristbands come. The contents on the wrist bands with color fill are called color filled wristbands, which is another wonderful process in making silicone bracelets.

• Make your common debossed and embossed content more colorful and eye-catching.
• Messages on wristbands are color fill.
• Messages on wristbands are more stand out.
• Revolutionary change for both debossed and embossed wristbands
Color Filled Wristbands
2

Basic Types of Custom Silicone Wristbands

Blank Wristbands >>
Blank Wristbands means there is nothing created on the surface of the rubber bracelets, just keep them blank. So, you can simply use them to represent a simple theme if it is needed.For example, green ones can be used to represent nature, etc. Besides, you also can create the blank wristbands to glow in the dark, that will be amazing.

• They usually appear with the simplicity that can be used by anyone.
• The greatest advantage of them is you can feel free to DIY them, you can write and print anything you like on them after purchasing them.
• They are usually easy to order and have a short lead time because they don't have any special and additional crafts created on them.
• The best choice for those who are in a hurry need.

"1 " Wristbands >>
These kinds of wristbands are special in their width. Regularly, the width of custom silicone wristbands is 0.5 inches, but for "1" Wristbands , they appear with a width of 1 inch.So they are more attractive and stand-out. when you are in a crowd, you will more likely be noticed if you are wearing these flash "1" Wristbands. Do You like it?

• Wider than the regular size that makes them more attractive.
• More suitable for large scale events, such as sports meetings, concerts, etc.
• More sporty style.
• Easy for people to show more content on them because of the wonderful width.
How to Make Custom Wristbands
The following 9 steps will help you to understand

01
Drawing Picture
Confirm whether the drawing contains basic information about color, size, post-process, etc.

02
Kick-off Mold
Once the drawing is approved, the mold will be prepared for production.

03
Compounding Material
According to the standard Color Chart to compound the material.

04
Weighing for Material
Each piece of material should be equal that make sure each piece of wrist band is the similar size.

05
Producing on The Mold
When mold is installed, the material is ready, start to produce.

06
Initial Inspection
The first inspection after production is to check if there is any wristband damaged at the process of molding.

07
Cleaning Burr
Clean and trim the extra burr and something else.

08
Final Inspection
Confirm all finished custom wristbands are in line with the inspection standard.

09
Packing
After finishing all the steps, packing for delivery.
Why Choose


GS-JJ Custom Wristbands?

Multiple types and styles for your choices and all sorts of custom wristbands no minimum order.

The factory directly offered at affordable prices and exclusive quality.

Eco-Friendly materail.

Free design and customized, whatever the message you want to carry.

Fast delivery with free shipping.

Durable, wear-resisting with long service life.

Convenient and fast customer service.

24H online service, direct line 1-888-644755 stand by,or email us via info@gs-jj.com.
No MOQ Wristbands
GS-JJ's customer group is broad. We are not only committed to working with wholesalers, but we also consider the needs of the individual.
Free Shipping
Fast Delivery
GS-JJ has a stable long-term cooperation relationship with DHL and FedEx airlines.
Factory Direct Price
All products are finish independently by our factory. The finished product displayed directly to customers through GS-JJ.com.
High Quality
All Custom Wristbands are medical-grade environmentally friendly soft rubber. Each step is strictly controlled by professional wristbands makers

We're Your Trustworthy Partner
GS-JJ specializes in custom wristbands for more than 20 years with strict management, complete quality guarantee and fine pre-sale and after-sale service; the common choice of users with high praise.
Already know what you need? We will walk you through the ordering process and we'll get started on your project today!
Custom Wristbands: Personalize it Exactly the Way You Want!
Contact Us Now

ONLINE DESIGN SYSTEM
Design+Quote+Ordering
Use our unique design system to take full charge of your artwork. Be your own designer!

Design It Yourself Online

PROFESSIONAL DESIGN TEAM
Quick Quotation
PROFESSIONAL DESIGNERS! Our award-winning team can help with your design or create cool pins for you!

Get Quote / Ordering