I suppose many people no matter adults or children, have their favorite cartoon figures, some of them are described in children's books, some appear in films. They grew with us, accompanied us throughout our childhood and brought us lots of fun. The following custom made coins will take you back to your lovely childhood times.
1. Teddy Bear Coin Set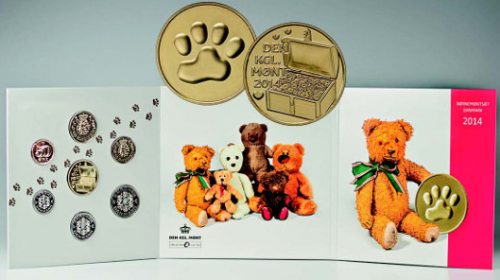 The central character of this coin set is a teddy bear. It comes with a leaflet for entering details such as the child's name, date of birth, special anniversary date, etc. An innovative design with a sweet story about a teddy bear and his friends is used in this coin set. The pattern of the golden challenge coins shows a teddy bear's paw and a treasure chest. This coin set for children is now still available which released by the Royal Danish Mint in February 2014. It would be a good choice for children, no matter as a Christmas gift or a birthday gift.
2. Snowman Custom Commemorative Coins

The Snowman is a children's book published by the British writer Raymond Briggs in Hamish Hamilton in 1978. This is a book without words, composed of 167 pictures. The style is simple and warm. The book tells that on a winter morning, a little boy named James woke up and found a white outside the house – it was snowing. He happily rushed downstairs to the garden and piled up a snowman. At twelve o'clock midnight, he woke up and decided to go see the snowman. When he opened the door, he couldn't believe his eyes, the snowman actually came alive! James and the snowman smiled at each other and politely took off their hats for self-introduction. Later, they started a magical journey… This children's book and animation have no dialogue, mainly describe this wonderful story with pictures, movements and music.
These two set custom commemorative coins were separately released in 2018 and 2014. As you can see, the pattern of left coins shows a full-color process that describes the scene where the snowman flies over the river with a little boy and soars through the quiet moonlit sky. The picture is warm and full of the fairytale. The right one depicts a warm picture that James is hugging a little snowman, meanwhile, he is cuddled by the snowman. The obverse on both coins presents the portrait of Queen Elizabeth II, with the date and issue number.
Are you fond of these lovely challenge coins? Do you feel that you have returned to childhood? More different styles of cool challenge coins are updated on GS-JJ.com every day. You can follow our website if you want to know more.
Source:
1.https://coinsweekly.com/denmark-has-released-coin-set-for-children-2014/
2.https://www.islandstampsandcoins.co.uk/blog/the-40th-anniversary-of-the-snowman.html
3. http://news.coinupdate.com/isle-of-man-coins-feature-the-snowman-and-the-snowdog-4539