Personage Introduction: Jenny ( a staff on sales department) Bob ( a staff on design department) Time: Wednesday, 14th Nov. 2018 Location: GS-JJ PopularPins Gift., LTD One day, our colleague Jenny and Bob quarrel with each other. What's the matter with them? Jenny (angrily): Why are you drawing so slowly sometimes? Did you know this caused me to lose an order? Bob (calmly): So do you know that we should pay attention to many details? Jenny (questioned): What? Just drawing it according to the guest's requirements, what else do you focus on? Bob: It's not as simple as you think. You know that guests just give an idea or a draft and we should draw it precisely. Let me tell you about drawing things and you will understand. At first, plated letters should be no less than 1mm. Bigger, more delicate! Jenny: why? Bob: Because too small letters will not be plated well.

When it comes to this, you also need to know that the coloring area has the minimum requirements. For soft enamel crafts, coloring area should be more than 0.25mm; For hard enamel crafts, coloring area should be more than 0.35mm. Due to different technological processes, hard enamel products require more complexity so the amount of color space to be reserved should be larger.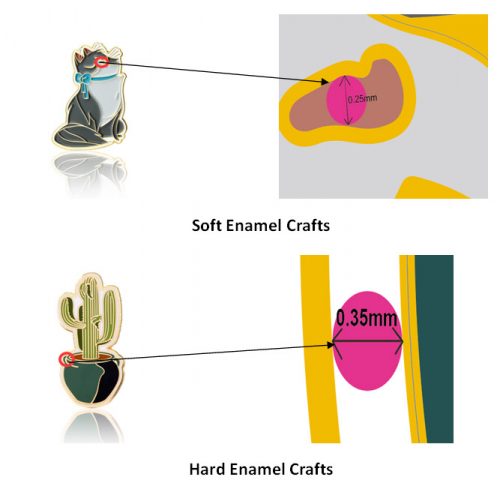 Jenny: So you mean that our customers sometimes don't notice the little details? Um….. I need to let our customers know about it. Bob: Yes. we need to change their picture in our professional software – AI. It takes a lot of time. In addition, the lines vary in thickness, which will affect the beautiful degree, especially for regular products.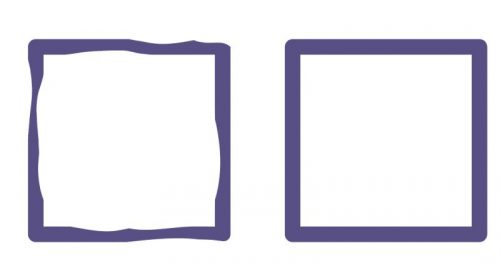 Jenny: It's hard to see with the naked eye! Bob: Right! but you can zoom in to see the individual lines. Moreover, for cut-out products, we notice more. For Zinc alloy casting, the cut-out area is no less than 1.2mm. Generally speaking, 1.5mm is ok. For stamping products, the cut-out area is no less than 1.2 mm. Usually, 2mm is ok.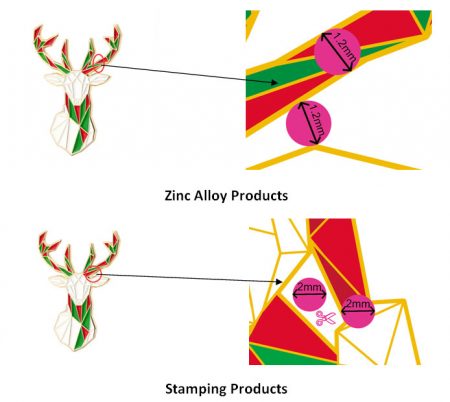 Jenny: This is a real nuance! Bob: That's not all! Many customers think that changing size is only about their business. So do we. Enlarge or even downsize can affect product details like cut out area. Because small size may leave out some details. When it enlarges, these details need to be drawn again, which takes much time. Moreover, changing 2D and 3D is not only about the fees. Similarly, the drawing method of 3D drawings and 2D drawings are totally different. From 3D to 2D, you need to change the drawing because you want to change the shading area. The 3d drawing is made by 2D designers and then handed over to 3d designers. And 3D designers have to draw 3D drawings to give a 3D effect. Jenny: Ah. So it takes some time to draw! Bob: Now you can understand me? What we do is to ensure draw a perfect design for each customer no matter small size products like custom lapel pins or big size products like custom medals, we treat them carefully, including sample manuscript in the inquiry. Jenny: Ok! I also will explain it to our customers. Bob: If you want to explain to our customers. You may also remind them other two points. First, the color chart at the GS-JJ website has small differences with software and products, which cannot be avoided. But GS-JJ tries its best to add the same color. Although some color hasn't differenced, the color of soft enamel products is shinier than hard enamel products because of different crafts. Soft enamel products are more bright but hard enamel products are more high-end. Moreover, you need to remind them of giving all the requirements as follows, so we can save a lot of time to ask you for some details.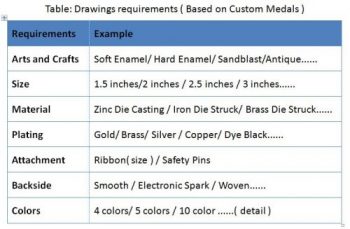 Second, the most important thing is the picture. It must be very clear, especially for offset printed. NO WATERMARK! In addition, printed hard enamel products are suggested to add epoxy in case of being scratched. These should be explained to them.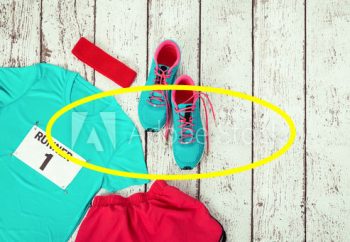 Jenny: Ok! I will! Dude, I suddenly understood you! 🙂