Plants Show: Common Design Elements for Custom Pins
— To greenify your lapels
◆ Foreword
Plant-shaped lapel pins have existed since ancient times and are popular in the pins market. They are also the eternally immutable fashion elements. Designers can always draw inspiration from the colorful flowers and trees. The implied meaning of these plants has become one of the links between the lapel pins and the wearer's heart. Designers use these cultural implications and plants' characteristics to design lapel pins containing these implications. Various plants show infinite vitality, are full of respect and love for nature, and also contain the feelings of human romanticism.
Next, follow GS-JJ to enjoy the ever-changing Plant Style Fashion Show!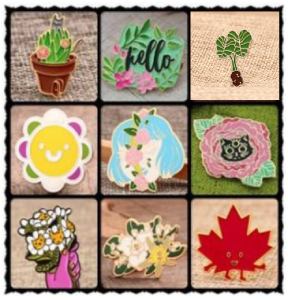 Model 1–【Sunflower】

Here are our new Sunflower series flower lapel pins. Sunflowers have phototropism. So people call them sunflowers whose flowers following the sun. In the ancient Inca Empire, it was the symbol of Helios. So its flower language is the sun. The person born by this flower's blessing has a heart that is clear and happy as the sun. Sunflower is a flower yearning for light, symbolizing health, happiness, vitality, the pursuit of a positive life, always have a positive attitude.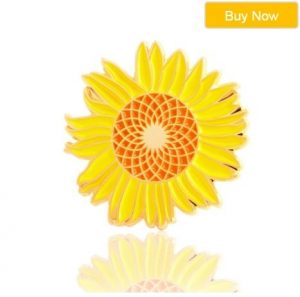 Model 2–【Rose】


Here are our new Rose series flower lapel pins. Roses, in Western mythology, are the relics of Aflodit, the flowers representing Jesus in the Bible, and the totem of Royal identity in the Tudor dynasty. It symbolizes love and beauty. Legends of its beauty are circulating all over the world and it gives designers unlimited creation space. Few custom pins brand will give up this fantastic design element. In the eyes of the custom pins designer, it is a symbol of romance and beauty, an expression of passionate love, and a source of inspiration for the eternal classics.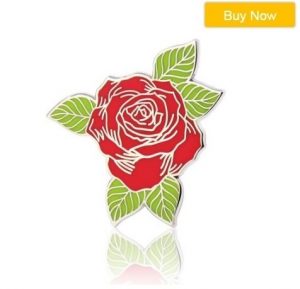 Model 3–【Poppy】


The sexy and enchanting poppy has become elegant and soft in the dream, like the idea of love, full of temptation and beauty; Here are our new Poppy series which will act as the perfect poppy flower gifts, the poppy represents the "sacrifice, love, respect and nostalgia" which implied in product design, the poppy blooming posture was captured and frozen, is dedicated to those brave people who persevering in love. Poppy is poisonous but has a stifling beauty, like a little lover, its warm fragrance and gorgeous beauty are always tempting you while both sexy and pure, beautiful without awareness.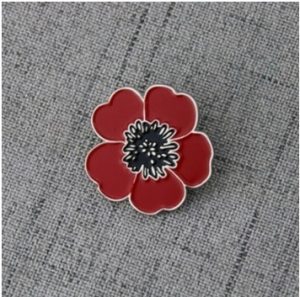 Model 4–【Daisy】


Here are our new Daisy series flower lapel pins. The daisy, known as the "national flower" by the Italian people, has a fresh and elegant temperament. Daisies are from Europe. The name Daisy has the meaning of "the eyes of the sun". It is a kind of petite herbal flower with exquisite head-like florets. Its clusters of yellow tubular flowers are in the center, surrounded by brightly colored tongue-shaped petals. Daisy is beautiful but not glamorous, petite but not delicate. Early spring in February, when the earth has not fully recovered, it will open early to bring the awakening of spring for people. As Italians put this little flower on the throne of "national flower", it is enough to illustrate the daisy's extraordinary charm.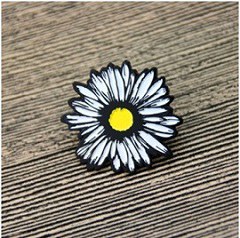 Model 5–【Camellia】


Here are our new Camellia series flower enamel pins. Camellia represents the ideal love, humility. Camellia's simple and elegant freshness made 19th-century Europe be crazy about and became a symbol of high-class taste. In addition to Ms. Chanel's fashion and jewelry, her beloved Camellia elements have long been integrated into her daily life. Camellia elements can be seen in the magnificent chandeliers and ebony screens of Chanel's private apartment on Cambon Street in Paris. Gradually Camellia element has become a fashion symbol.
Model 6–【Cactus】


We are all familiar with cactus, which is often used in our office for viewing. Its ability to survive is amazing, in places where the annual precipitation is extremely rare, only it is able to endure loneliness, proudly survive, and forming a beautiful desert landscape. Beginning in the summer of 2017, this low-pitched plant, with its cool and coquettish appearance, has become a fashion sensation. It not only has the same refreshing color as watermelon, but also has an outstanding fashion sensation temperament. Young people are becoming increasingly obsessed with green plants, especially cactus, a spiny, lonely, and somewhat cool-looking plant that disdains being integrated into any environment.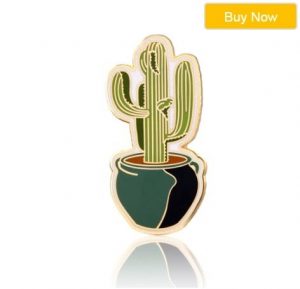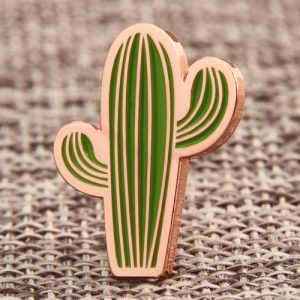 ◆ Peroration
The accessory of plant style is the bridge of emotional communication between designer and wearer. The beautiful custom pins are not only a decoration, but also the sustenance and embodiment of emotion. Whether for designer or wearer, the emotional meaning and aesthetic feeling brought by plant style accessory far exceed the meaning of its shape. So far, the accessories of plant style have never been declined and out of fashion.
Do you like the fashion plants show brought to you by GS-JJ's plant-models? Have they already captured your heart? Come and contact us. Orders for ready-made or custom-made Lapel Pins are welcome.
Contact Email: info@gs-jj.com, phone: 1-888-864-4755.
We also want to hear from you, write to us in the comments section.
Thank you so much for expressing interest in what we do.


{A bit of fragrance clings to the hand that gives flowers}
{You'll get fun by sharing GS-JJ's plants}
– End –