Wedding coin is a commemorative coin, to remember your love last.
Prince Harry and Ms Meghan will tie the knot on next month, they're being gifted a new crypto currency, called the Royal Coin, which are beautiful produced in details and presented to commemorate their Royal wedding in a fashion and modern way.
The wedding coin is sure a fashion wedding gift to celebrate our precious marriage this year.
You may not know, wedding coin was a tradition from around the world.
For example, the Irish marriage is complete with the coin passing between groom and bride. The groom normally will hand a delicate minted silver coin to his beautiful bride and say the inspiring words, "I give you this as a token of all I possess."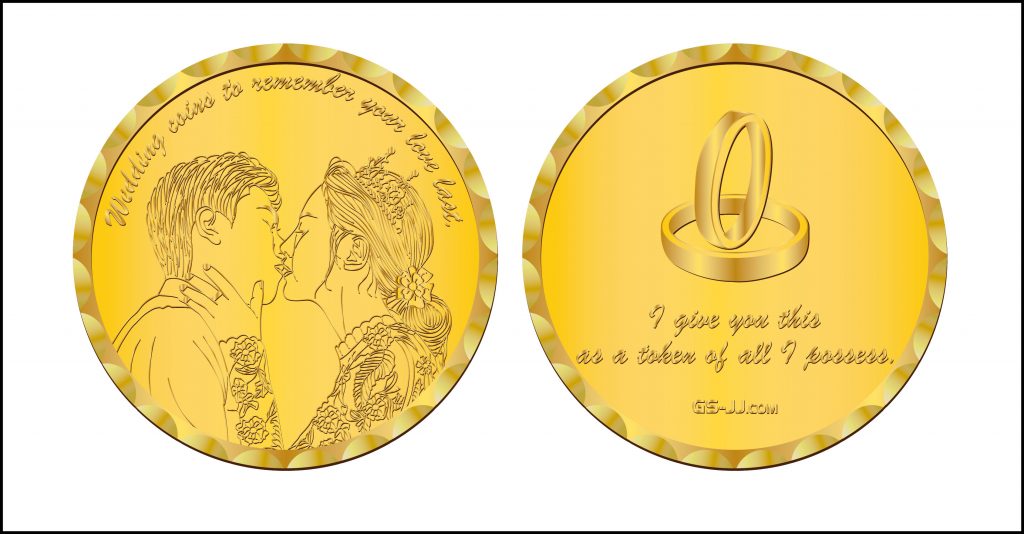 So nice and warm, that's the image of love should be. And the custom coin presents the true love and the oath on ceremony wedding.
More than this, the wedding coin is kept as a memento of that moment, and becomes a family keepsake. In the future, the mother will pass the coin to her son on his wedding day, and he will pass same coin to his bride as the tradition from generation to generation.
Coins can last and more durable as your love, and can prove that the greatest love in your marriage after the couple were old. The heavy custom made coins can represent and commemorate your true love, and the wedding ceremony and married life.
In 2018, these custom wedding coins serve as a souvenir of the couple's special day, a fashion way to celebrate marriage. It's sure become trend as wedding gift.
Wedding is one of the most memorable events in a couple's lifetime. How about to custom your own wedding coins to commemorate your marriage?
Yeah, you can make unique, affordable wedding coins just for yourself here. As a perfect gift for people in the wedding party, such as family, close friends, groomsmen, bridesmaid, it can help you to thanks them for their best wishes.
Wedding coins are always elegant and beautiful. You can design and create challenge coins what you want. Where to buy your high quality and ideal wedding coins?
We are happy to assist with you and help you make wonderful wedding coins to the bride and groom, with real meaning, high perceived value and a very unique presentation. GS-JJ has manufactured challenge coins for over 20 years; and try our best to offer our quality products and service directly to designer and end users.
You wedding coin, which comes in a range of colors, including gold or silver plated, you can print your name, oath, images on obverse and reverse design, , with the wedding date or a personal message, and choose a luxury challenge coin displayed box for seal. This collector's item could be the perfect way to remember the day, that can be given to family and friends on your wedding day..
The custom coin will be a perfect addition to any wedding. Action, now!