1)The Women's World Cup
The 2019 Women's World Cup will be held in France, with 24 teams from six continents competing for a month from June 7 to July 7. It is the ultimate competition between the most powerful national teams in Women's Soccer and is the most-watched Women's sporting event in the world in 2019.
For the world's greatest Women's soccer players, this is not only the most prestigious trophy but also their dream goal. The Women's World Cup is a dream for millions of people and a sporting honor for only a few dozen players.

 2) The Champions Cup
FIFA commissioned a new trophy for the third Women's World Cup in 1999. The trophy weighs 2kg (4.5lb) and is 37cm (14.95in) tall. It was designed by William Sawaya of the Milan-based Sawaya-Moroni company. All the metal plates are gilded, and the base is made of polished marble. The medallion on the base is made of polished brass, as are the brackets that hold the ball and the ball itself.
The current FIFA Women's World Cup trophy cannot be kept permanently by a single country. The rules state that it should be owned by FIFA itself. World Cup winners can hold the trophy until the next tournament starts, and they can also receive a gold-plated replica rather than a pure gold one.
The 2019 Women's World Cup is shaped like the champion cup, with the main color of blue and white, and eight lights around the ball on the top of the cup, symbolizing the eighth women's World Cup.
The slogan "Dare To Shine" reflects the development of football, especially women's football mascots.
    3) The Mascot
A French chick named Ettie has become the official mascot of the 2019 FIFA women's World Cup in Paris, France, May 12, 2019.
Ettie's name comes from the French word étoile. According to the design concept, Ettie is the offspring of Footix, the mascot of the 1998 World Cup in France.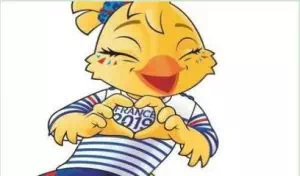 French President Emmanuel Macron and FIFA President Infantino attended the opening ceremony of the Women's World Cup in Paris, France, on June 7, 2018. The opening ceremony of the 2019 FIFA Women's World Cup was held at the Parc Des Princes in Paris, France, Sunday.


 

 4) Custom Soccer Medals
 In Soccer competitions, in addition to trophies, some institutions award medals to the winning team. The soccer medals are a kind of recognition for winners, especially the custom medals. GS-JJ accepts various medals customizations. You're welcome to contact us with any questions.