Service medals are one of the personal awards to those people in the war, activity, or adventure. Most award medals are awarded by American Military Department. And sometimes, we called " SERVICE MEDALS" as "CAMPAIGN MEDALS",
1) ASM: Antarctica Service Medal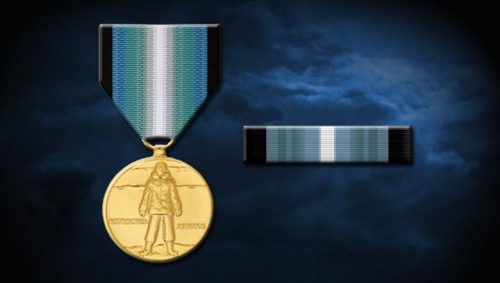 Antarctica Service Medal was issued by the U.S. Congress in 1960, which were given to military people who served or trained in Antarctica, including scientists and civilians.
ASM Description:
Finish: Shiny Gold
Pattern: A man in Antarctica, wearing a hat with arms extended, hands closed and legs spreading, symbolizing courage, devotion, and determination; the cloud and mountains, symbolizing the harsh environment in Antarctica.
Ribbon: A white stripe in the middle, a deep blue stripe progressively, and a black in the edge.
2)

JSCM: Joint Service Commendation Medal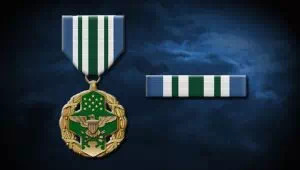 In 1963, the Joint Service Commendation Medal (JSCM) was eventually established. This medal is used for superior service for staff in the joint military, which can be worn in the military uniform.
JSCM Description:
Finish: Gold
Pattern: A golden eagle whose claws grasp three sorrows, flying in the air; 13 little stars above the eagle and a solid foundation under the eagle. These stand for land, sea, and air. Laurel at the bottom symbols award.
Ribbon: A laurel green stripe in the middle, white-green stripes alternated, and the blue one on each side.
3)

ASCM: Air and Space Campaign Medal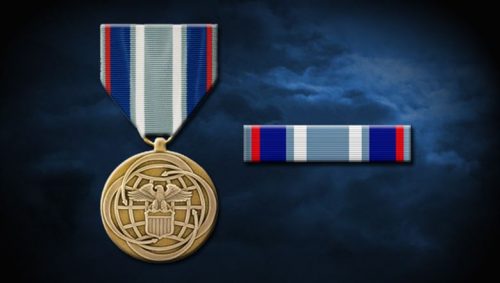 Air and Space Campaign Medal were founded in 2002, which is awarded to those brave staff in the air force.
ASCM Description:
Finish: Gold
Pattern: An eagle on the shield, surrounded by garland, symbolizing brave air force staff in the earth.
Ribbon: A light green in the middle and on the edge. Dark blue stripe and red stripe on each side.
Many military medals have their own abbreviations like code "007 ". If you want to know more about abbreviations and their specific usage or description, you can refer to the AIR FORCE'S PERSONNEL CENTER.
In general, we can find that most military service medals are customized by gold finish because gold stands for honor in people's hearts. Customizing service medals shouldn't be careless. Therefore, I suggest you choose a suitable custom medal maker online.
Resources: 1.https://www.afpc.af.mil/About/Fact-Sheets/Display/Article/421875/antarctica-service-medal/
2.https://www.afpc.af.mil/About/Fact-Sheets/Display/Article/421930/joint-service-commendation-medal/
3.https://www.afpc.af.mil/About/Fact-Sheets/Display/Article/421939/air-and-space-campaign-medal/
4.https://www.afpc.af.mil/About/Fact-Sheets/