Love is a cup of warm tea on a cold day, which can bring you warmth. Love is a comfort when you are frustrated, which can help you out of the haze.  Love is the eternal theme of mankind. So, do you want to get custom challenge coins of love? The following exquisite custom coins will be a big surprise.
1. Valentine's Day Custom Silver Coins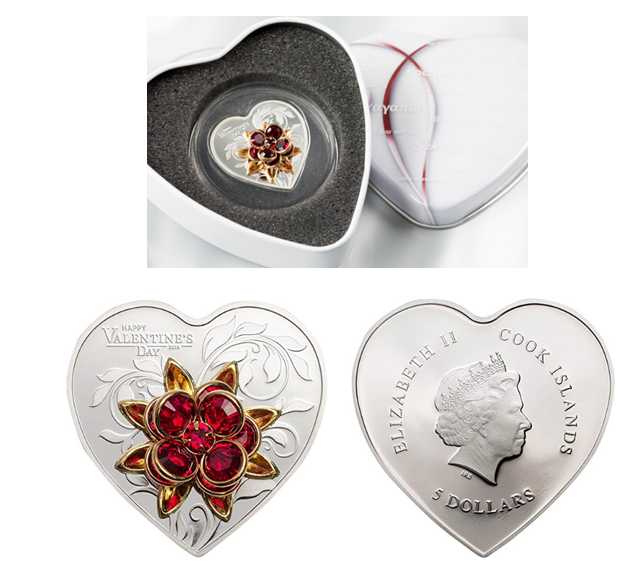 The 2019 Valentine's Day commemorative silver coins were issued by the Cook Islands. The portrait of Queen Elizabeth presented on the obverse, with the name and denomination of the country. A complex flower made of Swarovski crystals is highlighted in reverse, showing an excellent stereo effect. The petals extended on the coin, which forms a perfect combination of the silver coin and the crimson crystal. The words "Happy Valentine's Day 2019" is engraved on the upper left. Will your lover be excited or touched if she receives such a beautiful gift on a special day?
2. Love Custom Silver Coins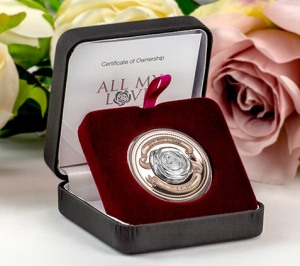 This new release "All my love to you" custom commemorative coins were issued by the Solomon Islands. The pattern of rose in full bloom symbolizes humanity's most cherished love.  A perfectly embossed rose is a center-piece of silver coin, sculptural high relief craftsmanship inserted to the coin base.  The appearance is high polished with gloss silver. The inscription "All my love to you" is engraved on an elegant winding ribbon.
These classic love theme custom coins would be an ideal choice for any gift-giving or for collecting. Are you captured by such delightful artwork? Do you hope to collect such elegant customize coins?
3. Celebration of Love Custom Coins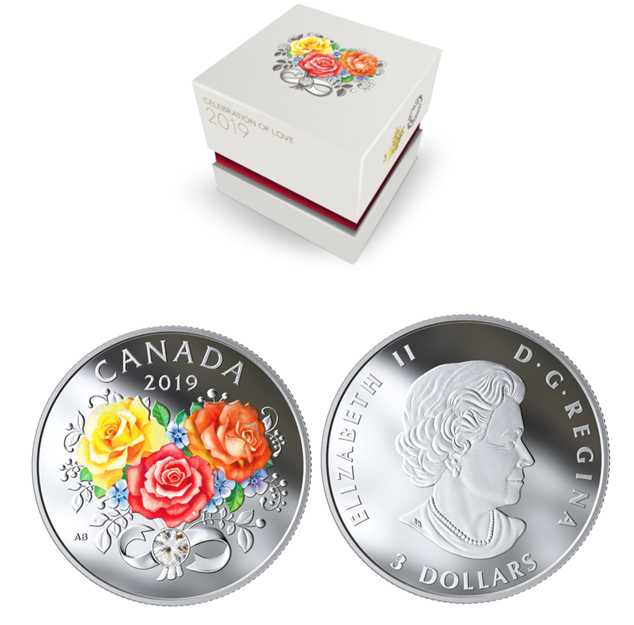 The "Celebration of Love"commemorative silver coins was issued by Canada. The reverse design displays a bright bouquet of roses that form a blooming heart. Each flower with different colors, which represent different expressions of love: yellow for friendship; red for affection and romance; orange for happiness and enthusiasm. A few blue flowers add a sense of tranquility to the whole pattern. The ribbon decorated with a Swarovski crystal which symbolizes eternal love
Such exquisite custom symbolic coins ought to be an ideal gift for showing your appreciation for your loved one, whether a spouse, family member, or friend.
Which one do you prefer? Are you shocked by these beautiful love-themed custom coins? Would you like to order some? Please follow GS-JJ.com if you want to know more.
Picture Source:
1.https://www.ebay.com/itm/2019-5-Cook-Islands-Happy-Valentine-s-Day-Silver-Coin-w-Swarovski-Crystals-/223273515023
2.https://www.westminstercollection.com/p-U313/The-All-My-Love-Rose-Silver-1oz-Coin.aspx
3.https://www.amazon.com/Modern-Commemorative-PowerCoin-Mickey-Coin/dp/B07GMZTPDC
4.https://www.cdncoin.com/2019-3-Celebration-of-Love-p/623932094284.htm