In the process of contacting customers, we find that many customers do not know how to use custom patches to achieve business promotion. In fact, if you make the right use of patches or find a professional patch provider, you'll find out that custom patches can be a good tool to promote your company's brand and Popularity. As a manufacturer with many years of production experience, we can design your logo into a great custom patch. Based on the doubts of our customers, we have divided several design methods for you in detail. Here you'll learn how to design patches based on the company image to get a professional look, get your company noticed, and make a deep impression on your customers.
Take the company's products as the main image.
Leather-man is a company that specializes in making portable knives. If your company produces something specific, then you can design this product as your logo. One of the benefits of using the company's main product as a logo is that customers can immediately associate themselves with your company when they see it. This design can better highlight your product and makes the customer feel more like a leader in the industry. Of course, you can add company names or build years to enrich the whole design. It also allows customers to know more about your company.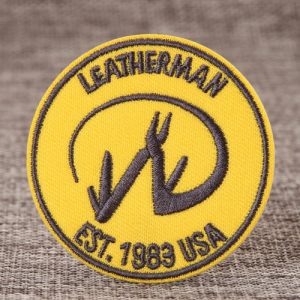 Design a cartoon image to represent the company.
 CAN TORP is a group company specializing in the design, production, and sale of outdoor products. CAN TORP logo is like a camel walking in the desert, it is courageous to go forward, dare to explore beyond, lead people out of doors, close to nature, release themselves, looking for the return of the heart. So, if your product wants to convey a certain spirit. Then you can design other things that are in line with their meaning. It can be an animal or a plant or something. This enables customers to understand your brand spirit and enhance their emotional connection with customers. Let customers identify with your company more.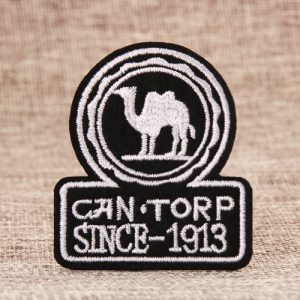 Use the company name directly.
If you are asked to imagine a few brands in your mind that you are familiar with, I'm sure there are a few brands that you can blurt out without even looking at the product. So why are certain products so attractive and magical? One reason is that it is famous. What people often mention must be the most impressive and memorable. So if you want your customers to remember your company in the most intuitive way, you can design the company name directly as a logo. This would be the simplest and most intuitive way to do it.

Design unique patterns for your company.
If your company doesn't have the right product to design like a logo or if the company's name is too long to be a logo directly,  or if it doesn't have the right cartoon or animal image. Then you can design a unique pattern. One of the benefits of doing this is that you can design a logo that fits the company's identity, Its simple lines make it easier for customers to remember and bring special visual effects. Or if you feel too monotonous, you can add the company's name, which will strengthen the customer's memory.

Here are just a few simple examples to help you think about how to use custom patches to design your business logo, and I hope they can help you. Of course, there are many more different designs. If you have any questions, welcome to communicate with us. As we have professional designers and hope we can help you as much as possible to design a perfect logo for your company.