PVC patch is made of PVC soft rubber material, which is an ornament in PVC products. Due to its affordable price, variety of styles, bright colors, waterproof and easy to clean features, it has become the hottest product in the market. PVC patch is one of the most popular fashion accessories for fashion icons.
PVC Patches are often used to decorate clothing and other fabric products, including shoes, hats, bags, canvas goods, and so on. PVC patches can be pasted on cloth in three main forms. The first is directly stitched onto the garment, which is suitable for outgoing products. PVC patches are designed on clothes by designers as accessories. The second method is to apply double-sided adhesive tape to the clothing fabric, which is suitable for clothing sellers and buyers to make their own clothes. However, since the double-sided adhesive tape is disposable and the repeated use of double-sided adhesive tape will make PVC patches lose firmness on clothing, so the third method is more suitable for DIY clothing- which is pasting the Velcro PVC patches onto the hook surface of Velcro, and sew the loop parts of the Velcro directly onto the clothes This fastening way can facilitate users to change different Velcro at will. We often use this method when matching the PVC patches of the bags, which are both firms and can be used repeatedly.
The same PVC patches with different bags have different effects, and different PVC patches with the same bags will have different feelings, so we can make a matching according to different use conditions.
PVC Patches for Military Bags
PVC Patches were first used in military configurations such as military uniforms and bags because PVC patches were first used to replace other materials such as badges, etc., which have a longer service life and are welcomed by the army and troops.
Soldiers can match their own bags to the extent allowed. When using military bags for outdoor mountaineering trips, the matching of PVC patches is more unrestricted. The national flag PVC patches can show the love for a country and patriotism; a morale patch will make your backpack look really cool.
Military-style clothes and backpacks are more suitable for morale PVC patches, which are the most original and the coolest. Of course, you can match them according to your personal preference, and it is another style, which may lead to unexpected effects.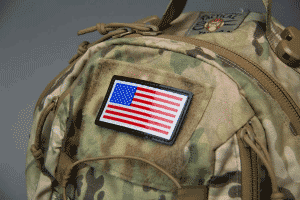 PVC Patches for Backpack
How do you go with PVC patches for everyday backpacks? Like single-colored backpacks, we can match PVC patches by ourselves, or simply match one or two types of PVC patches, or paste the whole backpack with various kinds of PVC patches, without feeling too exaggerated.
The simple black backpack is fitted with a wide variety of PVC patches, which make it easy to highlight your nationality while traveling. This kind of collocation is suitable for students on campus.
The light blue lady's backpack in the right picture can also be made by you with PVC patches of different colors, patterns, and styles. These brightly colored PVC patches take the monochrome out of the ordinary lady's backpack and make it cute, which is a must-have backpack for picnics and party.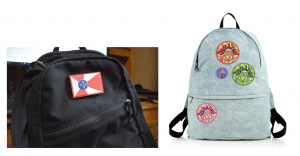 PVC Patches for single-shoulder Bag
Do you think only backpacks can be fitted with PVC patches, while a shoulder bag needs to wait for designers' creativity? As long as the bags are not made from leather and other materials, we can play freely without damaging it. Linen and canvas shoulder bags are perfect for sewing PVC patches and Velcro. Compared to the painted patterns, PVC patches DIY is more error-free, also can be free to change styles, more suitable for people who can't draw on bags.
Military green bags with morale PVC patches, bright color PVC morale patches can make this monotonous military green shoulder bag become more exciting.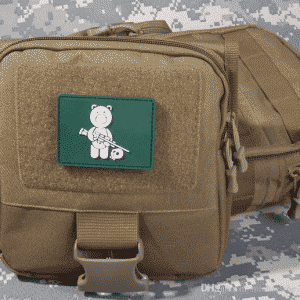 The Same PVC Patches for Different Bags.
What is the style of matching different bags with the same PVC patch? This PVC patch of doll image is suitable for all kinds of simple bags, including the three bags in the picture below, namely travel bag, water bottle bag, and cosmetic bag, which are very simple without any decorations. Apply a doll PVC patch to your camouflage travel bag and the simple color matching without color contrast. A military green water bottle bag with this doll PVC patch makes boring mountaineering fun. The color of the red cosmetic bag is too bright. The PVC patch with this simple but elegant color makes the whole match more harmonious. With the same PVC patch, you are free to use your imagination to DIY your bag.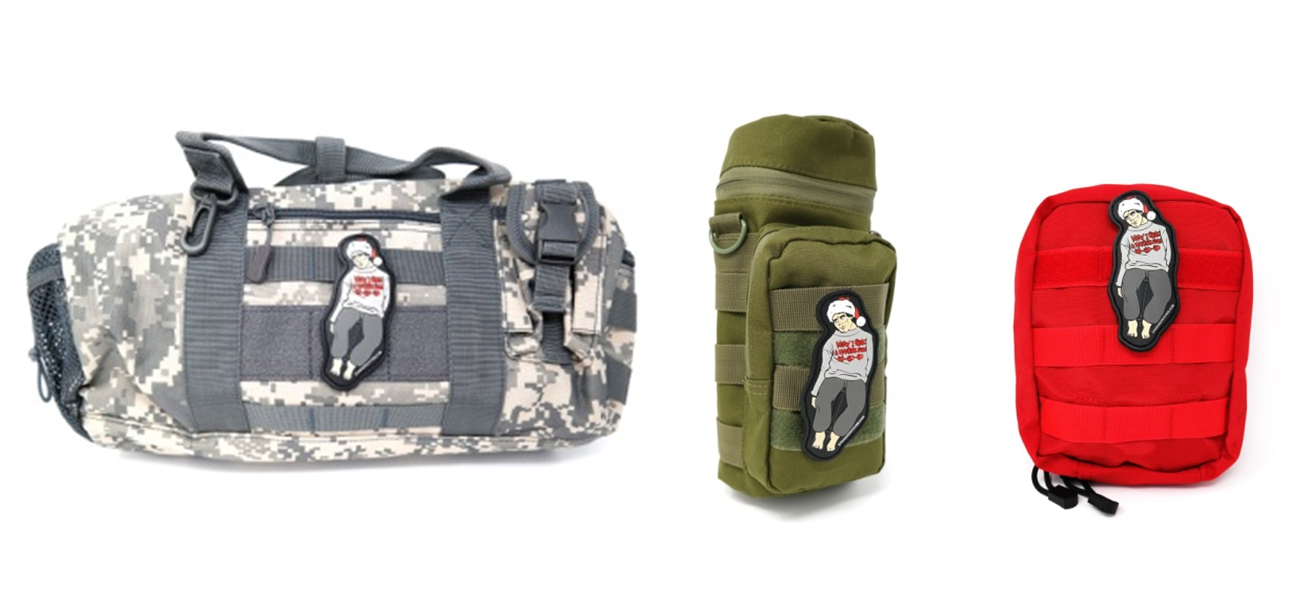 The different color PVC patches for the same bags.
What kind of effect is the same bag with a different color PVC patch? Collocation is a recondite knowledge, only you know what kind of patches and what kind of collocation you like the most.
The colored and gray PVC patches in the picture below belong to the same style of PVC patches, but they have different effects on the green backpack. The green backpack with simple color PVC patches is more formal without damaging the overall color. The colored PVC patch in the second image adds a bit of color to the green backpack, making it vibrant. Therefore, users need to match different PVC patches according to different usage environments in the collocation process, so that your bag is more suitable for use in such an environment.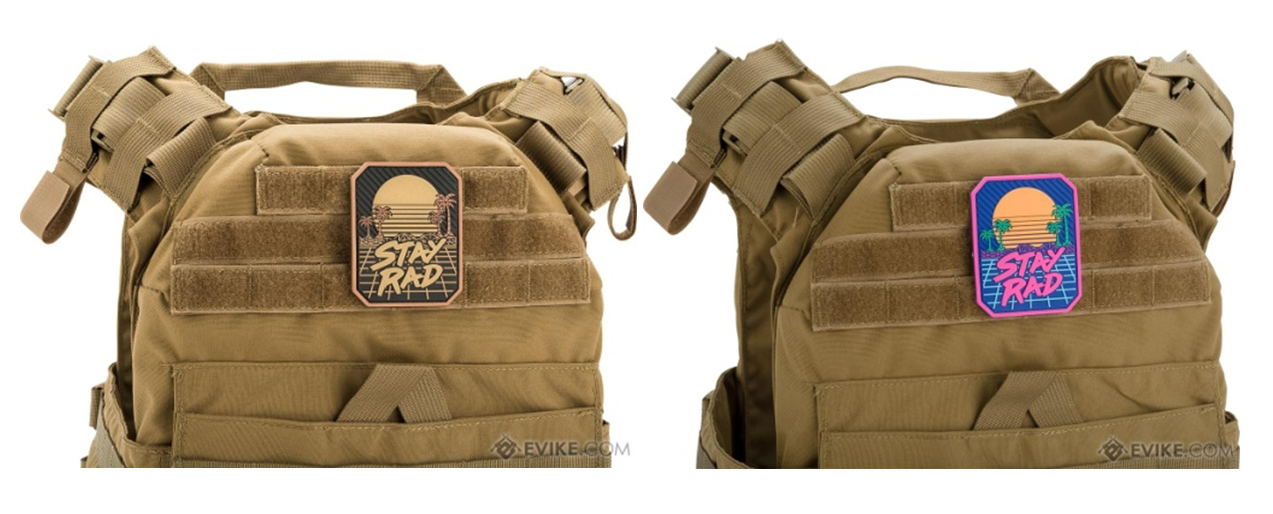 Of course, the backpacks of daily life are suitable for all kinds of PVC patches. If you're a military lover, you can patch your entire backpack with military PVC patches. Or if you are a fashion icon who likes cool elements, you can decorate a simple backpack with your favorite PVC patch to match your unique backpack. Use the simplest bag as the beginning of your design, and use your free imagination to create wonderful works.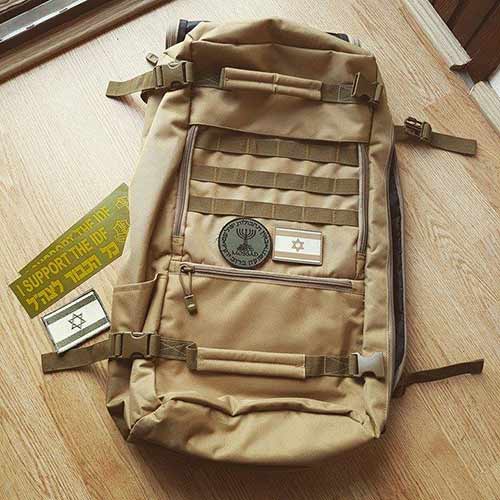 Where do you get all these PVC patches? GS-JJ Company is one of the best PVC patch maker manufacturers and retailers. You can purchase PVC patches with no minimum online at GS-JJ.com. You can also use your creativity online to design and make PVC patches. We will provide you with the best quality custom PVC patches and the most affordable price. Contact us to order online.
Pictures resource from:
Flag PVC Patch: https://www.newswebzone.com/get-confidence-up-with-custom-morale-patches/
Black Backpack: https://www.hostilecompanysupply.com/listing/554355580/flag-of-wichita-pvc-patch-w-hook-and
Blue Backpack: https://www.idproductsource.com/blog/?tag=pvc
Single-shoulder Bag: https://www.dhgate.com/product/tad-bear-patch-3d-rubber-pvc-hook-and-loop/398935844.html
Same PVC Patches for Bags: https://www.stinkingpatches.com/products/now-i-have-a-machine-gun-ho-ho-ho-pvc-patch
Colors PVC patches for Bags: https://www.evike.com/products/73247/
DIY Military PVC Bag: https://zahal.org/all-categories/tactical-combat-survival-gear/