The origin of coasters
When did the coasters appear? The mainstream view is that it appeared in western pubs in the 19th century. The prototype was a piece of cloth or paper that covered the glass of beer, initially to prevent bugs or foreign matter from falling into the drink. But it was soon discovered that placing them at the bottom of cups was more effective, and manufacturers began to produce coasters. And in 1880, a German printing company developed a beer mat made of cardboard.
The original function of coasters was to make it easy to clean the bar. After all, the wooden bar can easily become sticky when
it is soiled with wine. Nowadays, coasters have become a cultural tradition in Europe and America. Almost all bars, cafes, and restaurants have their own special coasters, some of which are "famous", such as the coasters of the royal beer hall in Munich, Germany, which are often seen in the camera with beer mugs. When traveling overseas, ask the storekeeper to give them the coasters as a souvenir has become the habit of a lot of travelers. Currently, there is another group called Tegestologists, whose members are cup mat collectors based on their aesthetic, historical, or social significance. It has even spawned a new profession called "Coasters Hunter", they especially help the coasters collector to complete the wish.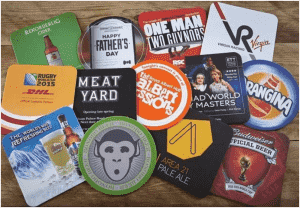 There is no formal or standard way to use coasters. The key is safety and utility. Nevertheless, coasters are a kind of foil sometimes, it needs to add a coaster when drinking coffee for instance, and it is fashionable and elegant. What other knowledge and attention points do you have when using coasters?
Coasters are best used only as coasters: they may not be as fun as they used to be for many occasions.
Protection of coasters: no matter what kind of material the coasters are made of, they cannot be folded or scratched easily.
Coasters cleaning: in addition to paper coasters, others can be washed with water or brush.
According to the material of coasters, they can be divided into the following 9 common coasters:
Wooden Coaster: Wooden coaster is practical, also more durable, but the colors and styles are too monotonous.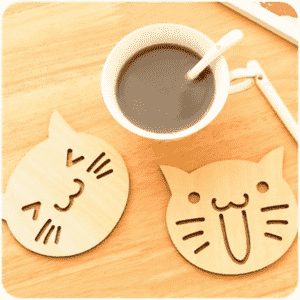 PVC Coaster: PVC Coasters are made of PVC rubber; they have various shapes, such as cartoon modeling, brand modeling, simulation model, etc. Adding company and enterprise LOGO on the coasters not only is beautiful but also can play a good visual effect and advertising effect.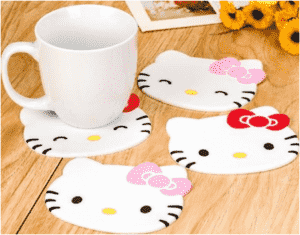 Silicone Coaster: It is a new popular mat. The material is environmental-friendly, heat insulation, but the cost is a bit higher.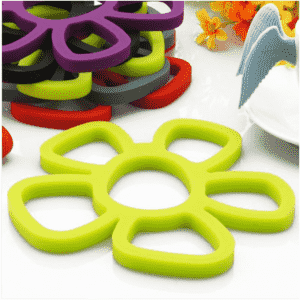 Cotton Coaster: Cotton meal has strong water absorption ability and easy to clean. It can fit well on the table, effectively control the heat of tableware, and protect the table. Besides, cotton cloth is easy to clean and there is no need to worry about pilling and peeling.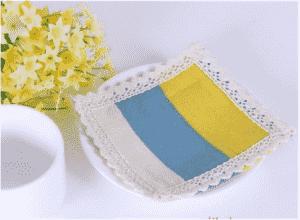 Hemp Coaster: Hemp coasters, as their name suggests, are coasters made of hemp material. Hemp coaster is durable and insect-resistant, making it a good partner for a solid wood dining table. At the same time, they are insect-proof and moth-proof, which can prolong the service life of the table.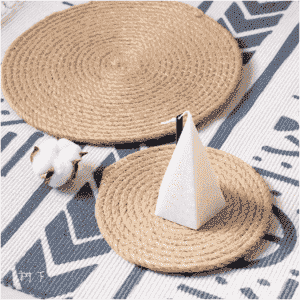 Bamboo Coaster: Bamboo coaster has the best insulation, which can effectively prevent the damage of high temperature to the table.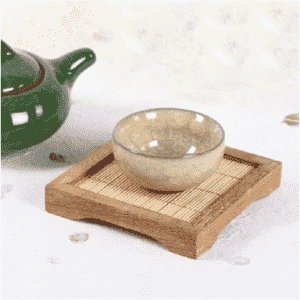 Paper Coaster: Paper coaster is made of the latest environmental protection material, with good insulation. Due to its brittle nature, it cannot be washed with water and is usually disposable.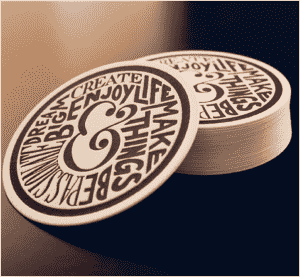 Metal Coaster: The metal coaster is mainly made of tinplate, which is also light and durable.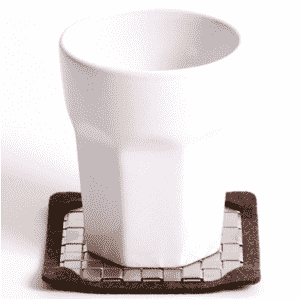 Embossed Coasters: Embossed coasters capture flowers that are in full bloom in nature. They are treated, processed, and dehydrated by using special tools to preserve their original colors. After the designer's conception, design, paste into a new shape, give it a new life.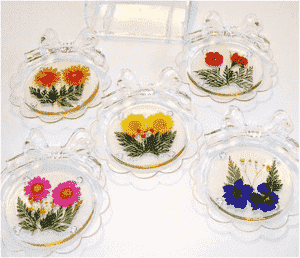 What is the commercial value of coasters?
In reality, coasters have many benefits. Its friction helps prevent sliding, also can protect the table from being burned. All of these make coasters an absolute necessity of life. However, compared with these basic functions, its extension effect seems to be more prominent.
Coasters are generally used in restaurants, cafes, hotels, and other public eating places; they can be used as advertising accessories to improve the image. Colorful PVC coasters add more prominent companies, enterprise LOGO, helping the brands get closer to people's lives.
At present, PVC coasters are the most popular, because PVC coasters are easier to make a variety of shapes, all kinds of cartoon patterns, corporate logos, can bring good visual effects.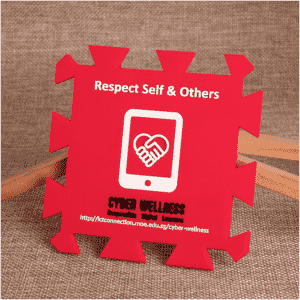 If you need to make custom advertising coasters in bulk, we recommend GS-JJ Company, an experienced manufacturer of PVC gifts and crafts; they are capable of producing a wide range of PVC patches and cheap PVC coaster according to customer requirements. If you are interested, you can visit GS-JJ.com for more details.
Pictures resource from:
Coasters of the royal beer hall: http://baijiahao.baidu.com/s?id=1634653844166021102&wfr=spider&for=pc
Wooden Coaster: http://www.t-jiaju.com/pjj50003448/546418412065/
PVC Coaster: https://b2b.hc360.com/viewPics/supplyself_pics/244276628.html
Silicone Coaster: https://cn.made-in-china.com/tupian/dgweiye0769-yoPnhDJHbbVc.html
Cotton Coaster: https://b2b.hc360.com/viewPics/supplyself_pics/397492547.html
Hemp Coaster: http://www.t-chs.com/pche0/584126764747.html
Bamboo Coaster: http://product.dangdang.com/1208039722.html
Paper Coaster: http://www.cszexin.com/a/dongtai/xingyedongtai/20141222/310.html
Metal Coaster: https://global.rakuten.com/zh-cn/store/hono/item/fn00004/
Embossed Coasters: http://www.demall.com.tw/Product.aspx?pid=25566
Maybe you are interested in: How to Customize PVC Coaster?