X

Kiwi Fruit PVC Coaster
3'' 2D Kiwi Fruit PVC Coaster

MouMou Club PVC Coaster
4'' 2D MouMou Club PVC Coaster

Respect Self PVC Coaster
4'' 2D Respect Self PVC Coaster

My Melody PVC Coaster
4'' 2D My Melody PVC Coaster

Orange PVC Coaster
3.5'' 2D Orange PVC Coaster

Prepare to Sip PVC Coaster
3.5'' 2D Prepare to Sip PVC Coaster

David's deer PVC Coaster
4'' 2D David's deer PVC Coaster

Yellow SAMSON PVC Coaster
4'' 2D Yellow SAMSON PVC Coaster


X
CUSTOM COASTERS
>
All Products
PHOTO GALLERY
VIDEO GALLERY
Click Here to Start your Customization
---
PVC Coasters



PVC placemats & coasters are common everywhere. Coasters have been in use for almost forever. Such as metal coasters, PVC coasters, wooden coasters and so on. Coasters come in handy at homes, restaurants, bars, and many other similar settings, they are required to keep away dust and insects from making their way into your drinks and also to serve as a brier between the best of your lass and the table.
In addition to that, there are multiple other uses of coasters too. They can double up as decorative pieces and can also serve as a great business and marketing tool in the long run. Custom PVC coasters are now in trend, and you will find them almost everywhere.
---
What are PVC Coasters?



Polyvinyl chloride is one of the most widely used for PVC coasters cheap substances to make a variety of products used in day-to-day life. Which is why it is even used in making coasters that are quite trendy and stylish in addition to serving the basic purpose of coasters.
PVC coasters are strong, sturdy, lightweight, and long-lasting too. They don't easily break or chip away even after being roughly handled. They are safe to be used by adults and children alike. In addition to that, they are quite affordable and reasonably priced too for the kind of performance they put up.
Custom PVC coasters can be made to your likes and preferences. You can choose its style, dimensions, shape, design, and size and get your own personalized coaster made. There cannot be a better gift option than a customized PVC coaster.
---
How can it be used?



One may argue that there is only a limit to how coasters can be used. But that is far from the truth. Coasters can be used in multiple ways. Some of them are as mentioned below:
· One can use coasters for displaying the information of their new business. Exposing the products and services on coasters is one smooth marketing gimmick that is quite underrated. Even if your business is not quite related to food and kitchen, coasters can serve as a good marketing technique for any type of business, any day.
· Customised PVC coasters cheap are available on GS-JJ and make for good dining room decoration. You needn't be using it to enjoy its charm. You can simply place these coasters in and around the room and witness the aura of your room going up by several notches.
· Design and style your customized PVC coasters as per required, and you will never again have to worry about its performance or looks.
---
What makes GS-JJ the best place to purchase PVC products?



There are multiple online stores from which have customized PVC coasters for sale. However, PVC coasters at GS-JJ are available in a variety of ways and will suit any customers' choices and preferences. Given below are a few reasons as to why GS-JJ is nothing but a one-stop solution for all your PVC customization needs.
· You can choose any size or thickness for your PVC coaster. Although there is a set standard size for all coaster, you can choose to differ and get your own separate PVC customized coaster. The dimensions of your coaster will then be set accordingly.
· Coasters all over the world are widely used in the circle and square shape. However, with GS-JJ, you can decide the shape of your coaster too. You can personalize it as per your likes and it will be done in the best way possible.
· You can get your coaster imprinted with a 2D or 3D design, whatever sails your bait. Many people use coasters as a means to decorate and lighten up their dinner tables. If that is so, you can get the best customized coasters to serve every one of your purposes.
· Although the design and the looks of the PVC coasters from this online store are unparalleled, it is not just limited to that. Along with appearing elegant and classy, these coasters are quite strong and sturdy as well. you can rest assured that they won't break or chip away even after multiple hits and drops.
In addition to these reasons, there are plenty more others why you must choose GS-JJ. The customer service here is pretty impressive, both before and after the sale. Also, the delivery is not only on time but faster than your expectations too. High quality PVC coasters are recognized!
---
Conclusion:
The above-mentioned advantages may not be exclusive to just GS-JJ, but they are surely the features that set this online store apart from the rest. If you are keen on landing the best quality material with the best customization coupled with over-the-top after-sales service, then GS-JJ is the answer. Make sure that you choose wisely if you are looking for PVC coasters for sale. PVC coasters cheap are popular at GS-JJ!
This website has almost every possible variety that there is in order to customize PVC and personalize PVC coasters. They are even well-versed with other types of PVC customization too. Check them out as soon as possible to land the best deal.
---

Contact Us




We look forward to your inquiry and cooperation. If you have any problems regarding designs, techniques,artworks or other aspects, please do not hesitate to contact us in any of the following ways. Our professional service team will give you the quickest reply. Besides, 24/5 online customer service is provided so you can chat with us online.

Email: info@gs-jj.com

Call: 1-888-864-4755

Address:

U.S.A.: Los Angeles Office address: 20829 Valley Blvd. Walnut, CA 91789

Canada: Vancouver Office address: 5280 Oakmount Crescent, Ste 402, Burnaby, BC V5H 4S1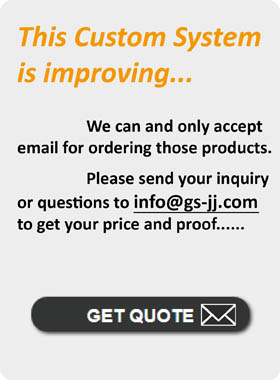 Currently, our Custom System is improving. Please send your inquiry or questions to info@gs-jj.com to get your price and proof.