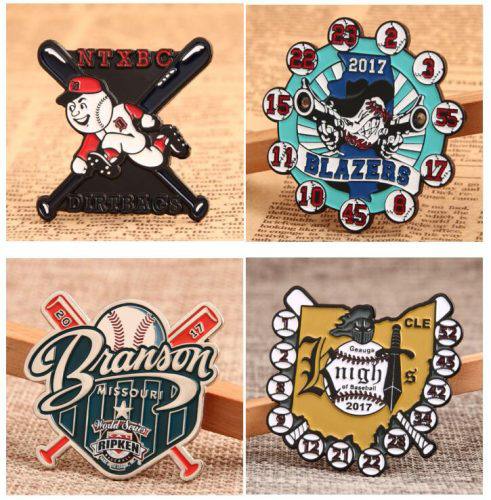 How To Get Started
Baseball pins are ubiquitous and one of the easiest collections to collect. Supply is not a problem, but we should choose the right way to start. At first, ask yourself: Why do I want to collect baseball team pins? Do you want to express your commemorate or support for the team, or simply like collecting? Once you know what you want to collect, it's time for you to start collecting.
Pin Values
When you find that the collection box is filled with the pins of local amateur baseball players, you will find that sometimes pin collections are just pinned collections. If you collect just for collection, you don't care about the value of the pin. But some collectors have invested a lot of money in collecting many baseball pins. Fortunately, as a collector, you can rely on online resources to study the value of a pin through articles or exchanges with antique dealers.
Conventions and Trade Shows
For collectors, the most important thing is to have gatherings to connect pin enthusiasts, collectors, dealers, and experts. So commercial exhibitions and conference tours are what collectors expect most. Business is booming here for assessors and needle dealers. At the same time, they will use their professional knowledge to help collectors evaluate the value of their collections of pins. For a fanatical baseball pins collector, it's a passionate day, and you'll get a lot of valuable insights, add to your collection, and even find rare pins.
1. The way to Find More Pins
When you learned the wonderful world of collecting baseball pins, did you fall in love with it? If you're already passionate, get moving and start collecting pins from your favorite team. Anyway, you need to know where to buy pins and where to look for your pins in exchange.
2. At the Games Themselves
In real baseball games, people's love for pins often starts from the stands.
It's a great opportunity to meet other soft enamel pins collectors, and meeting other enamel pins collectors is the best way to get deals. Ask around and see if there are any custom pins fanatics in the stands next to you. This may surprise you, and maybe your deal will start this way.
3. Events
You can try to do some research and ask the local people about the trade party. Everyone at the party comes for the same purpose. This is a chance to meet someone you are interested in. So you can even start small gatherings with friends and collectors.
4. Online
If you've been collecting pins for a while, you'll know that many collectors often exchange baseball pins at Internet forums or auctions. Similarly, social media channels provide a large number of trading channels.
Get Your Baseball Lapel Pins Collection Started Today!
Whether you're an avid baseball fan or a baseball pins collector, anyone can start collecting pins. If you're still looking for lapel pins, check out GS-JJ.COM for more information.