Stars are some people who have great influence and talent in certain areas. Their infinite charm has attracted a large number of fans following them. Some loyal fans are excited when they see products related to their idols, while other fanatics even collect all the items related to their idols. As a professional PVC product manufacturer, GS-JJ brings you 3 popular PVC keychains of stars.
1.The PVC Keychain of Marilyn Monroe
Marilyn Monroe is a Woman of amorous feelings and full femininity. In her film (The Seven Year Itch), the scene in which Marilyn's white dress was flipped up from a gust of wind from the Subway below became the most classic image of her life, and people rushed to imitate. She was very beautiful and her smile is pure and sweet. She liked children, supporting to safeguard Female Sovereignty and was active in charity.
For such a kind and beautiful star, fans hope to express their love for her in various ways. One of them is to purchase the related PVC keychain. They can string the cartoon Marilyn Monroe PVC keychain with the key so that they can feel the charm of Marilyn Monroe in anytime and anywhere.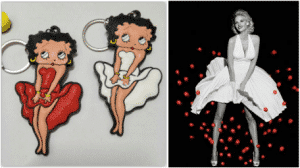 2.Michael Jackson PVC Keychain
Michael Jackson was a world-renowned singer and dancer. Obama once called him the best performer in the world. No one can surpass him. Today's very popular Moonwalk Dance, Breakdance, and Space Dance were all invented by Jackson. His dance moves are learned by many young people and have become an eternal classic. This custom PVC keychain shows the beauty of his performance on the stage, so you can always put the cartoon, Michael Jackson, on your side at all times and cherish the memory of him.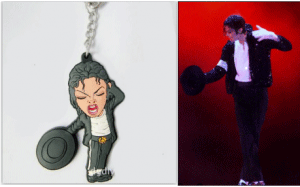 3.Song Zhongji PVC Keychain
Song Zhongji is a well-known Korean actor. In 2016, he stands out from the Korea soap opera (The Descendants of the Sun), wearing a military uniform. He attracts the attention of countless viewers, and numerous fans are impressed by his handsome and superb acting. Many fans fantasize about becoming his girlfriend. Even if they know that it can't be realized, they hope that through buying the relevant items it's like the idol is by their side. This 3D PVC keychain can help you realize this dream.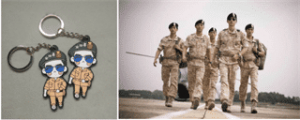 There are still too many charismatic stars not shown here, but that doesn't mean you can't have them. GS-JJ can make all of the above, and you are also very welcome to send different star pictures to GS-JJ.com. The professional designers of this company can help you design the cartoon characters of the stars for free, and then pass the affordable and high-quality PVC Keychain, PVC patches, PVC luggage tag and other ways to show in front of you.