traveling has become a way for people around the world to broaden their horizons, cultivate their mind and body, and relax their mood. Every time you arrive at a different tourist attraction, you will have different feelings and leave different stories. To feel the local cultural background and characteristics, you can learn the city more and make yourself better integrated. In your life journey, there will be some attractions making you very memorable. Even if you can't stay there forever, you want to be able to record the bits and pieces. Shooting with a camera is far from satisfying people's requirements, people are eager to leave precious memories of them in more ways. PVC magnets are an excellent way to record. It allows you to touch it, making you feel like you are still in your favorite place.
Sanya
In China, Buddhism has always existed. Temples are therefore very common. In the hearts of Chinese people, Bodhisattva is the god. It can help people resolve disasters and bring happiness and luck to people. This 3D PVC magnet portrays the Nanshan Temple, a famous attraction in Sanya. There are many Buddha statues in Nanshan Temple. The Buddha statue in the picture below is especially famous. It stands tall on the sea, before the mountains, it is like a great mother, has been quietly guarding this vast land. Nanshan Temple has many cultural projects with profound philosophical meanings. When believers participate, they can be enlightened the mind and educated life. Sublimating people's minds, purifying the soul, and exhilarating the mood! Make this attraction into a PVC magnet, so that you can remember the education and edification that you received at Nanshan Temple at any time. Let you in a complicated world, do not forget the inwardness and self.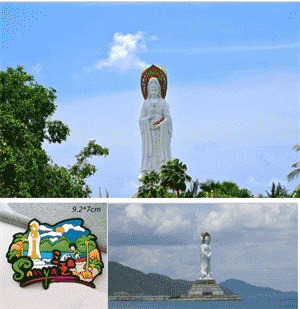 Guangzhou
Canton Tower is an iconic building in Guangzhou. The unique "slender waist" shape makes it the "best figure" building. Every night, it will turn on dazzling lights to illuminate itself and others. The lighting modes are varied and fantastic. Visitors all around the world have come to visit its strange shape and beautiful lighting.
The Cantonese Opera is a major traditional feature of China, especially in Guangdong, China. You can see a variety of Cantonese opera performances at the Guangzhou Opera Theatre. This kind of regional features will make you feel refreshed and surprised.
Carving the cartoon characters of the two together to make one custom PVC magnet, you can always recall the characteristics of the local national culture and recall the bits and pieces there.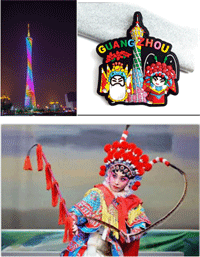 Russia
When it comes to Russia, the first thing that comes to mind is the Moscow Circus and the Russian Matryoshka.
The Moscow Circus of Russia is one of the earliest circuses in history. It has a lot of thrilling and exciting performances, bear riding bicycle, tiger jumping fire ring and so on. You will be amazed at the spirituality and wisdom of animals.
The Matryoshka doll is a Russian special wooden toy. It has a colorful female pattern and contains multiple layers. Each time you open a layer, there will be a doll with the same pattern inside and open the yo-eyes to waiting for you to open it.
Russian building is also very special and looks very much like castles in fairy tales. Living here, you will feel like you are a princess.
Combining these three characteristic things into a personality PVC magnet and decorate it at home can help you understand more of the truth of life: 1. Animals are so smart, it is the best friend of mankind. 2. Life is like a Matryoshka doll, there is always one surprise after another waiting for you. 3. You must treat yourself as a princess, love yourself, and protect yourself.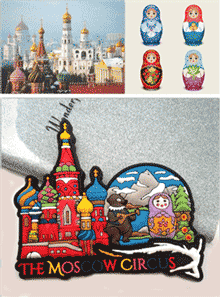 Morocco
Morocco is a typical tropical desert climate, and its southern part is a Sahara region with a large desert. This is a rare sight for people who live in the city. If you can go to Morocco, a desert trip is essential.
Here, a large temperature difference between day and night. People always wear a long robe and a big hood behind them. This is the traditional garment of local people, resist the cold and block the sun. Walking on a camel in the desert, taking pictures, you will feel very cool. Record this time and make it into 2D PVC magnets or 3D PVC magnets, you can always show your friends at home that how brave and charming you used to be.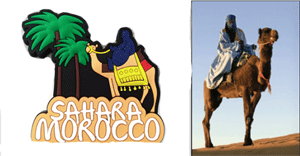 Hong Kong
The fireworks display in Hong Kong is a long-awaited New Year's greeting. It has been held in Victoria Harbour since the beginning of the second lunar month in 1982. Strolling along the dockside and looking up at the fireworks that bloomed all over the sky, do you feel so dazzling? How can such a beautiful moment not to be recorded forever! Do you want to make the fireworks at your fingertips? Or do you want to let the fireworks never disappear? Customize PVC magnets allow you to record this beautiful moment and to touch at a close distance.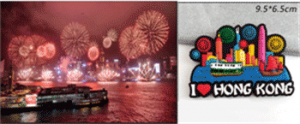 There are too many beautiful places in the world. The beautiful scenery that you want to record is far more than the above. You must also have the scenery you want to keep in your heart. Why not make your recorded scenery also made into custom PVC magnets of different styles? Unlike photos, PVC magnets have a long service life, not fading, not easily damaged, resistant to dirt, can be folded at will, are heat-resistant, high-temperature resistant, waterproof, and PVC magnets can be firmly adsorbed in places with magnetic fields, such as refrigerators, TV, etc., preventing loss effectively, but also can decorate the house very well.
As an experienced PVC magnet maker, GS-JJ is able to make PVC magnets in various forms. GS-JJ knows how to consider the customer's feelings. All the products are only sold with the factory direct price, and only hope that customers can buy the best quality products at the best price. GS-JJ.com is their official website, where you can see a lot of different PVC products. GS-JJ is willing to accept pictures in various forms and will let professional designers design a cartoon version of the picture for you free of charge. After the design is passed, it will be processed, and finally displayed in front of you, help you record this good time together.